Believe it or not, the oranges we buy in the UK (which are often imported from Spain) are usually at their best in winter months! But the seasonality will change depending on where you live.
You can add your own twists to this salad: mix it up with different nuts (pecans and hazelnuts would also work well) and other varieties of greens (hardy greens like kale are great in the winter)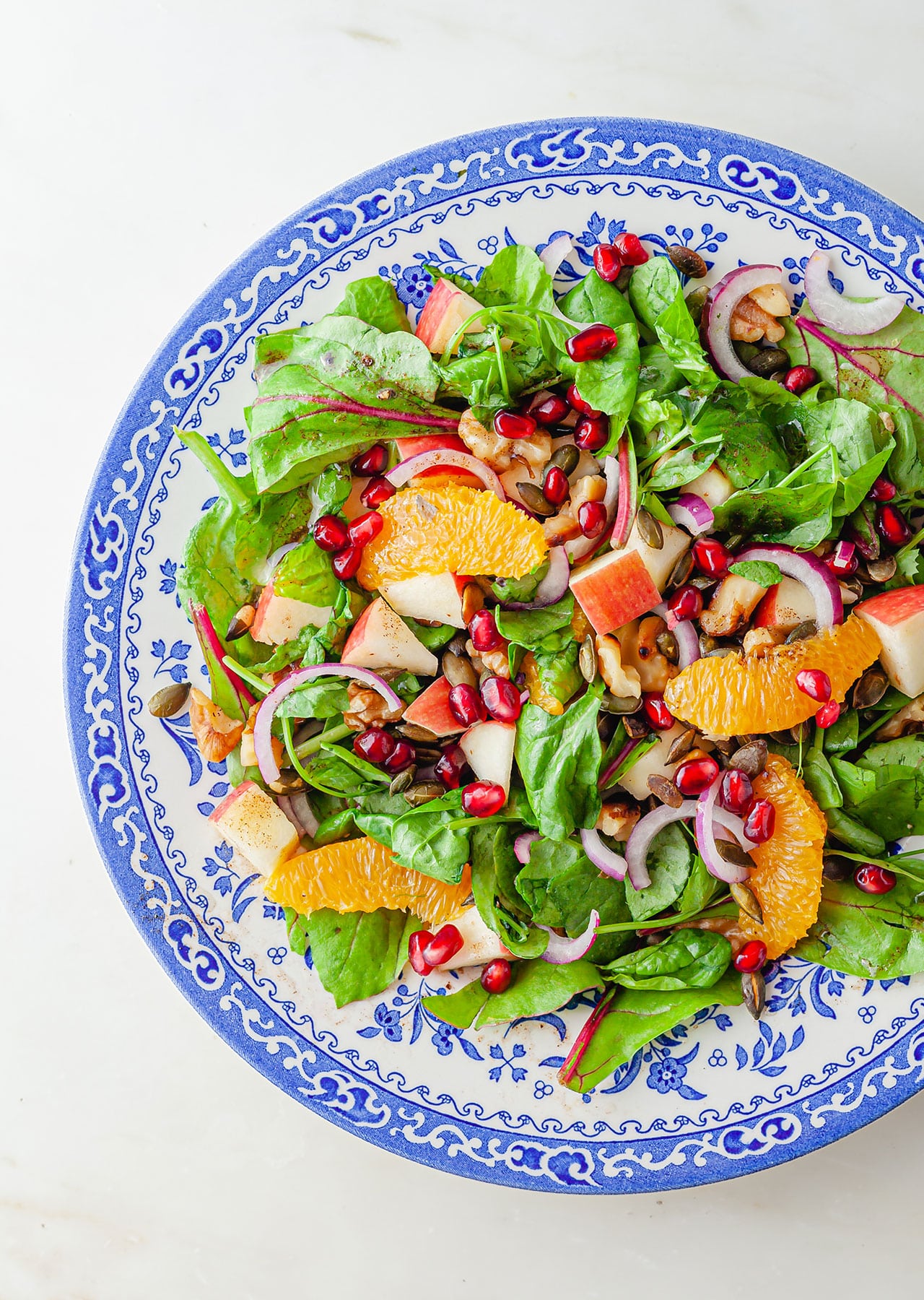 Makes 4 small servings.
Ingredients
100g mixed leaves (i.e. spinach, rocket and baby red chard)
1/2 cup walnuts
1/4 cup pumpkin seeds
1 small red onion
1 red apple
1 orange
Handful pomegranate seeds
For the dressing…
3 tbsp olive oil
Pinch of salt and pepper
2 tbsp apple cider vinegar
1 tsp maple syrup
1 tsp mustard
1/2 tsp cinnamon
Method
1. Place a non-stick frying pan on a medium heat and toast the walnuts and pumpkin seeds for 5 minutes or until they start to turn golden.
2. Place the mixed leaves, walnuts, and pumpkin seeds in a mixing bowl.
3. Peel and slice the onion. Peel the orange, then place a bowl underneath and slice into segments while using the bowl to catch the leftover juice for the dressing. Deseed and dice the apple. Transfer the onion, orange and apple pieces to the mixing bowl.
4. Prepare the dressing by combining all the dressing ingredients together with the leftover juice from the orange.
5. Drizzle the dressing over the salad and mix everything together.
6. Serve the salad with a topping of pomegranate seeds.
#SoVegan