Dan Dan Noodles originate from the Sichuan province of China and traditionally have a delicious spicy flavour.
Our version is simplified but still packed with flavour, using tofu and chilli oil for a kick of spice that won't overpower your tastebuds.
Notes
You can make this gluten-free using tamari instead of soy sauce and gluten-free noodles.
It's important you use regular sesame oil and not toasted sesame oil to cook the tofu and pak choi. Toasted sesame oil has a lower smoking point and will burn.
If you can't find extra-firm tofu, you can use regular firm tofu but it might take longer to fry until crispy unless you press it beforehand to extract as much water as possible.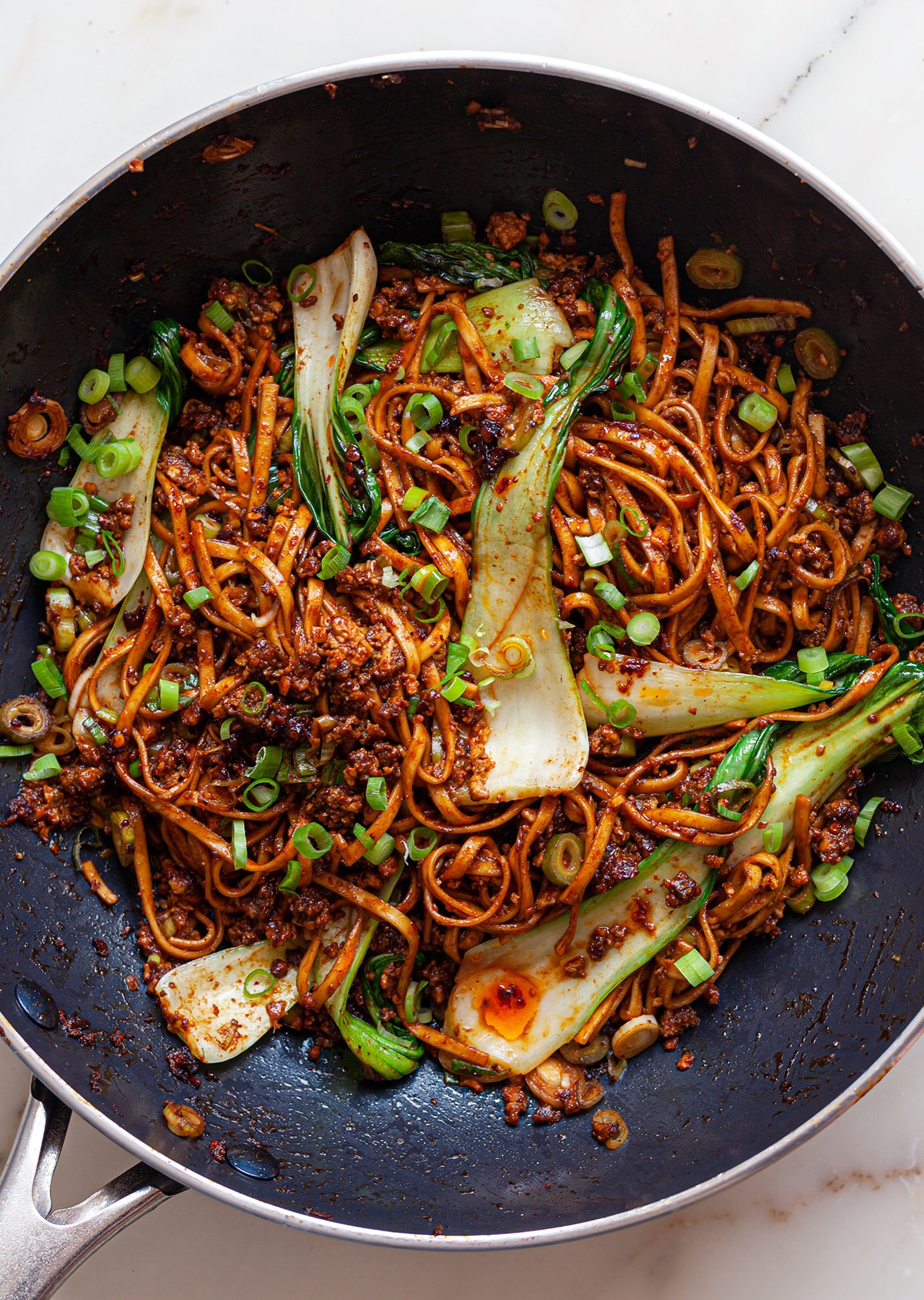 Ingredients
2 tsp sesame oil, see notes
300g / 10.6oz extra-firm tofu, see notes
2 tbsp cornflour, cornstarch in the US
2.5 tbsp dark soy sauce or tamari
1 tbsp tahini
1/2 thumb of fresh ginger, peeled + finely chopped
1/2 tsp Chinese 5 spice powder
1 tsp chilli oil
1 pak choi, leaves separated + rinsed
180g / 6.3oz noodles, we use udon (or gluten-free noodles)
2 spring onion, sliced
Method
Add 1.5 tsp of sesame oil to a non-stick wok or pan on a medium-high heat.
Crumble the tofu into a mixing bowl so it resembles a mince-like texture, then stir in the cornflour.
Add the tofu to the wok, then stir in 1/2 tablespoon of dark soy sauce. Cook for 10 minutes or until crispy, stirring occasionally to break up the tofu.
Add the remaining 2 tbsp of dark soy sauce to a small bowl, followed by the tahini, fresh ginger, Chinese 5 spice powder, chilli oil and 2 tbsp of water. Stir to combine, then leave to one side.
Cook the noodles for 2-4 minutes or until al dente (they should be cooked-through but still have a bite to them).
When the tofu is ready, transfer it to a bowl. Wipe the wok clean, return it to the heat and add another 1/2 teaspoon of sesame oil. Add the pak choi and fry for a minute.
Reduce the heat under the wok. Add the cooked noodles, crispy tofu, the sauce you made earlier and most of the spring onion. Stir and heat through for 30 seconds, but be careful not to overcook the noodles because they will fall apart.
Serve in bowls, topped with the remaining spring onion and more chilli oil if you like it extra spicy.
Did You Make This Recipe?
Don't forget to share your SO VEGAN creations on Instagram and tag us at
@SOVEGAN
!