You'll never guess the secret to this super smooth vegan mousse.
Tofu.
This quintessential vegan ingredient gives our chocolate mousse its incredibly smooth and creamy texture.
But you'd never know!
The totally winning chocolate, orange and brandy combo give this dessert a seriously delicious flavour.
It's the perfect Christmas dessert (or any time of the year!).
Things to know:
It's important to use silken tofu, which has a lighter taste and gives the mousse a smoother texture.
Make sure you find vegan-friendly brandy – some are distilled using animal products.
You can keep the mousse in the fridge for up to 2 days.
This recipe makes 2 very generous servings but you can easily stretch it to four servings.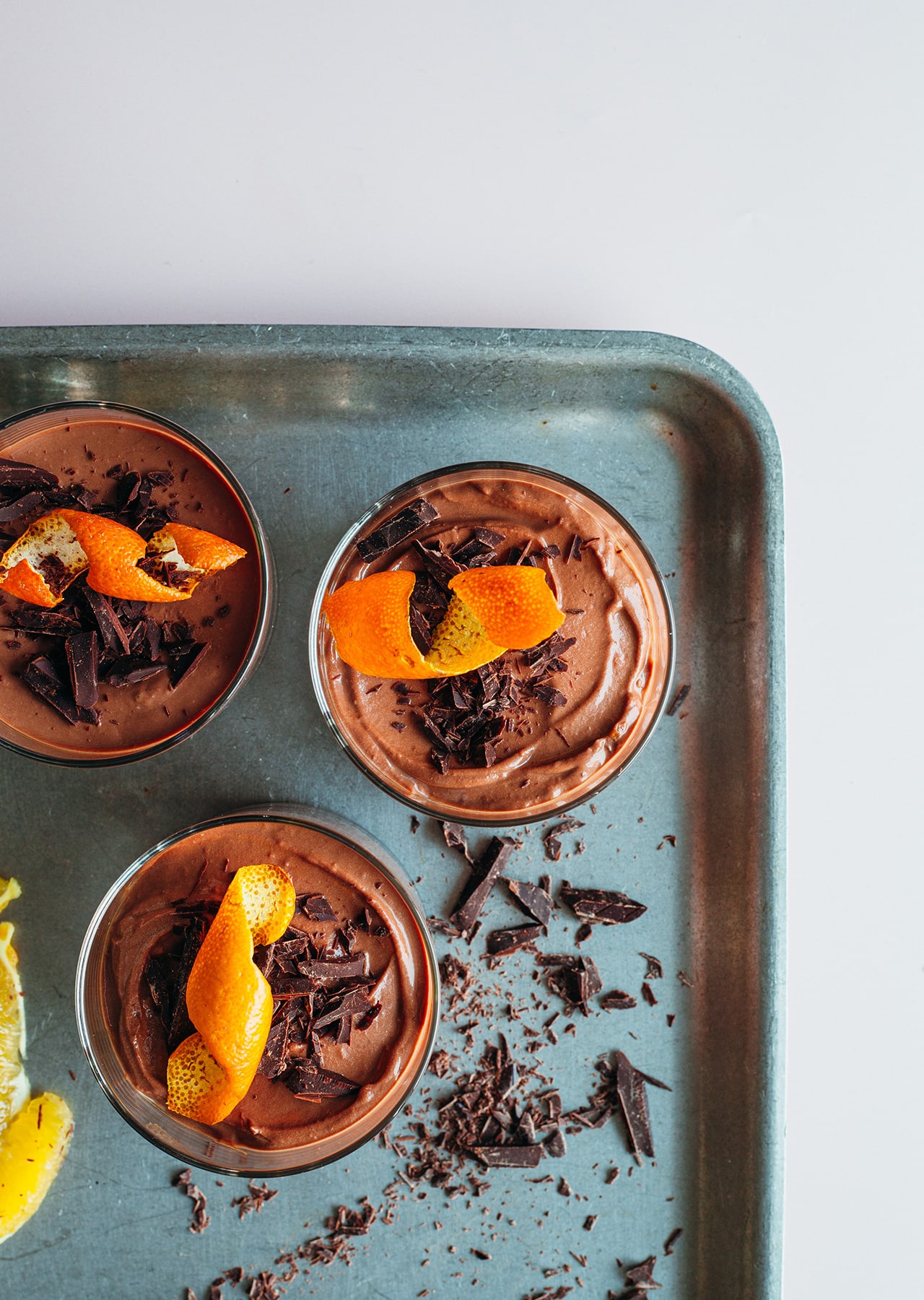 Ingredients
100g / 3.5oz 70% dark chocolate, plus extra for decorating
300g / 10.6oz silken tofu
2 tbsp brandy
3 tbsp maple syrup
3-4 unwaxed medium oranges
Cupboard staples:
Method
Add the dark chocolate to a heatproof bowl set over a pan of gently simmering water (make sure the bottom of the bowl doesn't come into contact with the water underneath). Stir the chocolate occasionally until it has melted, then pour the melted chocolate into a food processor.
Wrap the tofu inside a clean tea towel, gently squeezing out as much moisture as possible. Add the tofu to the food processor, along with the brandy, maple syrup and a large pinch of salt.
Grate 1/2 a teaspoon of zest from one of the oranges and squeeze or press 100ml of fresh juice from the oranges, then transfer the zest and juice to the food processor. Process everything together for a minute or so until it develops a lovely smooth texture.
Spoon the mousse into glasses then transfer to the fridge for a minimum of 2 hours to set. When they're ready to serve, grate dark chocolate on top and add a curl of orange peel to serve.
Enjoy as a decadent Christmas Day dessert.
Did You Make This Recipe?
Don't forget to share your SO VEGAN creations on Instagram and tag us at
@SOVEGAN
!