These delightful little things have a lot going for them.
We create a sweet and tangy mushroom filling made using chestnuts, sage and dijon mustard.
We then pair the mushroom mixture with cranberry sauce and roll it inside a sheet of vegan puff pastry.
They're wonderfully tasty and a great festive snack.
Things you need to know:
We use vacuum-packed chestnuts which have already been cooked and peeled. Alternatively you can par-boil them yourself for 15 minutes – just be sure to rinse them first then score them through to the soft inside
We absolutely adore fresh sage. It's one of our favourite herbs to use this time of year, but you can also sub this for 1 tsp of dried sage.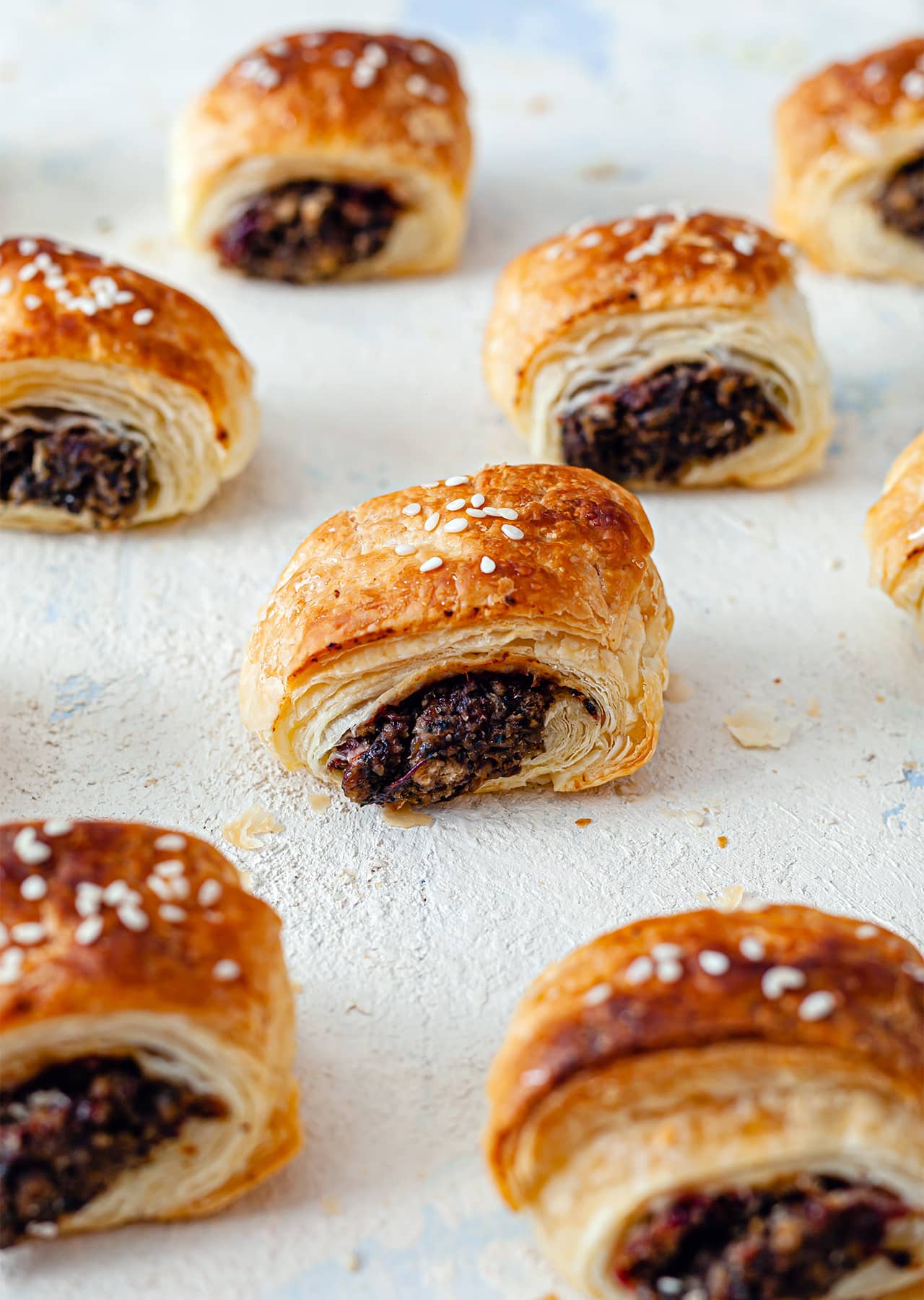 Ingredients
1 onion
olive oil
250g / 8.8oz chestnut mushrooms
50g / 1.8oz vacuum-packed cooked chestnuts
4 garlic cloves
12 fresh sage leaves
salt & pepper
1 1/2 tsp dijon mustard
40g / 1.4oz stale bread
1 x 320g / 11.3oz pre-rolled vegan puff pastry
3 tsp cranberry sauce
sesame seeds, to serve (optional)
Method
Peel and dice the onion then heat a little olive oil in a frying pan on a medium heat. Add the onion and fry for 5 minutes.
Meanwhile dice the mushrooms and chestnuts, then peel and dice the garlic. Add them to the frying pan and fry for 10 minutes.
Finely chop the sage and add it to the frying pan along with generous pinches of salt and pepper and fry for 3 minutes.
Transfer the mushroom mixture to a food processor along with the dijon mustard. Then tear the bread with your hands into smaller pieces and add it to the processor. Pulse until mostly broken down then leave the mixture to fully cool.
Preheat the oven to 180°C / 356°F fan. When the mushroom mixture has cooled, roll out the pastry and cut it in half lengthways. Spread half of cranberry sauce down the middle of each half of the pastry. Next add half of the mushroom mixture down the middle of each half of the pastry. Then wrap the pastry around the filling so you are left with two long logs. Cut each log into 10 equally-sized rolls and transfer them to a lined baking tray. Brush with olive oil and bake for 20-25 minutes or until golden brown. Sprinkle sesame seeds on top to serve.
Serve up as a Christmas snack.
Did You Make This Recipe?
Don't forget to share your SO VEGAN creations on Instagram and tag us at
@SOVEGAN
!