This beet wellington is a fantastic centrepiece for any roast dinner. The earthy beetroot takes pride of place, wrapped inside a wonderful stuffing and flakey puff pastry.
Beetroots come in various different sizes. The cooking times will vary depending on the size of the beetroots. When you pre-roast the beetroots, it's important you cook them long enough so they're soft before you use them to assemble the wellington.
Most shop-bought puff pastry is vegan friendly but it's always worth checking the label.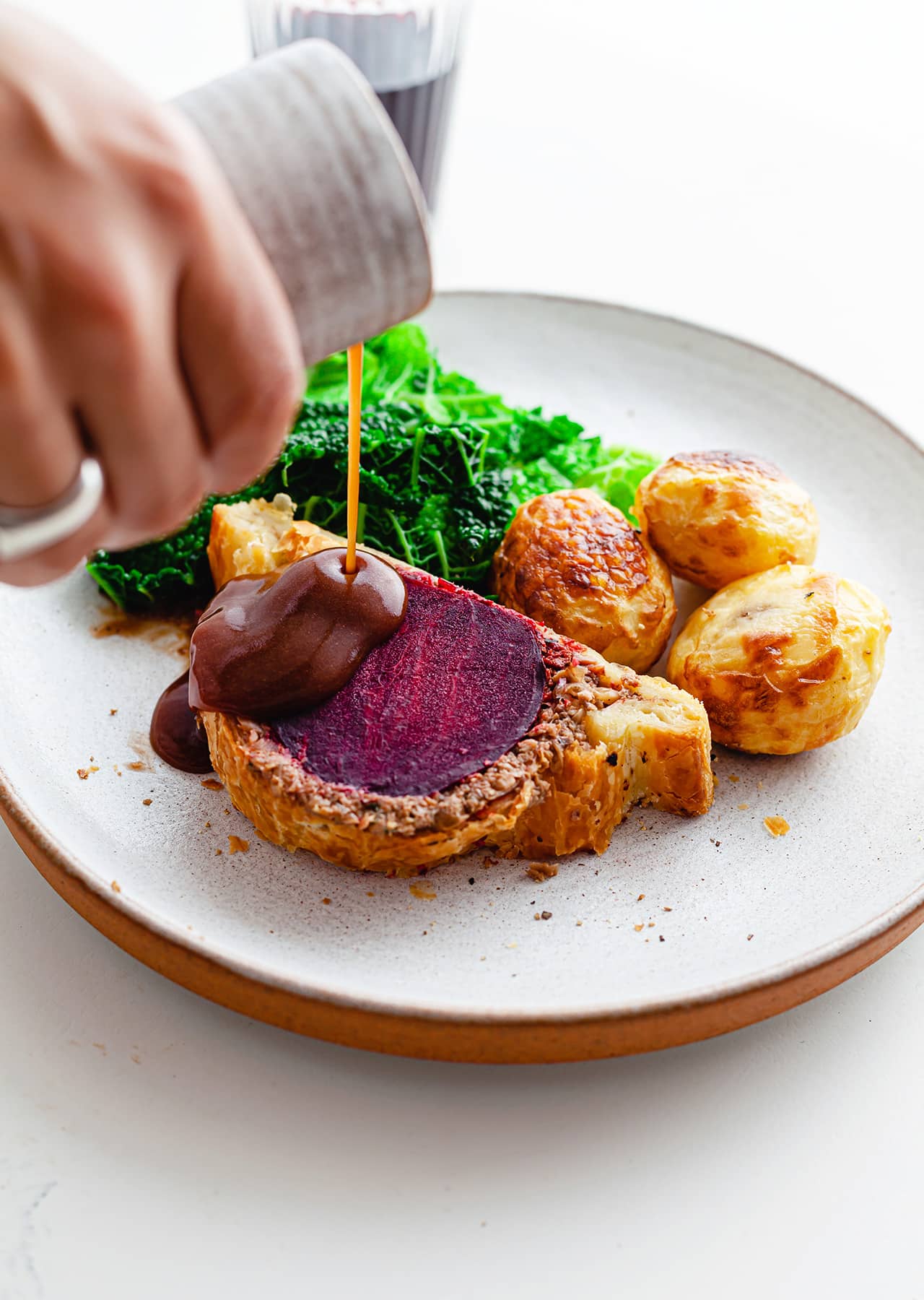 Ingredients
5 medium raw beetroot, peeled
1 tbsp olive oil
salt + pepper
1 sprig of fresh rosemary, leaves picked
500 g (17.6 oz) mushrooms, roughly chopped
3 shallots, peeled + roughly chopped
50 g (1.8 oz) walnuts
4 garlic cloves, peeled
2 tbsp soy sauce, or tamari for gluten-free
2 tbsp balsamic vinegar
2 tbsp nutritional yeast
5 sprigs of fresh thyme, leaves picked
2 x 320 g (11.3 oz) sheets of puff pastry, or gluten-free puff pastry
plant-based milk, for brushing
Method
Preheat the oven to 200°C fan / 425°F.
Line a baking tray with foil and place the beetroot on top of the foil. Drizzle with olive oil, season with salt and pepper and sprinkle over the rosemary leaves. Wrap the beetroot in the foil and bake for 1 hour or until the beetroot is just about soft all the way through when you poke a fork into it.
Place the mushrooms, shallots, walnuts and garlic in a food processor and process until everything is mostly broken down.
Transfer the mushroom mixture to a frying pan. Add the soy sauce, balsamic vinegar, nutritional yeast, thyme leaves and pinches of salt and pepper, and fry on a medium - high heat for 15 minutes or until all the moisture has evaporated. Then leave to cool.
Roll out one sheet of pastry onto a large lined baking tray.
Spread half the mushroom mixture down the middle lengthways the same width as the beetroot, leaving a few cm (1") at the top and bottom.
Place the beetroots on top next to each other and fill in the gaps between them with the remaining mushroom mixture, pressing down as you go to make sure there are no gaps.
Place the second sheet of pastry over the top and gently press it down over the filling. Press down around the edges to make sure they're sealed.
Trim away any excess pastry and press down along the edges with the back of a spoon to create a semi circle pattern. You can use any excess pastry to create decorations to place on top of the wellington and store leftovers in an air-tight container in the fridge for up to 4 days.
Brush the pastry with plant-based milk and bake in the oven for 25-35 minutes or until golden brown.
Serve up for Christmas dinner, Thanksgiving, or Sunday roasts.
Did You Make This Recipe?
Don't forget to share your SO VEGAN creations on Instagram and tag us at
@SOVEGAN
!