This vegan BLT pasta salad is serious business.
BLT sandwiches were a highlight of our childhood, so we're super excited to this awesome recipe with you guys!
This recipe is super tasty and we guarantee even your non vegan friends will be impressed.
The tofu is smokey, crispy and tangy. It perfectly compliments the herby mayo dressing.
Don't forget, if you love this, then you'll totally love our debut 5-ingredient cookbook So Vegan in 5, which is available to buy right now.
Enjoy!
Roxy & Ben
BLT Pasta Salad
Full recipe: sovegan.co/blt

Posted by So Vegan on Thursday, 28 March 2019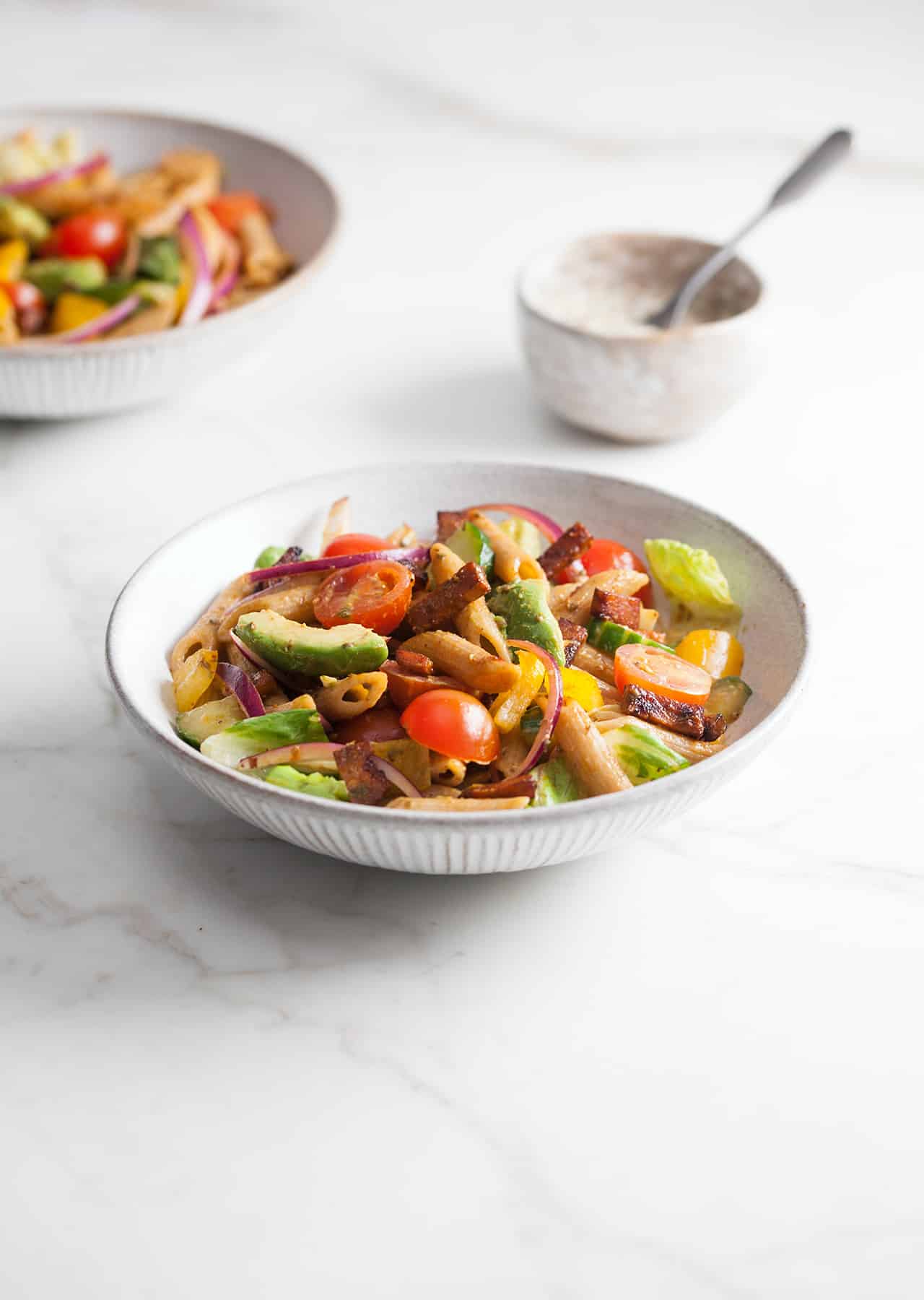 Ingredients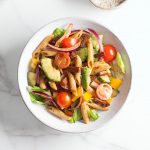 For the tofu marinade:
150g (5.3oz) firm tofu

2 tbsp soy sauce

1/2 tbsp maple syrup

1/2 tbsp tomato puree

1/2 tsp onion powder

1/2 tsp smoked paprika

1 tbsp olive oil

pinch of black pepper
For the salad:
250g (8.8oz) wholewheat pasta

250g (8.8oz) cherry tomatoes

1 yellow pepper

1/2 cucumber

1/2 red onion

1 avocado

3 leaves romaine lettuce
For the dressing
2 tbsp lemon juice

2 garlic cloves

6 tbsp vegan mayonnaise

2 tsp maple syrup

1 tsp dijon mustard

4 tsp dry oregano
Method
Preheat the oven to 200

°C fan

/ 425

°F

and line a baking tray with baking paper.
Remove the tofu from the packaging. To press the tofu, place it on a plate and cover with a paper towel followed by a heavy object, such as a cast-iron pan or a heavy book. Leave it to press while you complete the next step.
Combine the remaining tofu marinade ingredients in a small bowl.
Slice the pressed tofu into small pieces, approximately 0.5cm thick and 1cm wide. Add the tofu pieces to the marinade and stir until all the pieces are fully coated. Then transfer the pieces to the baking tray and bake for 20 minutes, turning the pieces over halfway through.
Meanwhile cook the pasta as per the packet instructions. Then slice the cherry tomatoes in half, dice the cucumber and yellow pepper, and finally slice the red onion, lettuce leaves and avocado. Add the vegetables and cooked pasta to a large mixing bowl.
To prepare the dressing, add all the ingredients to a small mixing bowl and stir until fully combined.
Add the tofu bacon to the large mixing bowl along with half of the dressing, then stir the salad until everything is fully combined.
Serve the BLT salad in bowls alongside the remaining dressing. Bon appetit!
Did You Make This Recipe?
Don't forget to share your SO VEGAN creations on Instagram and tag us at
@SOVEGAN
!