Opt for soy-free margarine to make this recipe soy-free.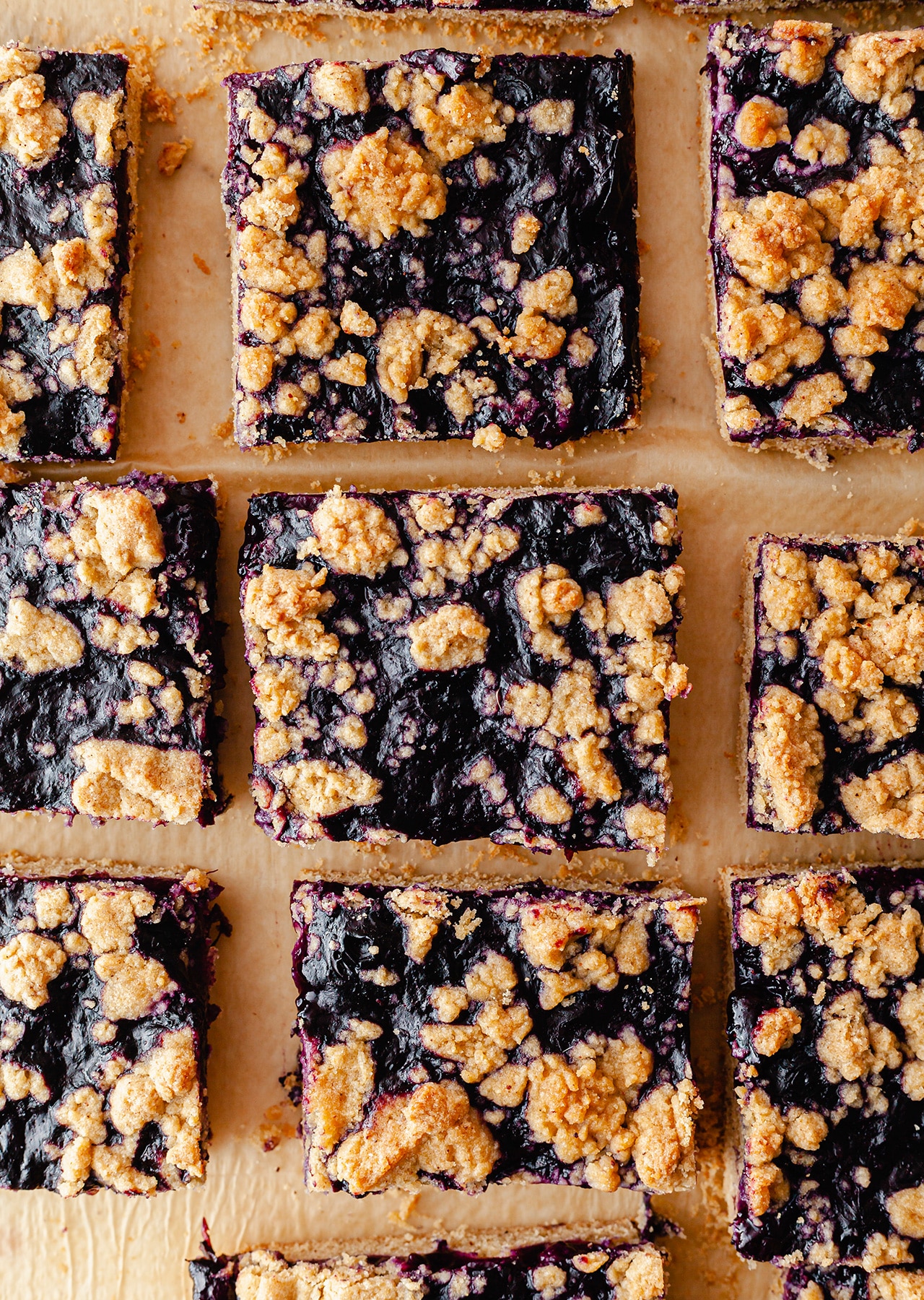 Ingredients
vegetable oil, for brushing
150g / 5.3oz buckwheat flour
250g / 8.8oz plain flour (or gluten-free flour)
150g / 5.3oz light brown sugar
1 tsp baking powder
1 tsp ground cinnamon
250g / 8.8oz plant-based margarine
For the blueberry compote
500g / 17.4oz fresh blueberries
30g / 1.1oz light brown sugar
1 lemon, zest only
2 tbsp cornflour (or cornstarch)
Method
Preheat the oven to 180°C / 356° fan. Next line a baking tin (ours is roughly 9" x 13") with baking paper across the base and fully up the sides so you can easily pull out the squares later using the baking paper. Then brush the baking paper with a touch of oil.
Combine the buckwheat flour, plain flour, light brown sugar, baking powder and cinnamon in a large mixing bowl. Then add the plant-based margarine and rub the margarine into the dry ingredients using your fingertips until you get a crumb like consistency.
Next, for the blueberry compote pop the blueberries in a saucepan on a medium heat, followed by the light brown sugar and lemon zest. Simmer for 6 - 8 minutes until some of the water has evaporated. Next add the cornflour to a small bowl and combine it with 2 tablespoons of water until smooth. Then add the cornflour mixture to the saucepan and simmer for 1-2 minutes or until the compote has thickened.
Add three quarters of the crumb to the baking tin and press it down with your fingers to make sure it is compact. Then evenly pour the blueberry compote over the top and sprinkle the remaining crumb all over to finish. Bake for 25 - 35 minutes or until the crumb is golden brown.
Leave to cool fully in the tin then gently pull the crumble out using the baking paper and pop it onto a chopping board and slice into 15 squares.
Did You Make This Recipe?
Don't forget to share your SO VEGAN creations on Instagram and tag us at
@SOVEGAN
!