Quick and easy, this tasty pistachio pesto pasta will take you practically on time at all.
It ticks all the boxes for an easy and nutritious midweek meal.
We've packed this pasta full with fresh herbs, veggies and tons of that wonderful pesto flavour.
Here's what you need to know:
The chilli flakes are optional, but we love the warm kick it gives this dish.

We really enjoy the strong flavour of garlic in this pesto, but if you prefer a milder flavour go for 2 cloves and add more if you think it needs it.
Enjoy!
Roxy & Ben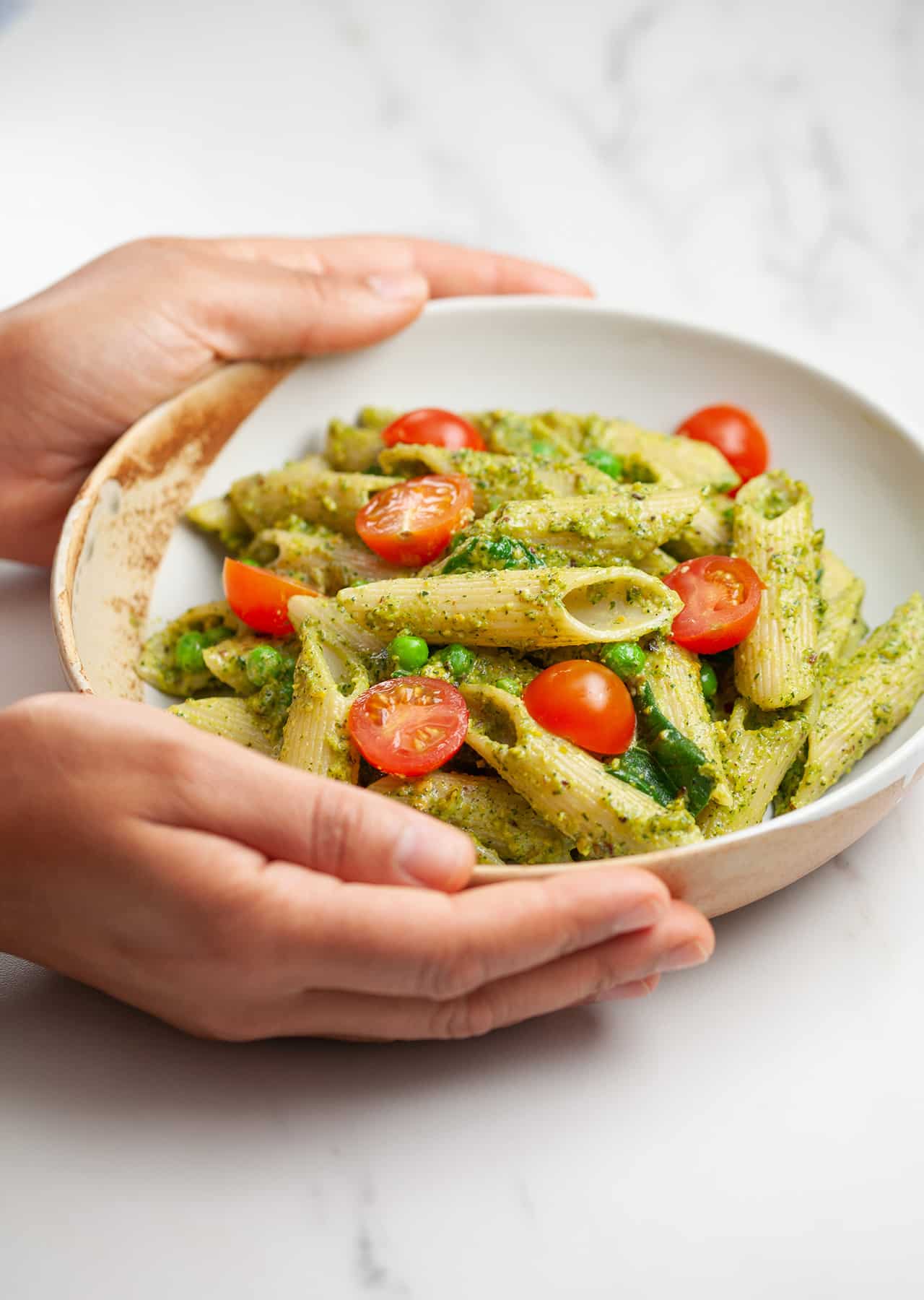 Pistachio Pesto Pasta
Full recipe: sovegan.co/ppp

Posted by So Vegan on Friday, 8 March 2019
Pistachio Pesto Pasta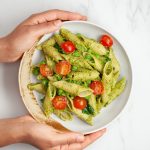 diana
Quick and easy, this tasty pistachio pesto pasta will take you practically on time at all. It ticks all the boxes for…
Print This
Ingredients
400g / 14.1oz pasta
2 handfuls of spinach
250g / 8.8oz frozen peas
3-4 garlic cloves
100g / 3.5oz pistachios, peeled
30g / 1oz nutritional yeast
25g / 0.9oz fresh basil
10g / 0.4oz fresh mint
1/2 tsp chilli flakes
1 lime
4 tbsp of extra virgin olive oil
salt and pepper
250g / 8.8oz cherry tomatoes
Instructions
Cook the pasta in salted boiling water for 8 minutes.
Add the spinach and frozen peas to the pasta, and leave to cook for a further 2 minutes or until the spinach has wilted and the pasta is al dente. Then drain the pasta, saving 4 tbsp of pasta water for later.
Peel the garlic and add the cloves to a food processor along with the pistachios, nutritional yeast, basil, mint, chilli flakes, the zest of ½ of the lime, the juice from the lime, the reserved pasta water, extra virgin olive oil, and generous pinches of salt and pepper. Process until smooth.
Slice the cherry tomatoes in half and stir them into the pasta along with the pistachio pesto, until the pasta is fully coated in the pistachio sauce.
To serve, divide the pasta between 4 bowls. Enjoy!