If you can't find self-raising flour, you can use plain (all-purpose) flour and 1 tsp of baking powder. However the texture will be different and they might not be as flat.
These cookies will keep well for 3 days in an air-tight container.
Oven temperatures can vary and the baking time for these cookies is vital to get the right texture. The trick is to take them out just as the edges begin to turn a golden brown. Don't worry if they're very soft because they'll harden as they cool.
Light brown sugar has the perfect balance of sweetness and caramel-flavour. If you can't find it, you can try using a mix of a white and a brown sugar.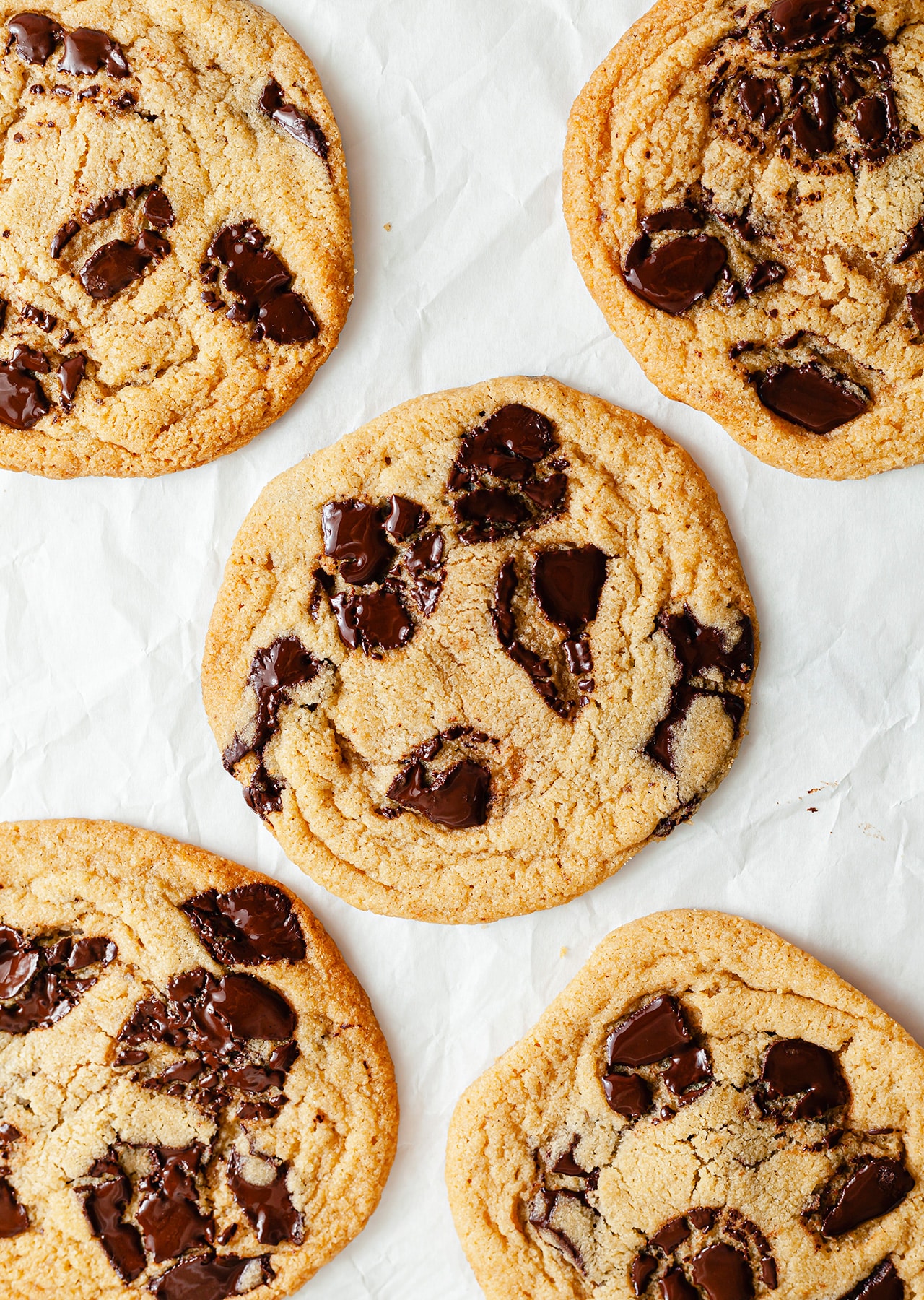 Ingredients
100g (3.5oz) light brown sugar
150g (5.3oz) dairy-free margarine
160g (5.6oz) self raising flour
80g (2.8oz) 70% dark chocolate
Method
Preheat the oven to 180°C / 350°F fan-assisted and line 2 large baking trays with baking paper.
Cream the sugar and margarine together in a mixing bowl. Then stir in the self-raising flour until combined.
Roughly chop the dark chocolate into small chunks and stir it into the cookie dough (save a dozen or so pieces to push into the cookies).
Divide the dough into six pieces, then roll each piece into a ball and place them on the baking trays with a good distance between them. Don't worry if the cookie dough is really soft. Push the remaining chocolate chunks into the top of the balls, then bake in the oven for 12-15 minutes or until the cookies begin to turn golden brown around the edges.
Leave the cookies for 15 minutes or so to harden slightly, then transfer to a cooling rack. We love to eat these while they're still warm but they'll keep well for 3 days in an air-tight container.
Did You Make This Recipe?
Don't forget to share your SO VEGAN creations on Instagram and tag us at
@SOVEGAN
!