Leave the veggies to cool for as long as possible before mixing with the remaining ingredients. This will help the moisture escape and keep the tater tots firm.
If they feel a little soft when they come out of the oven – don't fret – leave the tots for a few minutes to firm up before serving.
You can easily add your own twists with different spices. Sometimes we turn them into curry-spiced tots using cumin, garam masala and ground coriander. Yum!
If you prefer more of a crunch, after grating and chopping the potato and broccoli, squeeze them in a clean tea towel before adding them to the mixing bowl. This will help to remove even more moisture.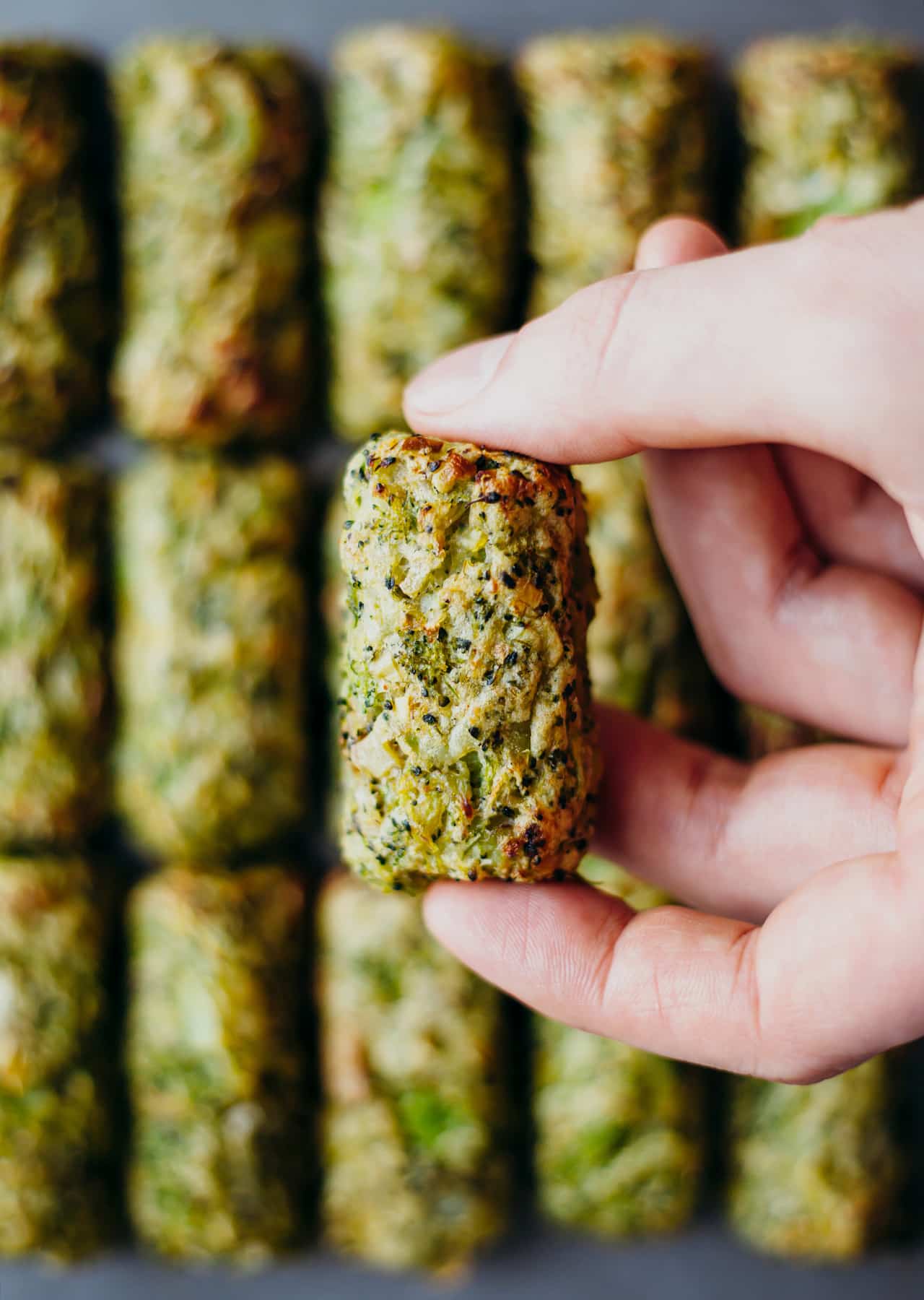 Ingredients
350g potato
1 broccoli head 
1/2 onion
1/2 tsp salt
pinch of pepper
1/4 tsp chilli powder
1/4 cup nutritional yeast
ketchup or vegan mayonnaise to serve (optional)
Method
Fill a saucepan with boiling water and place over a medium heat. Roughly chop the potato (leave the skins on) into 2-inch chunks and cut the broccoli stem into 1-inch chunks. Add the potato and the broccoli stem to the boiling water and boil for 5 minutes.
Meanwhile, break up the broccoli head into florets, then add them to the saucepan with the potato and broccoli stem and boil for a further 2 minutes.
Drain the water from the pan and leave the potato and broccoli to steam cool for as long as possible.
Preheat the oven to 220°C / 428°F fan and line a baking tray with baking paper
Meanwhile peel the onion and finely dice it. Once cool, grate the potato and broccoli stem and finely chop the florets with a knife (optional: if you want the tots to be extra crunchy, squeeze the grated/chopped potato and broccoli between a clean tea towel to remove more moisture). Then transfer the grated potato, stem and broccoli florets to a mixing bowl along with the onion and remaining ingredients. Combine with your hands until all the ingredients are fully incorporated.
Next take a couple of tablespoons of the mixture and shape it in your hands to form a cylinder and place it on the baking tray. Repeat until all of the mixture has been used up. Bake in the pre-heated oven for 20 minutes or until the tater tots are golden brown.
Did You Make This Recipe?
Don't forget to share your SO VEGAN creations on Instagram and tag us at
@SOVEGAN
!