2020 has been hard enough so it's about time we started making things easier for ourselves.
Step forward our Fairtrade spiced chocolate coffee sheet cake.
A one-tray wonder.
We start with a soft spiced chocolate coffee sponge (seriously!) and top it with a smooth vegan buttercream.
And what's more, we've joined forces with Fairtrade for this recipe.
We use the delicious Percol Fairtrade Coffee, which is a smooth Columbian roast with berry and citrus notes.
You can find out more about our friends at Fairtrade below.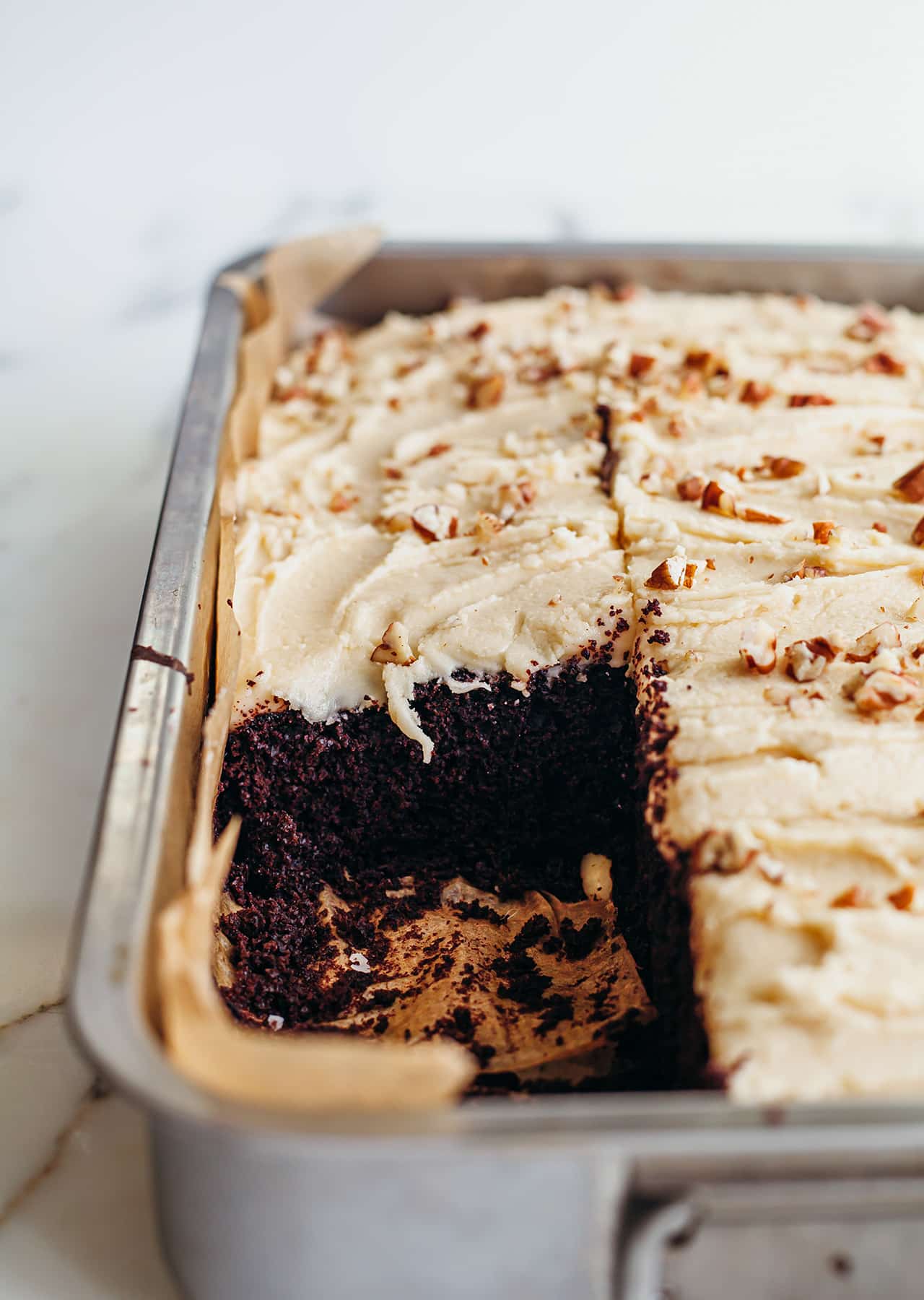 Here's what you need to know about the recipe:
Toppings are optional! We love the crunchy texture and sweetness from the pecans, but any other nut will do. Or you could go for something more indulgent like chocolate chips. Yum.
It's important to use soya milk to create the vegan buttermilk. Other types of plant-based milk might not curdle so you won't get the same creamy texture from the buttermilk.
If you can't find golden caster sugar, you can use regular caster sugar instead. Golden caster sugar is unrefined and has a slightly more caramel flavour.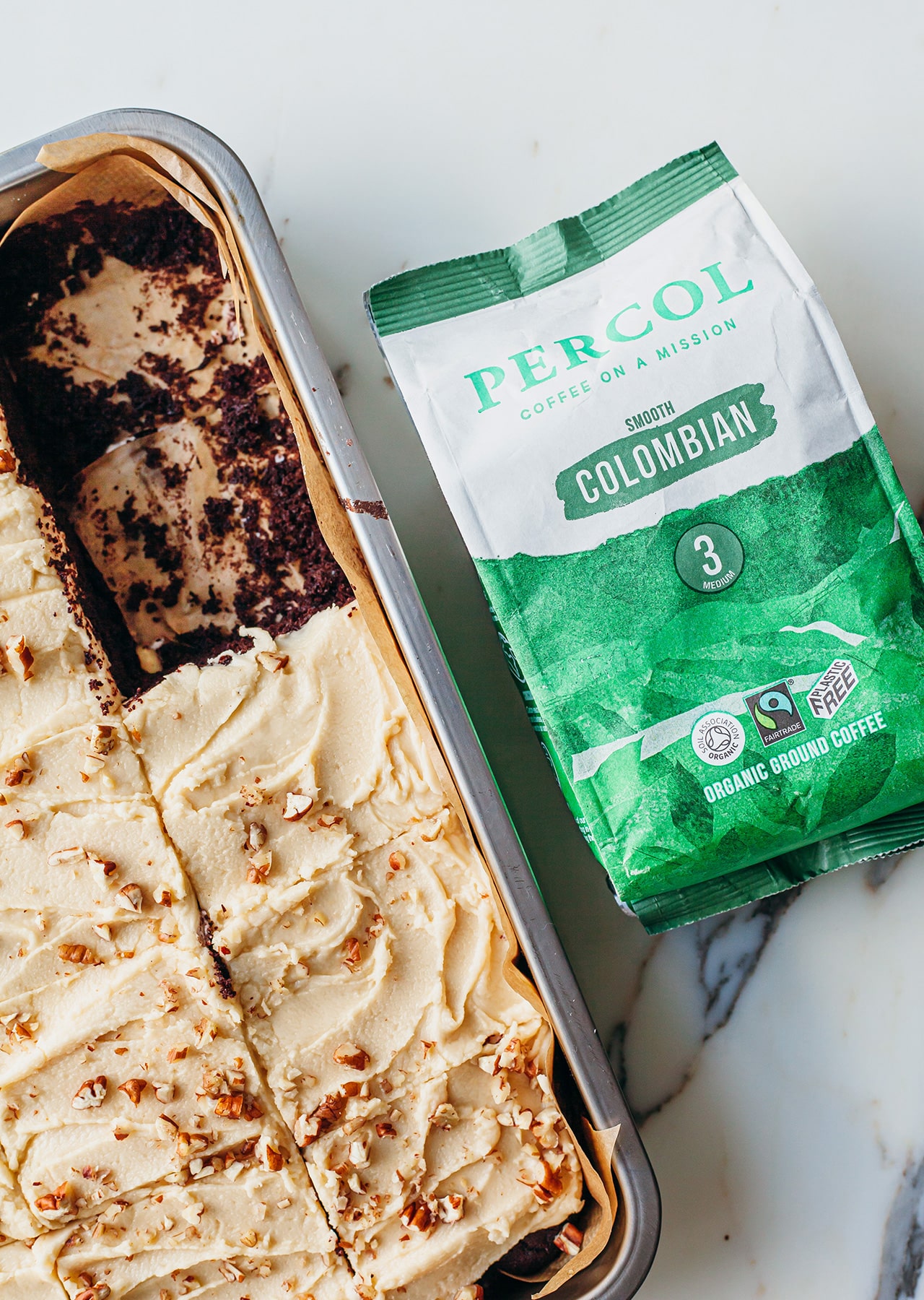 We're super stoked to be teaming up with Fairtrade for this epic cake.
As you can imagine we're big believers in supporting fair trade businesses, which also means supporting fair pay, protection of people and planet, gender equality and so much more.
It's a mission close to our hearts so we were over the moon when they asked us to create a recipe using the delicious Percol Fairtrade Coffee.
Don't forget you can get so many Fairtrade ingredients nowadays.
In this recipe we use Fairtrade caster sugar, cocoa powder, cinnamon, nutmeg, vanilla extract AND icing sugar.
You can find out tons more Fairtrade at fairtrade.org.uk.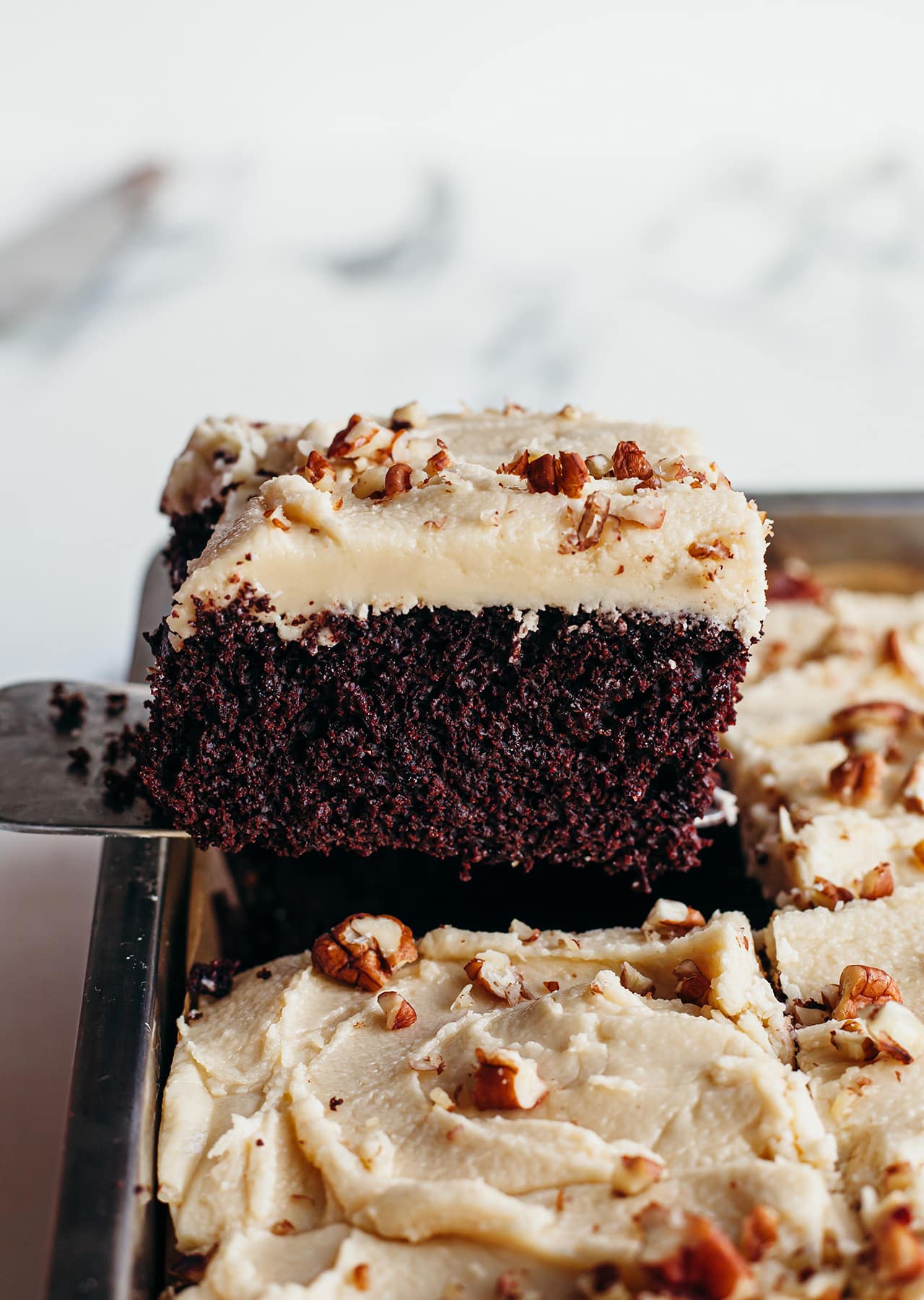 Honestly, this cake is ridiculously delicious.
The cinnamon and nutmeg really compliment the bittersweet flavour from the cocoa and coffee.
And let's not forget the most epic buttercream we've ever created.
We're talking about a coffee and vanilla-infused creamy buttercream. Let that sink in for a second!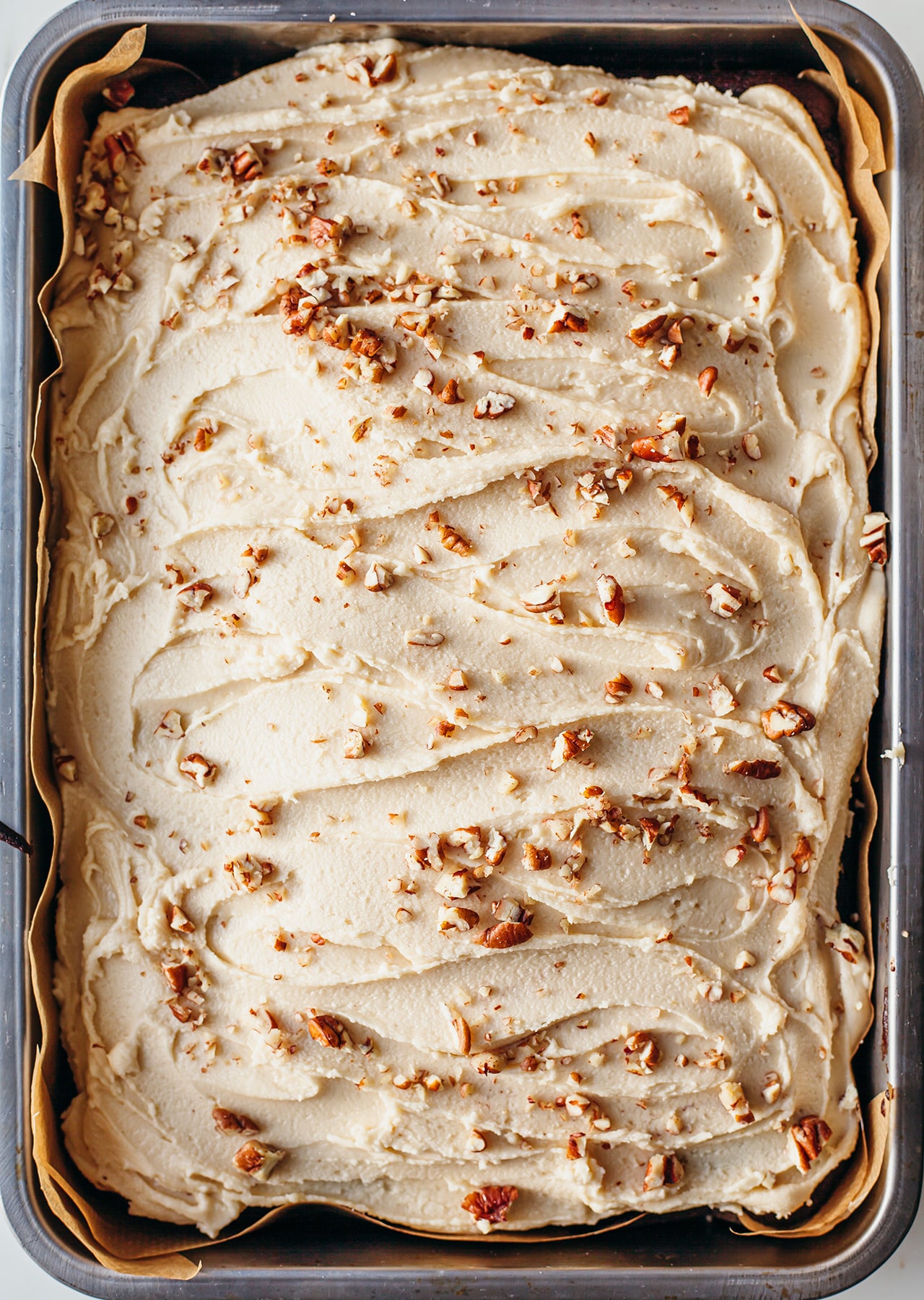 Ingredients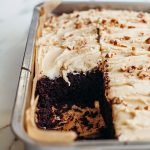 For the cake:
6 tbsp Fairtrade Percol smooth ground coffee
100ml / 3.4 fl.oz soya milk
1 tbsp apple cider vinegar
300g / 10.6oz golden caster sugar
320g / 11.3oz plain flour
80g / 2.8oz cocoa powder
1 tbsp baking powder
1 tsp bicarbonate of soda
2 tsp ground cinnamon
1 tsp ground nutmeg
pinch of salt
300g / 10.6oz vegan margarine
1 tbsp vanilla extract
handful of pecans
For the coffee buttercream:
4 cups icing sugar
6 tbsp vegan margarine
1 tsp vanilla extract
You will also need a tray (sheet pan) approximately 32cm x 22cm.
Method
First, add the ground coffee to a coffee press and cover with 250ml of hot water. Stir, leave to brew for 4 minutes, then push the plunger down and transfer the coffee to a jug.
Next transfer the soya milk and apple cider vinegar to a small bowl, stir and set to one side to allow the mixture to curdle into vegan buttermilk.
Preheat the oven to 180°C fan / 400°F and line a sheet pan with baking paper.
Next add the sugar, flour, cocoa powder, baking powder, bicarbonate of soda, cinnamon, nutmeg and salt to a large mixing bowl. Stir to combine.
Melt the vegan margarine in a microwave or on the hob then add it to the dry ingredients along with the vegan buttermilk from earlier, vanilla extract and 3 tablespoons of coffee. Stir until the cake mix is fully combined, then pour it into the prepared sheet pan and even out with a spatula. Bake for 30 - 40 minutes or until a toothpick comes out clean.
Once finished baking, remove the cake from the oven and leave to cool fully.
To make the coffee buttercream add the icing sugar, margarine and vanilla extract to either a large bowl (if making by hand) or a food processor. Add 2 tablespoons of the coffee from earlier and mix with a whisk or process in the food processor until smooth. Note; add 1 - 2 teaspoons of water if the mixture is too dry.
Top the cake with the buttercream and spread it out evenly. To finish, finely chop the pecans and sprinkle them all over.
Finally, time to slice the cake into squares and devour. So delicious!
Did You Make This Recipe?
Don't forget to share your SO VEGAN creations on Instagram and tag us at
@SOVEGAN
!