This recipe combines two of our favourite things: carrot cake and doughnuts. These doughnuts are light, fluffy and spiced with gorgeous nutmeg and cinnamon.
Aquafaba is the juice from a tin of chickpeas and it gives our doughnuts their lovely light texture. It's important you use unsalted tinned chickpeas, otherwise your doughnuts might taste a little salty!
You'll need a doughnut mould tray. We use a shallow tray, which makes 8 relatively small doughnuts.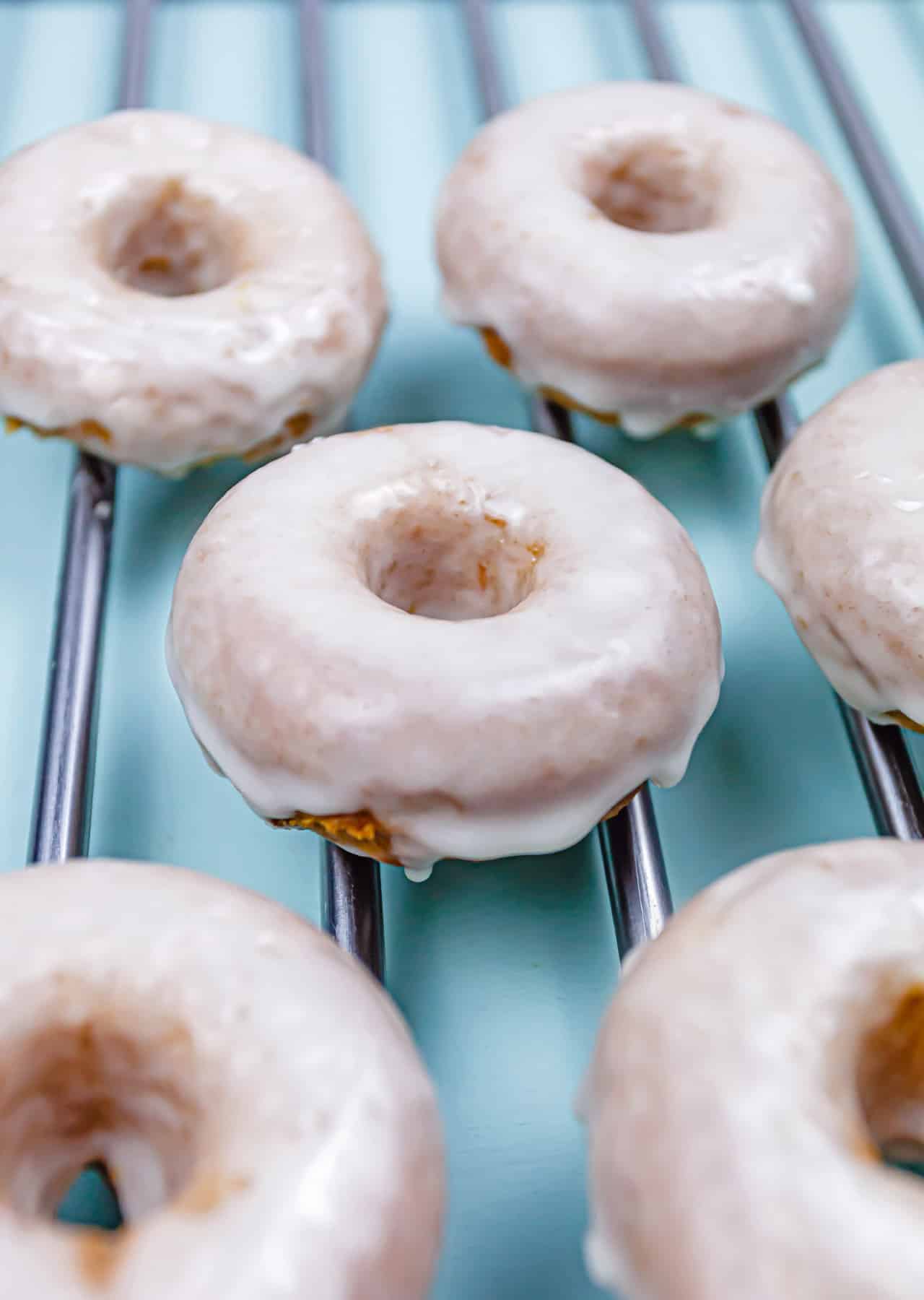 Ingredients
130 g (4.6 oz) plain flour
1 tsp baking powder
1 tsp ground cinnamon
1/4 tsp ground nutmeg
4 tbsp aquafaba
50 ml (1.7 fl.oz) maple syrup
55 g (1.9 oz) vegan margarine, plus extra for greasing
65 g (2.3 oz) light brown sugar
1 tsp vanilla extract
90 g (3.2 oz) carrot, grated
For the icing:
1 cup icing sugar
2 tsp lemon juice
2 tsp plant-based milk
Method
Preheat the oven to 180°C fan / 400°F and lightly grease the doughnut tray with a small amount of vegan margarine.
Combine the flour, baking powder, cinnamon and nutmeg in a mixing bowl.
In a separate bowl combine the aquafaba, maple syrup, margarine, sugar and vanilla extract.
Transfer the wet mixture to the dry ingredients in the mixing bowl, and combine. Then add the grated carrot and mix again until all the ingredients have combined.
Spoon the cake mixture into the doughnut moulds until each mould is roughly 2/3 full.
Place the doughnut tray in the oven and bake for 15 minutes.
Remove the doughnut tray from the oven and leave to cool for 5 minutes.
Meanwhile, combine the icing ingredients together in a medium sized bowl until smooth. The consistency should be slightly thick so the icing sticks to the doughnuts. If your mixture is too runny, simply add some more sugar.
Once cooled enough to touch, remove the doughnuts from their moulds.
Dunk the bottom of the doughnuts (which will be the smoothest side) in the icing and gently lift it out. Use a fork to hook the doughnuts out, if you prefer.
Did You Make This Recipe?
Don't forget to share your SO VEGAN creations on Instagram and tag us at
@SOVEGAN
!