Tapas has to be one of humankind's greatest accomplishments.
We just love the idea of sitting at a bar, ordering various plates of delicious food and sipping a glass of gorgeous Rioja.
One of the most famous dishes is 'Albondigas', otherwise known as 'tapas Spanish meatballs'.
Smoked paprika and a rich tomato sauce combine to make this dish a wonderfully comforting mini-meal.
Our vegan version isn't strictly traditional, but we take inspiration from this brilliant creation.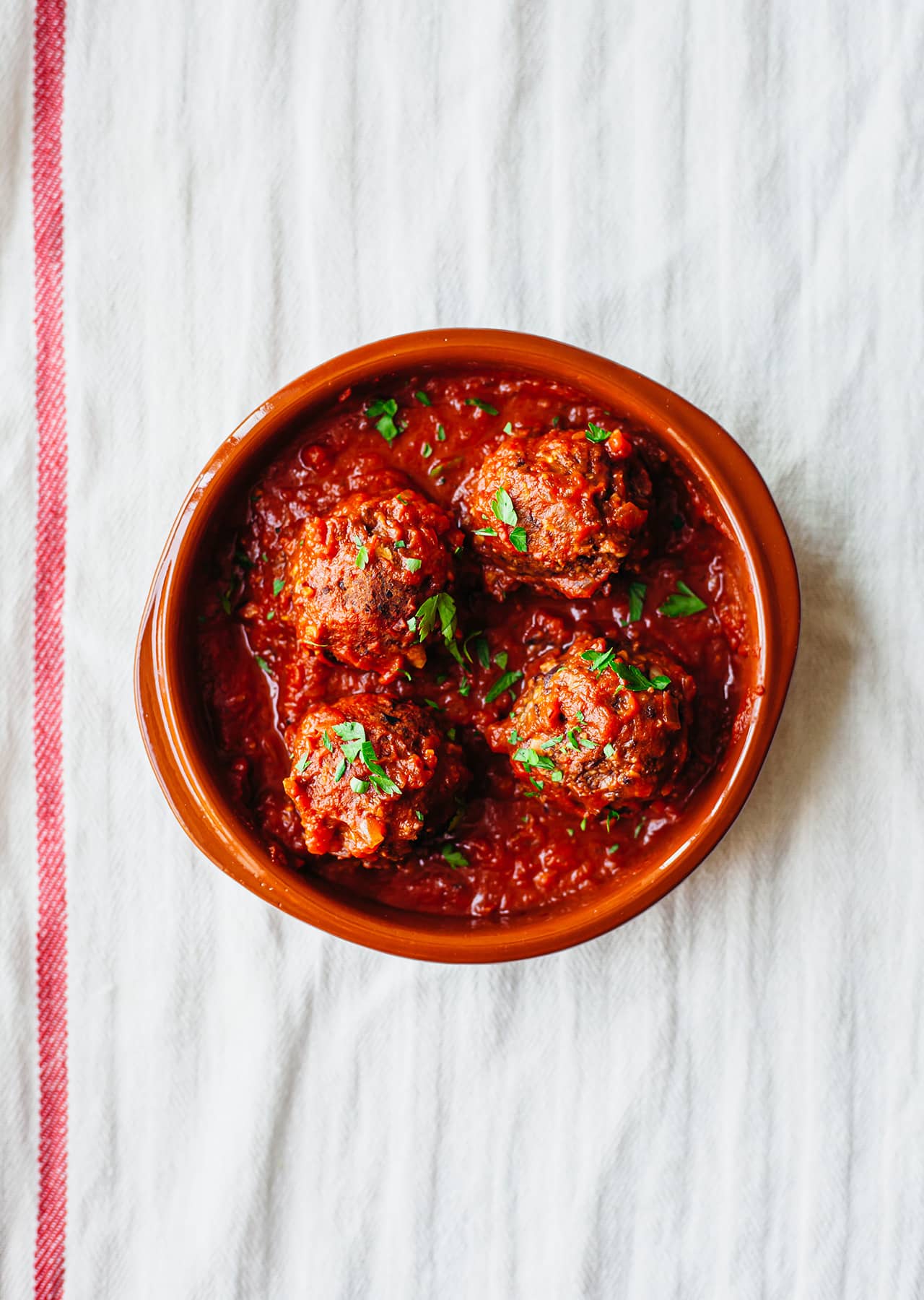 For the meatballs we bring together black beans, oats and walnuts.
The texture is superb. They're soft but not mushy, while the soy sauce adds much-needed depth of flavour.
Here are a few things to know:
You can make this gluten-free using tamari instead of soy sauce.
We used passata because we love the smooth consistency, but you can substitute this for tinned tomatoes.
These vegan meatballs go perfectly with crusty bread, but we've also served them with grains like buckwheat and quinoa.
It's important to avoid over-processing the meatball mixture because they'll turn into a 'mushy' texture. Simply pulse until you can roll the mixture together into your hands and it doesn't fall apart.
You'll also want to leave the meatballs to rest after they've come out of the oven. They'll become firm and it'll prevent them falling apart in the pan.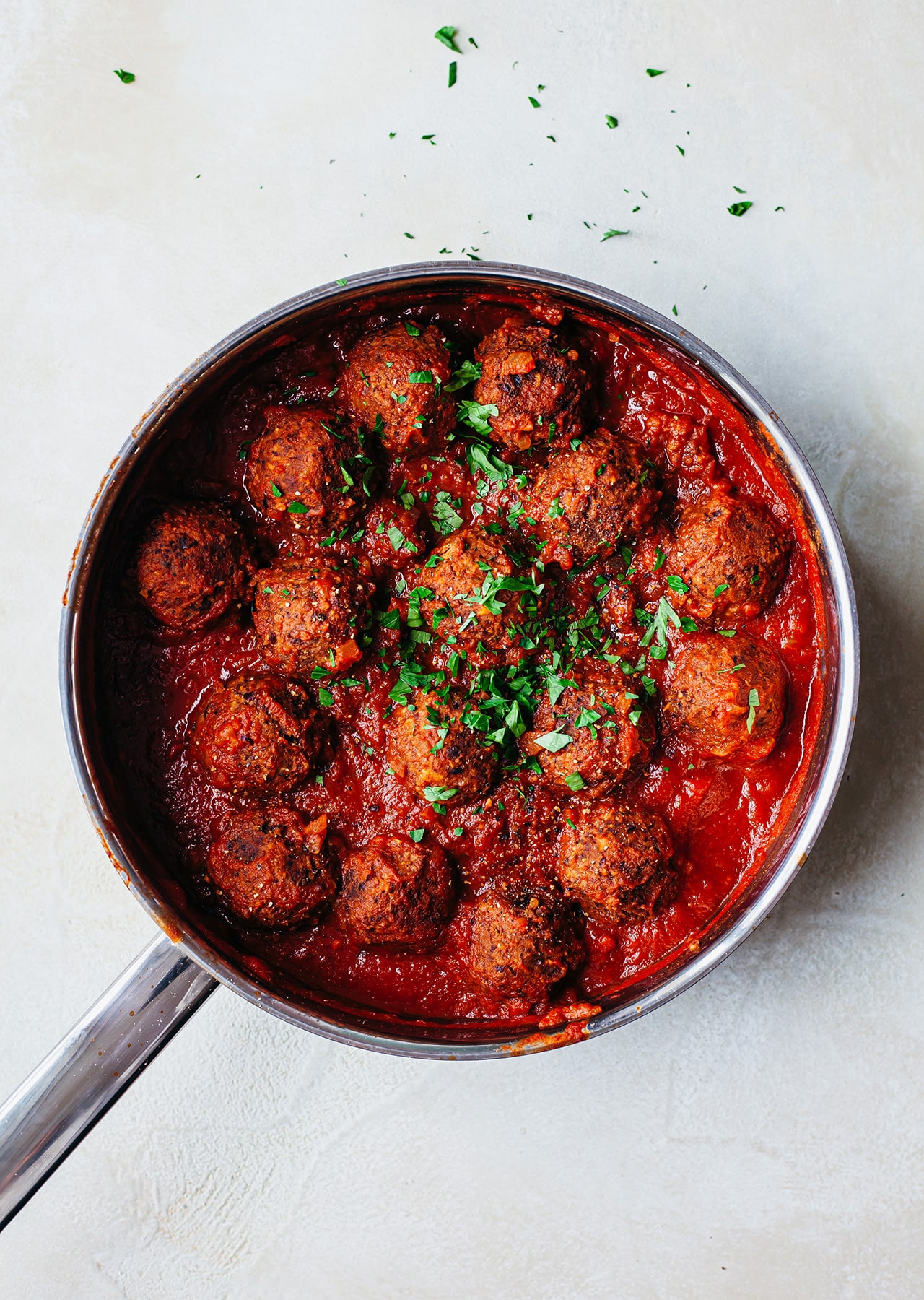 Smokey Spanish-Style Vegan Meatballs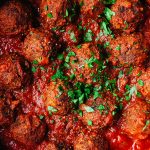 Ben, So Vegan
Tapas has to be one of humankind's greatest accomplishments. We just love the idea of sitting at a bar, ordering various plates…
Print This
Ingredients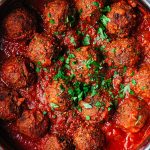 For the meatballs:
2 x 400g tins of black beans
2 garlic cloves
50g / 1.8oz rolled oats
80g / 2.8oz walnuts
2 tbsp soy sauce
1/2 tsp cayenne pepper
1/2 tbsp smoked paprika
1/2 tbsp dried oregano
salt and pepper
olive oil
For the sauce:
olive oil
1 onion
2 garlic cloves
1 tsp smoked paprika
salt and pepper
800g / 28.2oz passata
1 tsp granulated sugar
fresh parsley, to serve
crusty bread, to serve
Instructions
Preheat the oven to 180°C / 356°F fan-assisted.
For the meatballs, first drain and rinse the black beans, then peel the garlic cloves. Add both to a food processor, along with the oats, walnuts, soy sauce, pinches of salt and pepper, cayenne pepper, smoked paprika and oregano. Pulse a dozen or so times until the mixture is combined, but avoid turning it into a mulch.
Next roll the mixture into 16 evenly-sized balls and transfer them to a tray. Brush each ball with olive oil, bake in the oven for 20 minutes, then remove the balls and leave them to rest on the side.
Meanwhile start making the sauce by peeling and dicing the onion. Add 2 tbsp of olive oil to a large pan over a medium heat. As soon as the oil is hot, add the onion and fry for 5 minutes.
Meanwhile peel and dice the garlic cloves. Then add them to the pan, along with the smoked paprika and pinches of salt and pepper. Fry for 2 minutes.
Next add the passata and granulated sugar. Stir, bring the sauce to a gentle boil, then lower the heat and simmer with the lid on for 30 minutes, stirring occasionally.
The sauce will be ready when it has thickened slightly and the sauce is no longer bitter. If necessary, cook the sauce for an extra 5-10 minutes with the lid off. When it's ready, add the meatballs, turn the heat down and gently stir them into the sauce.
To serve the meatballs, top with chopped fresh parsley and freshly ground black pepper, and serve alongside some crusty bread. Best served immediately.