Making your own homemade naan couldn't be any easier! Our super simple recipe only requires a couple of ingredients and it'll take you no time at all.
Vegan yoghurts come in different consistencies so you might need to add more flour if you're dough is too sticky or more yoghurt if your dough is too dry.
If the naans puff up while you're toasting them in the pan, simply stab them with a fork or a knife to remove the air.
A good trick is to leave the rolled out dough under a damp tea towel while you toast each naan in the pan. This will stop them drying out.
If you can't find self-raising flour, try adding 1/2 tsp of baking powder and 1/2 tsp of bicarbonate of soda (baking soda) to plain/all-purpose flour to help give it some lift.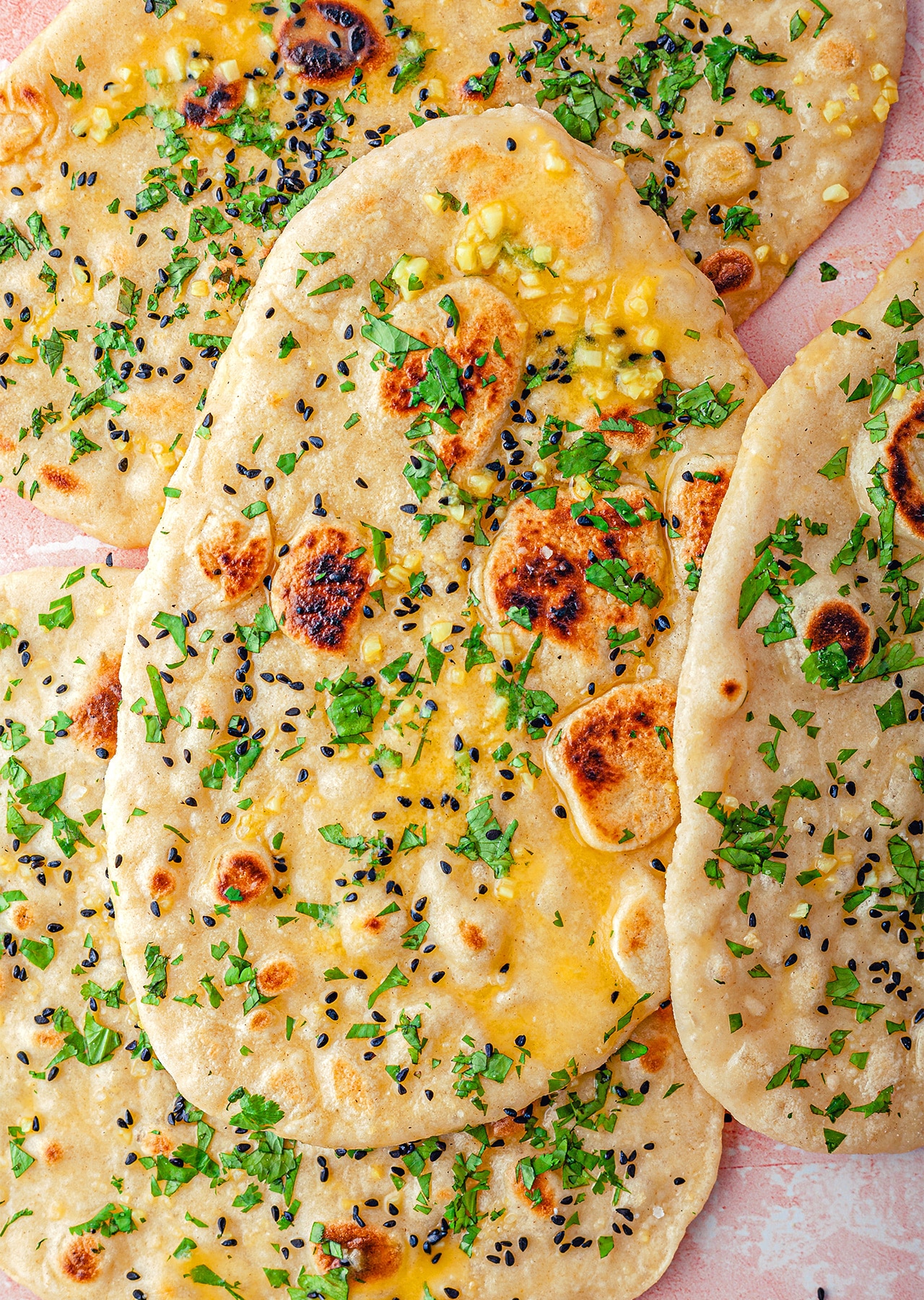 Ingredients
200g / 7.1oz self-raising flour, plus extra
200g / 7.1oz vegan plain yoghurt (we use soy yoghurt)
Optional toppings:
2 tbsp vegan margarine or butter
3 garlic cloves, diced
salt
small handful of fresh coriander, chopped
1 tsp nigella seeds
Method
Use a spoon to combine the flour and yoghurt in a mixing bowl, then turn the dough out onto a floured surface and bring the dough together with your hands. Note: you'll need to add more flour if the dough is too sticky

or more yoghurt if the dough is too dry

. Split the dough into four pieces and roll each piece into an oval shape approximately 20cm (8") in length and a few millimetres thick.
Heat up a pan over a medium-high heat. As soon as the pan is hot, add one of the naans and toast each side for 1-2 minutes until it begins to char. Repeat for the remaining naans.
If making the vegan garlic butter, add 2 tbsp of vegan margarine and the diced garlic to small saucepan over a medium heat. Wait until the margarine has melted, then cook for another minute. Brush the vegan garlic butter over the naans and top with a pinch of salt, then scatter over the coriander and nigella seeds.
Notes
Nutritional information per naan (not including toppings): Calories 199kcal / Protein 6.5g / Fat 1.9g / Sat Fat 0.4g / Carbs 40.9g / Sugar 1.4g / Fibre 2.5g
Did You Make This Recipe?
Don't forget to share your SO VEGAN creations on Instagram and tag us at
@SOVEGAN
!