These easy vegan fajitas are simple, colourful and are bursting with spicy flavours.
Our homemade spice mix gives these fajitas a lovely kick, which balances really well with the soothing cashew sour cream.
If you don't fancy whipping up some homemade cashew sour cream, you can simply sub for vegan plain yoghurt.
Many agree that the key to an excellent fajita is the tortilla, so try to find good quality tortillas from your local store.
We serve our fajitas with mashed avocado, diced cherry tomatoes, cashew sour cream and coriander.
This recipe will make 4 large fajitas or you can stretch it to 6 medium-sized ones.
And don't forget, if you love this, then you'll totally love our debut 5-ingredient cookbook So Vegan in 5, which is available to buy right now.
Enjoy!
Easy Traybake Fajitas

Love this? Then you'll also love our debut cookbook #SoVeganIn5 sovegan.co/cookbook

Posted by So Vegan on Tuesday, 11 June 2019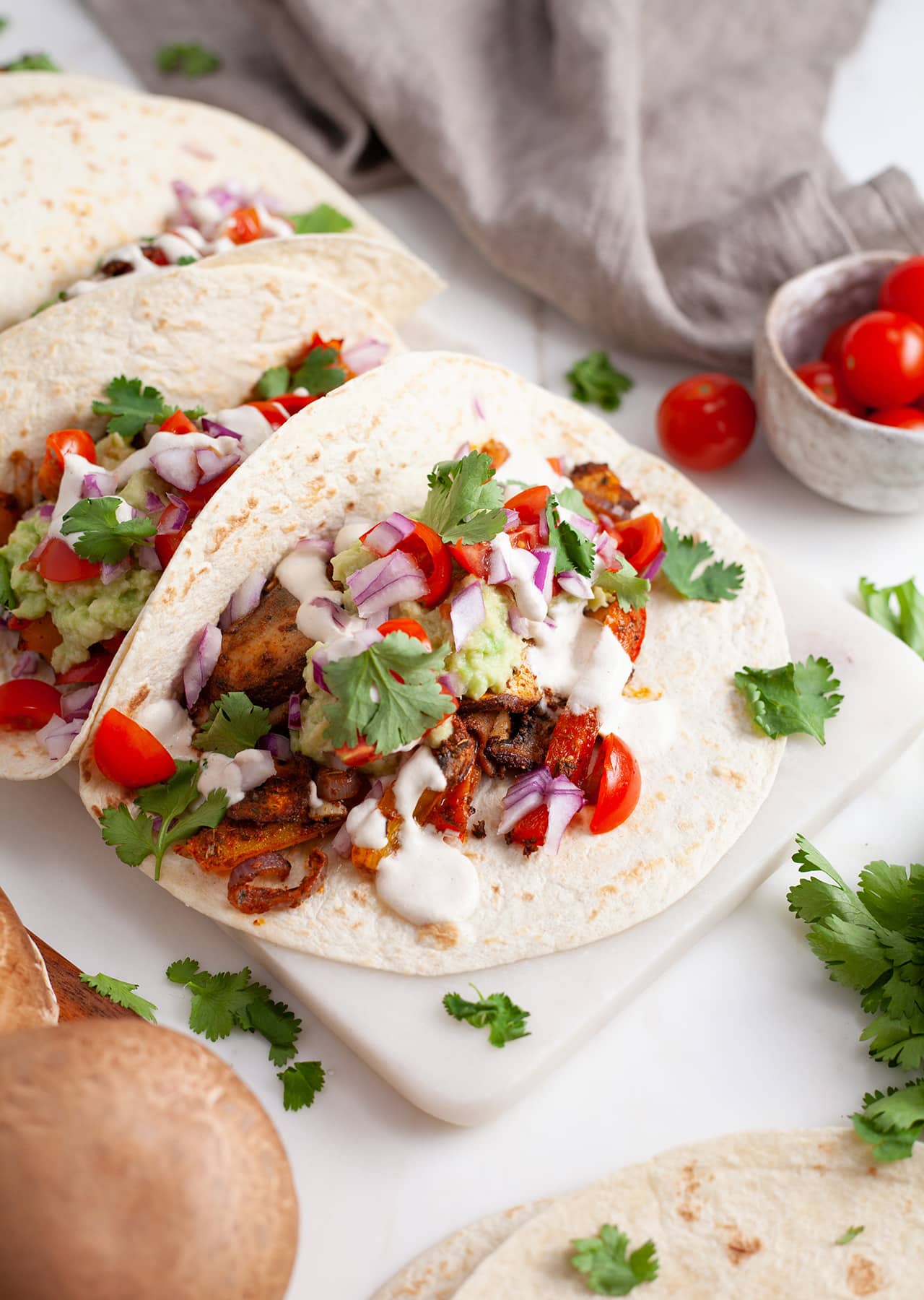 Ingredients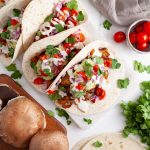 For the veggies:
1 yellow pepper
1 red pepper
1 red onion
150g / 5.3oz portobello mushrooms
3 cloves garlic
For the fajita mix:
2 tsp paprika
2 tsp cumin
2 tsp oregano
1/4 tsp chilli powder
1/4 tsp cayenne pepper
1/2 tsp cinnamon powder
big pinch of salt
2 tbsp vegetable oil
For the guacamole:
2 ripe avocado
1 lime
pinch of salt & pepper
For the cashew sour cream:
70g / 2.5oz cashews
2 tsp apple cider vinegar
2 tbsp lemon juice
pinch of salt
To serve:
6 medium tortillas
180g / 6.3oz cherry tomatoes
1/2 red onion
handful of fresh coriander
Method
Preheat the oven to 200°C / 390°F fan-assisted.
Add the cashews for the sour cream to a small bowl and cover with hot water straight from the kettle. Leave to one side to soak while you carry out the next steps.
Thinly slice the yellow pepper, red pepper, mushroom and red onion, and transfer to a tray. Peel and dice the garlic and sprinkle it over the veggies, along with the paprika, cumin, oregano, chilli powder, cayenne pepper, cinnamon powder, a big pinch of salt and the vegetable oil. Mix with your hands to combine all the veggies with the spices, then bake in the oven for 15-20 minutes or until the veggies are cooked.
Meanwhile, add the flesh of the avocado to a mixing bowl along with the juice of the lime and pinches of salt and pepper. Mash with a fork until smooth.
Drain the cashews and add them to a blender along with the remaining sour cream ingredients and 60ml (1/4 cup) of water. Blend until smooth (add a splash more water if necessary).
Heat a large frying pan on a medium heat. Once hot, toast the tortillas on each side for a minute until they've warmed through.
To build the fajitas, place a spoonful of the roasted veggies in the middle of each tortilla, followed by a spoonful of mashed avocado.
To serve, quarter the cherry tomatoes and dice the red onion, and sprinkle both over the fajitas. Finish with a drizzle of cashew sour cream or vegan plain yoghurt and a sprinkling of fresh coriander leaves.
Did You Make This Recipe?
Don't forget to share your SO VEGAN creations on Instagram and tag us at
@SOVEGAN
!