Be careful as not all nori is vegan. In the UK, Clearspring offer a vegan-friendly nori and you can pick this up at most health food stores.
We also love dill so we couldn't resist including it in this recipe, but if you're not so keen you can either reduce the amount or exclude altogether. It's all about applying your own twist!
Also these are great for meal prep. Just make them ahead of time and refrigerate for up to 3 days, or keep in the freezer, separated by some baking paper .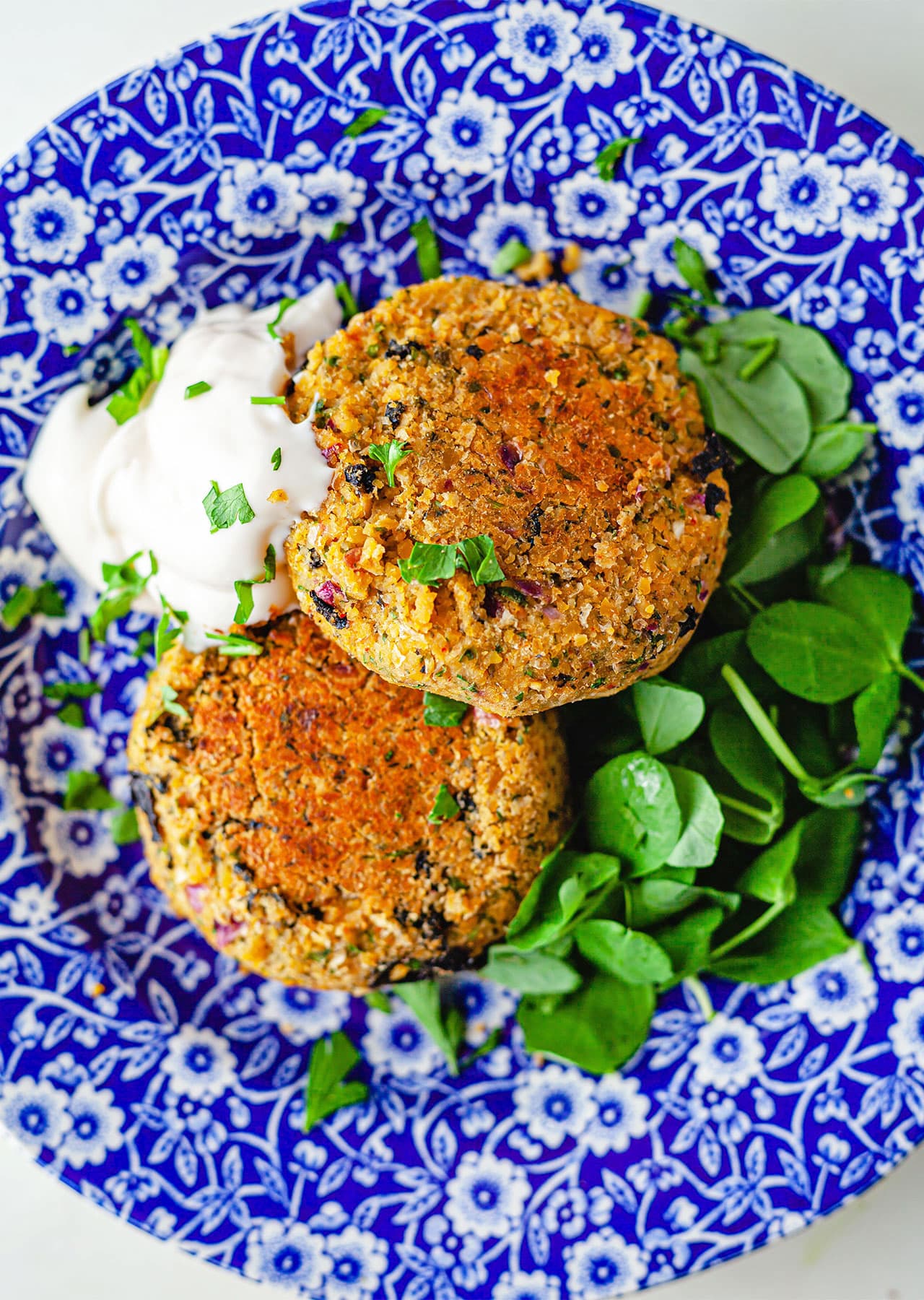 For the homemade mayonnaise
| | |
| --- | --- |
| For the homemade mayonnaise | |
To make the flax egg, add the flax seeds to a small bowl with 2 tbsp of tap water and stir to combine. Set aside while you prepare the other ingredients.

Open the two tins of chickpeas, drain and rinse, then transfer to a mixing bowl. Mash with a potato masher until all the chickpeas have broken down.

To the mixing bowl, add the finely chopped red onion, minced garlic and finely chopped parsley. Then use scissors to finely cut the nori sheets into small pieces directly into the bowl. Next, add the juice from the one lemon, dill, paprika, salt and pepper, and finally the flax egg from before.

Use your hands to combine the ingredients until everything is well mixed together. Then take a handful of the mixture and shape it into a patty. Repeat until all of the mixture has been used up and you're left with 6 evenly shaped 'fishcakes'.

Heat a little oil in a frying pan on a medium - high heat. Once hot, add in 3 or 4 cakes at a time and fry for 5 minutes on each side or until golden brown.

Meanwhile, prepare the homemade mayonnaise by placing the silken tofu, lemon juice, mustard, salt and pepper in a food processor and blend for around 10 seconds. Then add half of the vegetable oil and blend, then add the remaining vegetable oil and blend until the mayonnaise is smooth. Transfer the mayonnaise to serving dish.

Remove the cakes from the heat and serve with the mayonnaise and a salad of your choice.