Nothing beats baking your own bread. These sweet homemade bagels are perfectly soft and chewy – and the combination of cinnamon and raisin makes them great for breakfast or an afternoon snack.
Notes
If you want to store your bagels, we recommend leaving them to cool completely, then storing in an air-tight container at room temperature for up to 2 days or freeze for up to 3 months.
You can substitute caster sugar for granulated sugar, if necessary.
Boiling the bagels creates their characteristically crunchy crust. The longer you boil, the crunchier the crust – and this is often a personal preference so we encourage experimenting with different boiling times from 30 seconds up to 2 minutes.
We use a neutral oil (such as rapeseed oil) when greasing the mixing bowl and brushing the dough because we want to preserve the balance of flavours in the bagels.
If you prefer, you don't have to flavour the bagels with the spices and raisins. They'll work just as well without.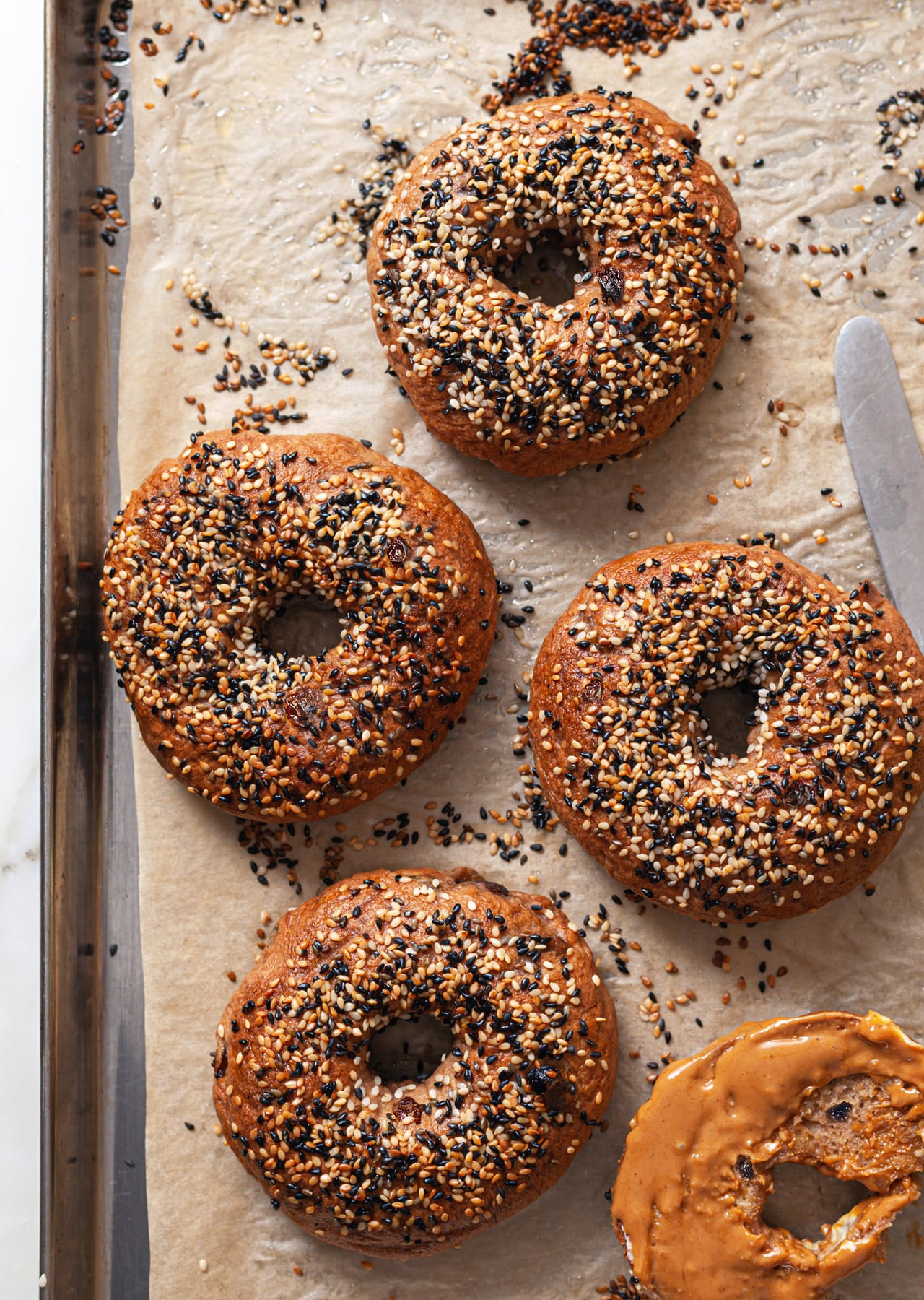 Ingredients
7g (1.5 tsp) fast-action dried yeast
2 tbsp caster sugar
480g (16.9oz) strong white bread flour
salt
1 tbsp ground cinnamon
1 tsp ground allspice
50g (1.8oz / 1/3 cup) raisins
neutral oil, such as rapeseed
5 tbsp sesame seeds (we use black + white)
Method
Add the yeast, sugar and 300ml (1.25 cups) of lukewarm water to a measuring jug, then leave to sit for 5 minutes without stirring to help activate the yeast. Then whisk until combined.
Next combine the flour, 1/2 teaspoon of salt, cinnamon and allspice in a large mixing bowl, then pour in the liquid yeast mixture and bring it all together with the spoon.
Tip the dough out onto a floured surface and knead for 5 minutes. Then sprinkle over the raisins and gently knead again for 30 seconds or so to fold them in. Grease a clean mixing bowl with oil, then add the dough, cover with a damp cloth and prove for 1 hour or until the dough has doubled in size.
Gently punch the air out of the dough, then transfer it to a clean work surface and divide it into 8. Roll each piece of dough into a round ball, then poke your finger into the middle to create a hole and gently stretch the hole wider with your fingers to create the famous bagel shape.
Transfer each bagel to a lined baking tray, then cover them with a damp tea towel and leave to prove for another 10 minutes. Note: you may need to use 2 baking trays to do this.
Meanwhile, preheat the oven to 200°C fan / 425°F. Also prepare a large pot of boiling water. Once the bagels have finished proving, carefully drop a few at a time into the boiling water and boil for 1 minute on each side. Then lift them out of the water and place them back onto the lined baking trays.
Brush the top of each bagel with some oil and sprinkle the seeds all over. Bake for 20-25 minutes or until golden on top. See notes for storing instructions.
Did You Make This Recipe?
Don't forget to share your SO VEGAN creations on Instagram and tag us at
@SOVEGAN
!