Waaaaait just a minute, how can honeycomb be vegan?
We asked that same question.
Well this isn't actually 'honeycomb'.
This is essentially a crunchy toffee and – yes – it's devilishly delicious.
Also known as cinder toffee or sponge toffee, you won't want to eat this very often (ha!) but it's a tasty treat when it's time to spoil yourself.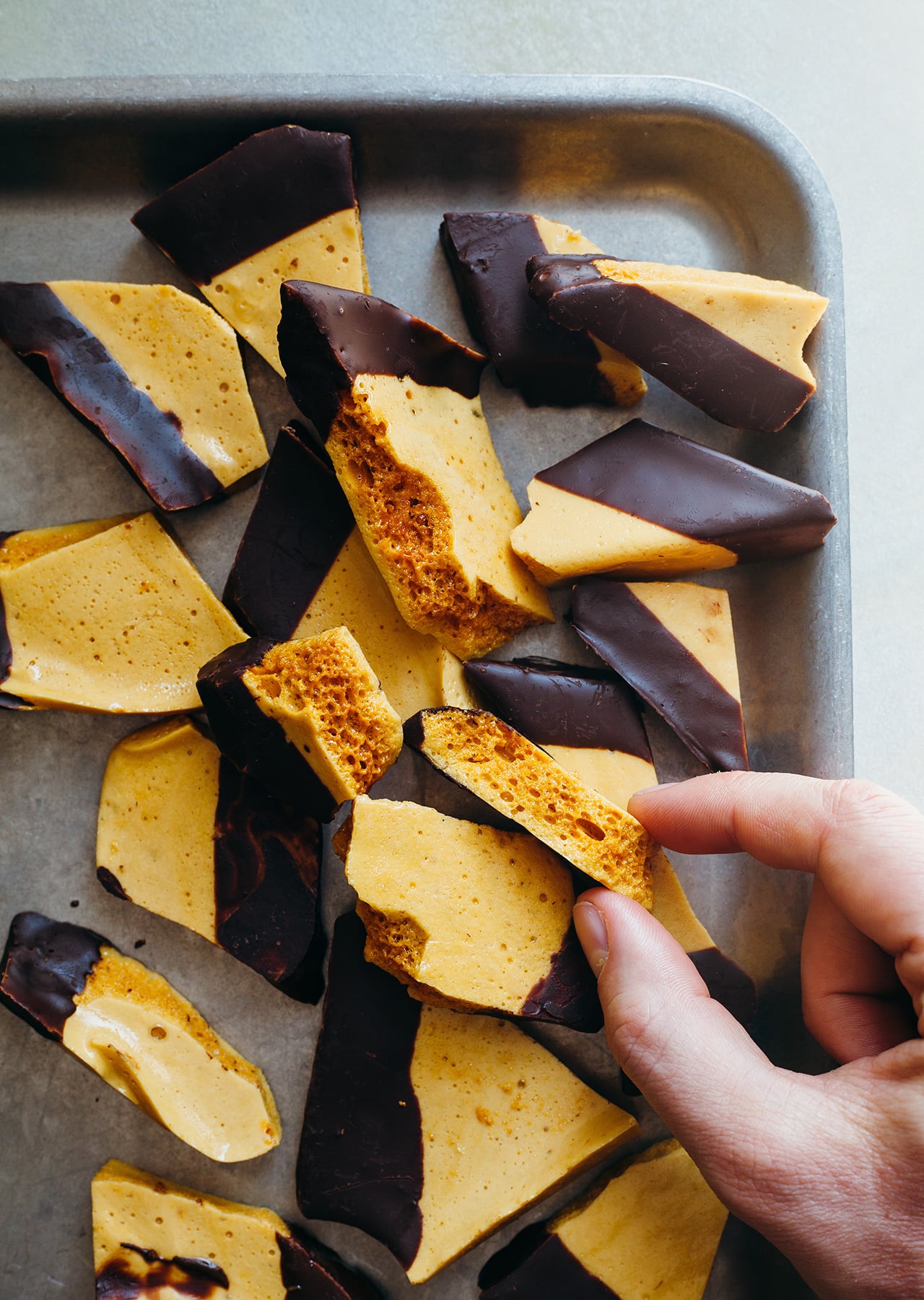 So how does this work?
Essentially the heat of the sugary syrup causes the bicarbonate of soda to react – breaking it down and releasing carbon dioxide.
This causes the syrup to expand and create air pockets.
If you live in the UK, you'll be very familiar with the flavour. They taste exactly like Crunchie bars!
We like to dip ours in melted dark chocolate and eat them as they are, but you can also crush them into smaller pieces and throw 'em on top of ice cream.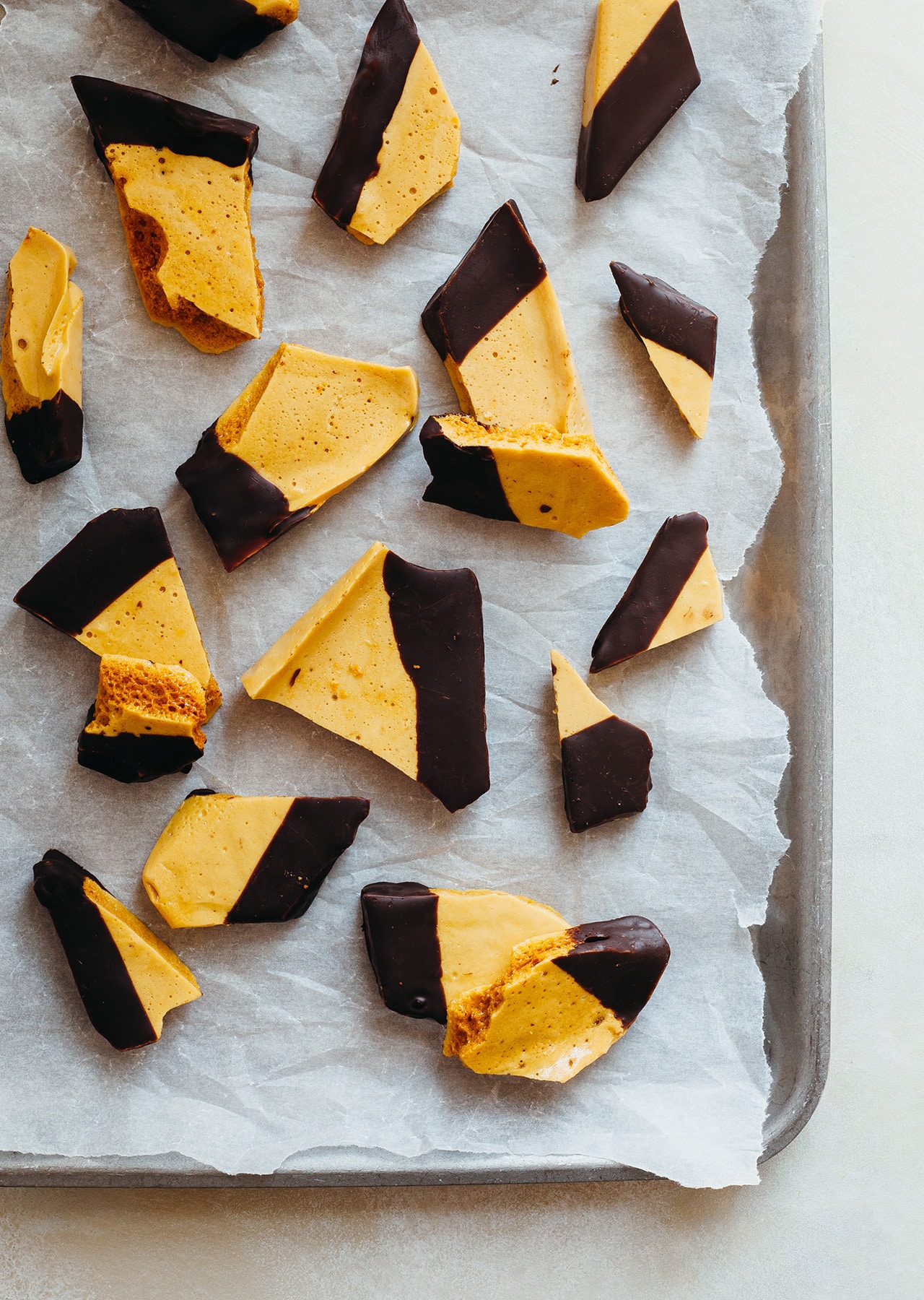 Here are the important things to know:
If you can't find golden syrup, you can try substitute for the same amount of corn syrup. We haven't tested this ourselves but we've seen plenty of other people do it with success.
For best results, you'll want to use a thermometer and cook the sugar to around 145°C / 302°F. However, we don't own a thermometer. We simply judge the temperature by eye: as soon as the sugar turns a maple syrup colour, remove it from the heat. If in doubt, always cook it for less because you don't want to burn the sugar. The worst that will happen is your honeycomb will be slightly chewy.
You need to work quickly. As soon as you remove the sugar from the heat, get the bicarbonate of soda in as quickly as possible. Then stir vigorously to make sure the soda is well combined, otherwise you might taste it in the honeycomb.
Enjoy!
Roxy & Ben
How To Make Honeycomb

How To Make Honeycomb 😋 BTW did you know we have a new cookbook? You can pre-order your copy of One Pot Vegan today! 👉 sovegan.co/onepv

Posted by So Vegan on Tuesday, 28 April 2020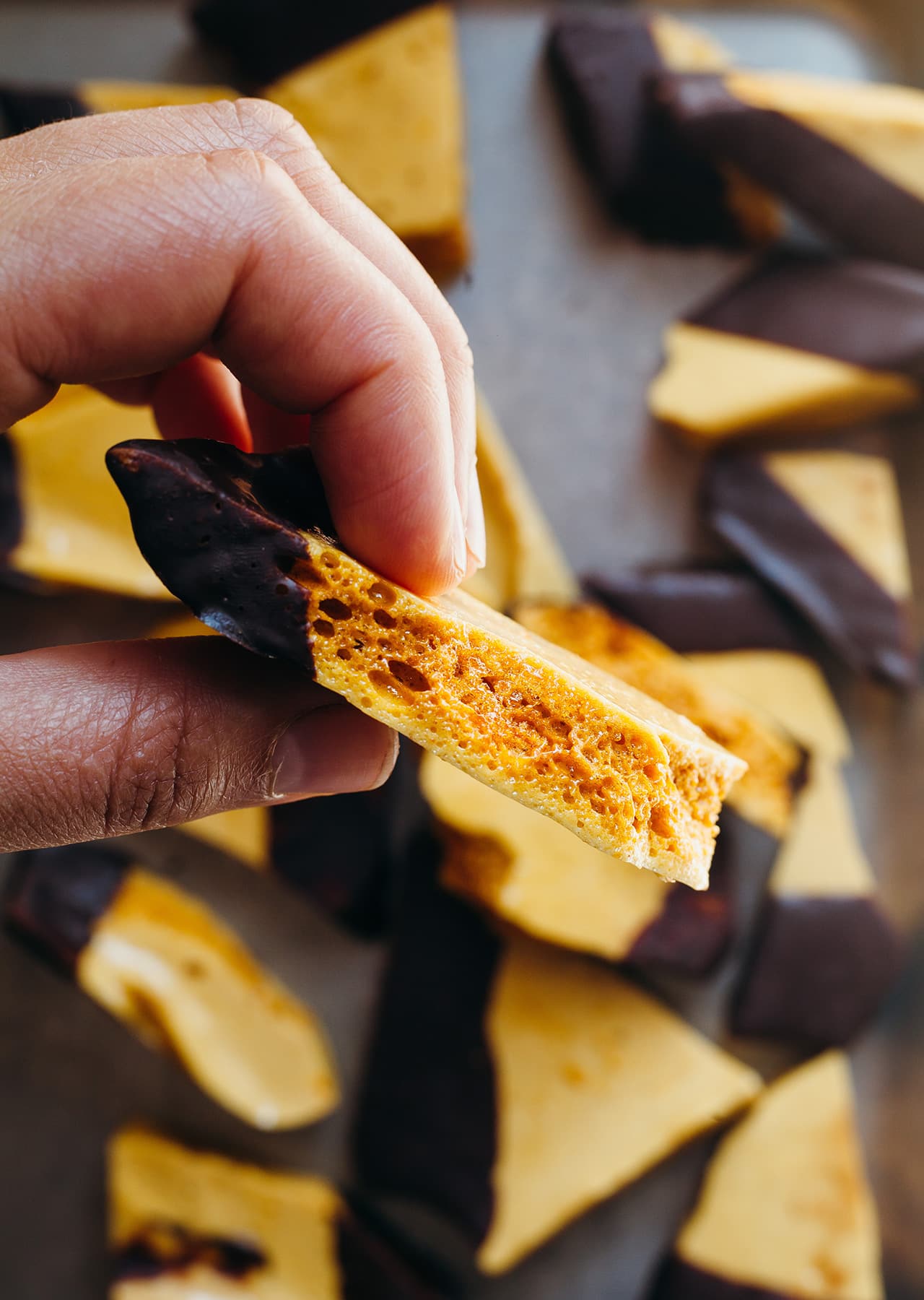 Ingredients
50ml / 1.7fl.oz water

80g / 2.8oz golden syrup (or corn syrup)

150g / 5.3oz caster sugar

1 tsp bicarbonate of soda / baking soda

70% dark chocolate, for dipping (optional)
Method
Line an 8" tin with baking paper across the base and sides. Then measure out the bicarbonate of soda and leave it to one side for later.

Add the water, golden syrup and sugar to a saucepan over a medium heat. Give the ingredients a gentle stir until the sugar dissolves, then do not stir again. Leave the mixture on the heat to bubble away and once the colour darkens similar to maple syrup (this takes between 5 - 10 minutes), remove the pan from the heat and immediately add the bicarbonate of soda. Whisk vigorously until fully combined. Then quickly transfer the honeycomb mixture to the prepared tin and tilt the tin to ease the honeycomb into the corners.  Note: it's important to work quickly during this step.

Leave the honeycomb to cool for 1-2 hours or until totally solid. 

Remove the honeycomb from the tin, peel off the baking paper, and bash with a rolling pin to break it up into small pieces.

If coating in chocolate, melt some dark chocolate either in a double boiler or in a microwave, then dip the ends of the honeycomb in the chocolate. Place on a cooling rack until the chocolate has set. All done. Try not to eat it all at once!
Did You Make This Recipe?
Don't forget to share your SO VEGAN creations on Instagram and tag us at
@SOVEGAN
!