Whaaat…why?
Vodka pasta has probably raised a few eyebrows in its time.
This was a very popular dish back in the 80s, which also happens to be the greatest decade of all time.
I mean come on, the 80s gave us Prince's Purple Rain, Gremlins, Vodka Pasta and it even popularised baggy clothes.
So why add vodka to pasta?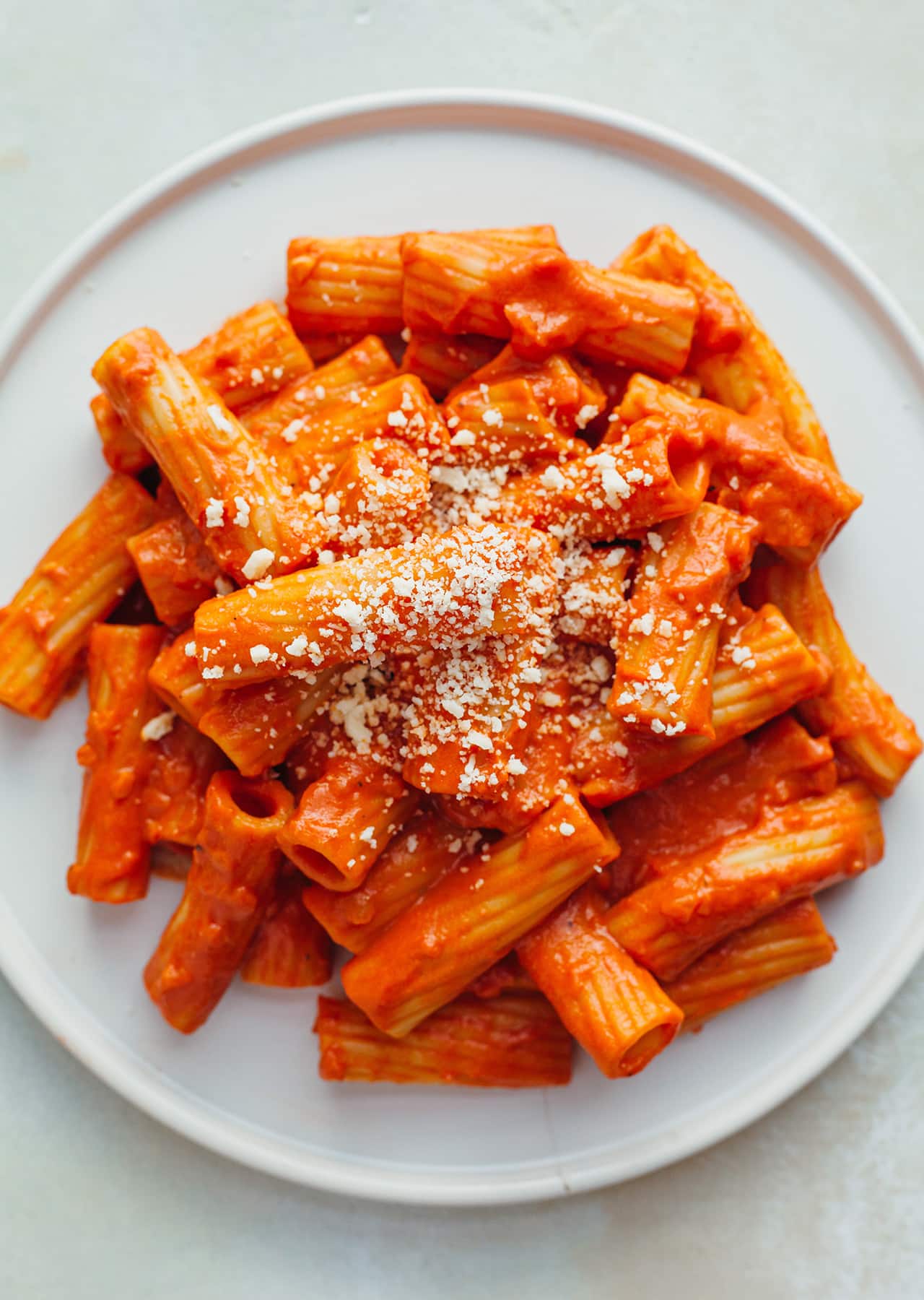 The alcohol actually helps to increase the tomato flavour in this wonderfully creamy dish.
The vodka flavour is subtle, so expect more of an intense and incredibly well-balanced tomato taste.
Lots of recipes only call for tomato puree, and lots of it. We prefer to use comparatively less puree and instead we add passata (essentially strained tomatoes).
You'll need to cook the passata for longer to remove any bitterness in the sauce, but in our opinion you're left with a deeper flavour profile.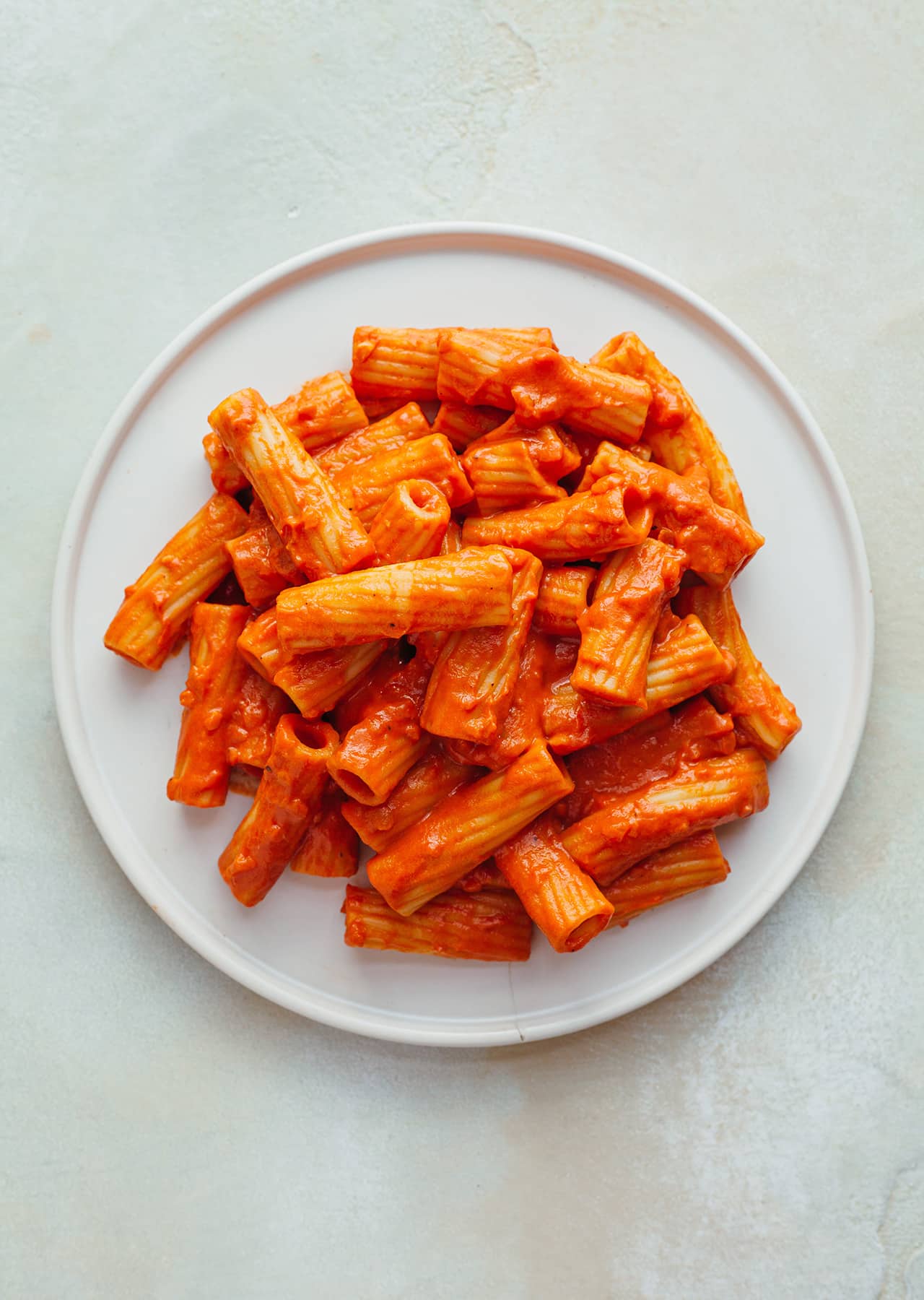 Some things to know:
You can use any oil you prefer. For this recipe we love to use vegan margarine because it adds a wonderful buttery flavour.
Of course any pasta will do! Rigatoni or penne tend to work the best because the lovely sauce will work its way inside the tubes.
It's really important you cook the passata long enough to remove the bitterness which will bring out the sweet tomato-y flavour.
Enjoy!
Roxy & Ben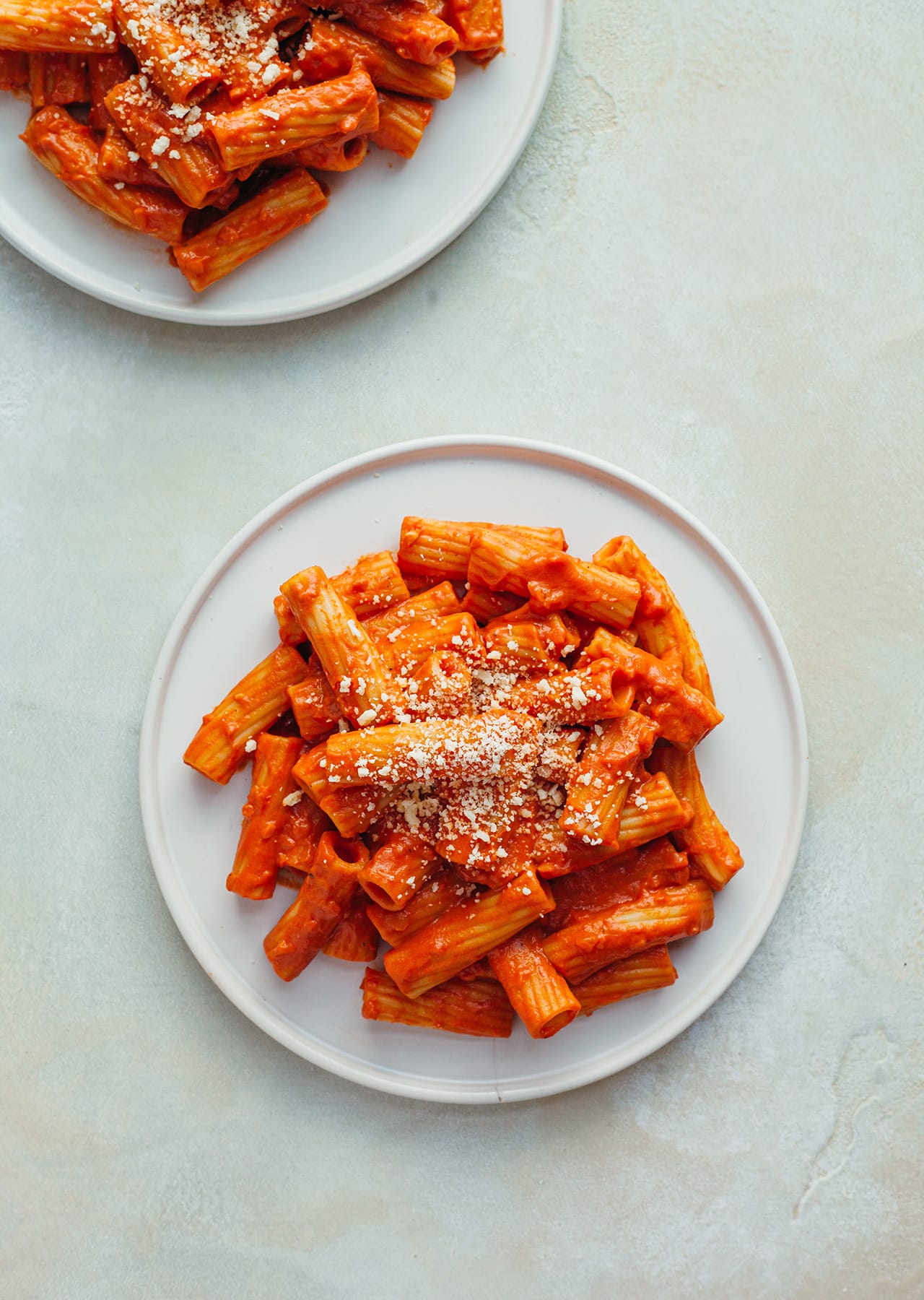 Vodka Rigatoni

Vodka Rigatoni 🔥 BTW did you know we have a new cookbook? You can pre-order your copy of One Pot Vegan today! 👉 sovegan.co/onepv

Posted by So Vegan on Friday, 1 May 2020
Vodka Rigatoni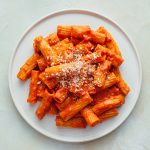 Ben, So Vegan
Whaaat…why? Vodka pasta has probably raised a few eyebrows in its time. This was a very popular dish back in the 80s,…
Print This
Ingredients
1/2 onion
2 garlic cloves
2 tbsp vegan margarine
salt and pepper
400g / 14.1oz rigatoni (or gluten free pasta)
4 tbsp tomato puree
80ml / 2.7fl.oz vodka
400g / 17.6oz passata
200ml / 6.7fl.oz vegan single cream
vegan parmesan, for topping
Instructions
Peel and finely dice the onion and garlic. Add the vegan margarine to a casserole pot or large saucepan over a low-medium heat. As soon as the margarine has melted, add the onion and garlic. Season with pinches of salt and pepper and fry for 10-15 minutes until the onion and garlic begin to caramelise.
Turn the heat up to medium and add the tomato puree. Fry for 3 minutes, stirring occasionally to prevent the puree sticking to the pot.
Next add the vodka and cook for 2 minutes, stirring occasionally and using the vodka to deglaze the bottom of the pot.
Add the passata and simmer on a low heat for 15-20 minutes or until the bitter flavour from the passata has gone.
Meanwhile cook the pasta as per the packet instructions and make sure you reserve the pasta water.
When the tomato sauce is ready, add the vegan single cream and 200ml / 6.7fl.oz of the reserved pasta water. Give it a stir and heat through for a minute or so, then season to taste with extra salt and pepper if necessary.
Add the cooked pasta, stir through, then serve with the vegan parmesan. Lush.