There's a lot to love about this sweet potato burrito. It's sweet, spicy and packed with lots of fibre and protein.
This burrito is a great source of fibre and protein, while the sweet potato contains lots of vitamins and minerals including Vitamin C.
You can make this gluten-free using gluten-free tortilla wraps and you can make this soy-free using a coconut-based vegan yoghurt.
Our large sweet potato weights approximately 500g (18oz).
Massaging the kale helps to soften it and also makes it easier to digest when it's still raw. If you want to reduce the amount of oil, you can also do this with a squeeze of lime juice.
If you don't have black beans, you can use tinned kidney beans, pinto beans or even chickpeas!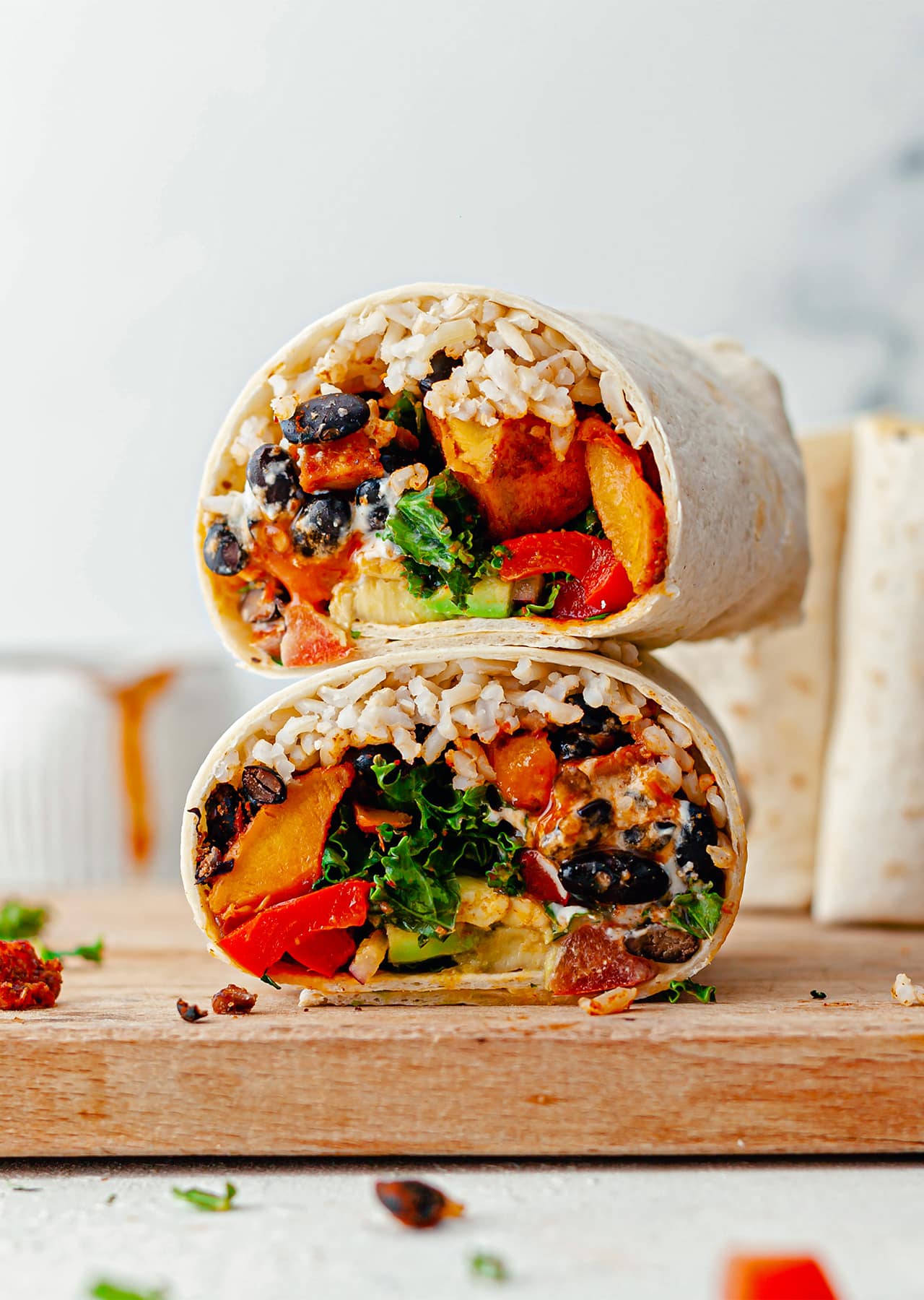 Ingredients
3/4 cup brown rice
salt
1 large sweet potato, peeled + diced
2 tsp cumin
1 tbsp paprika
1 tsp cayenne pepper
olive oil
2 red peppers, sliced
1 x 400g / 14.1oz tinned black beans, drained + rinsed
100g / 3.5oz kale, roughly chopped
5 tbsp vegan yoghurt (or coconut yoghurt)
1 lime
1 avocado
4 large tortillas (or gluten-free tortillas)
Optional fillings: chopped red onion, chopped tomatoes, hot sauce, chopped fresh coriander
Method
Preheat the oven to 180°C fan / 400°F fan and gently boil the rice in 1.5 cups of salted water with the lid on until cooked.
Transfer the sweet potato to a tray along with 1 tsp cumin, 1/2 tbsp paprika, 1/2 tsp cayenne, a light drizzle of olive oil and a pinch of salt. Combine, then roast for 15 minutes.
Next add peppers and black beans to the tray, along with 1 tsp cumin, 1/2 tbsp paprika, 1/2 tsp cayenne, a light drizzle of olive oil and a pinch of salt. Combine, then roast again for 15 minutes.
Meanwhile, add the kale to a bowl and drizzle in a little olive oil. Then massage the kale between your fingers for a few minutes. Next add the vegan yoghurt to a bowl along with the zest from the whole lime and the juice from half of the lime. Give it a good stir. Finally scoop out the flesh from the avocado, transfer it to a bowl, squeeze in the juice from half of the lime and add a pinch of salt. Mash with a fork.
Add the tortillas directly to the oven shelf for a minute to warm them through just before you build the burritos. Then, for each burrito, add the cooked rice, followed by the peppers and beans, sweet potato, kale, avocado, red onion, tomato, lime yoghurt and hot sauce. Then top with chopped coriander. Wrap the burritos nice and tight, then we like to wrap them in greaseproof (parchment) paper. Now tuck in!
Notes
Nutritional information per serving: Calories 609kcal / Protein 18.4g / Fat 15.9g / Sat Fat 3.2g / Carbs 97.6g / Sugar 27.2g / Fibre 15.8g
Did You Make This Recipe?
Don't forget to share your SO VEGAN creations on Instagram and tag us at
@SOVEGAN
!