Skip boiling the chickpeas and removing their skins if you want to save time, however your hummus won't be as smooth.
You can also use raw chickpeas, just be sure to boil them until they are super soft.
We like to decorate our beetroot hummus with a spoonful of vegan plain yoghurt, and a sprinkling of parsley leaves and za'atar. But the toppings are completely up to you!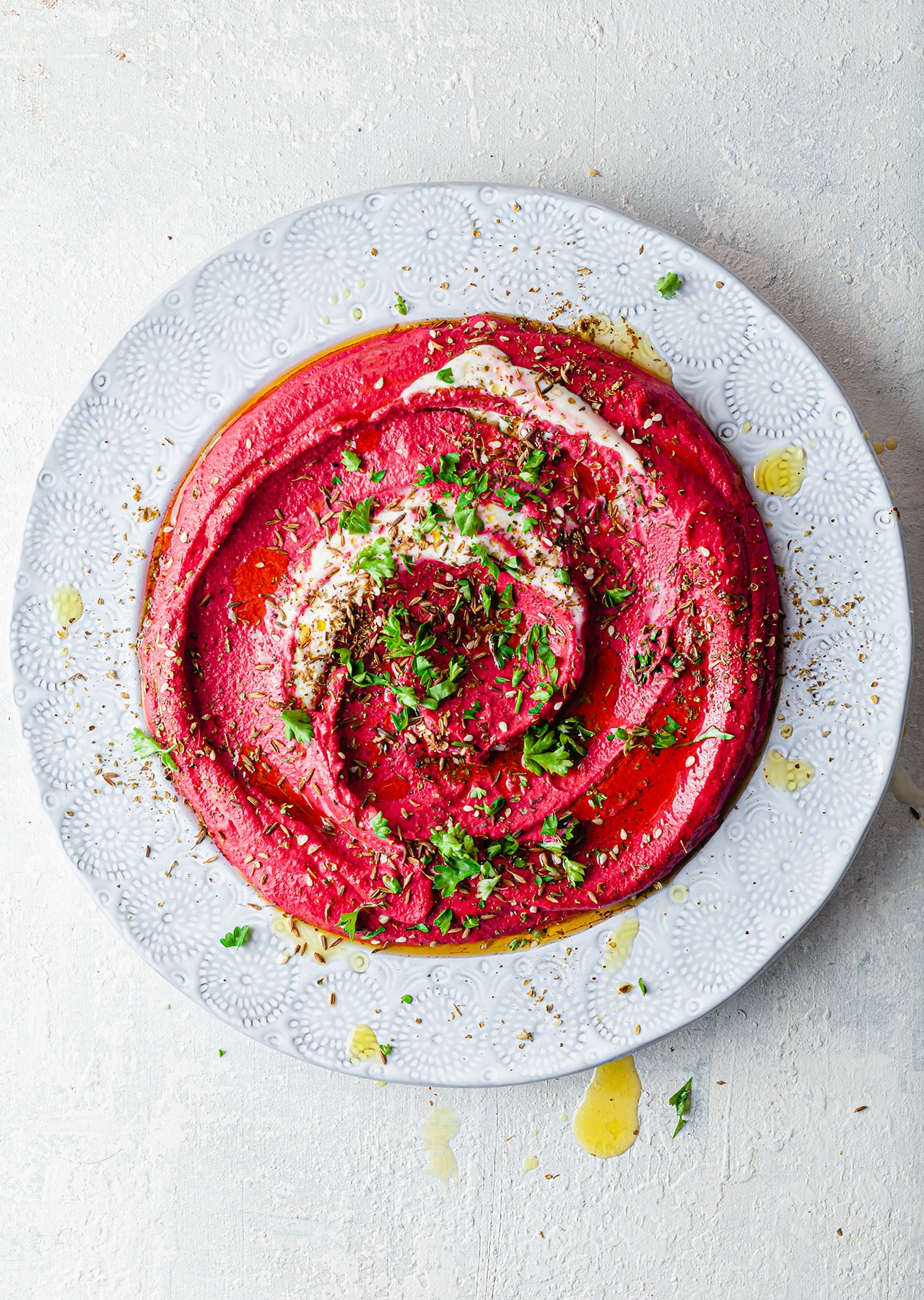 Ingredients
2 medium beetroot, peeled + diced
salt + pepper
olive oil
2 x 400g tins chickpeas, drained + rinsed
1 tsp bicarbonate of soda
3 garlic cloves, skins on
1/2 lemon, juice only
1/3 cup tahini
1/2 tsp cumin seeds, plus extra for decorating
1 tbsp extra virgin olive oil, plus extra for decorating
Method
Preheat the oven to 200°C / 392° F fan. Add the beetroot to a baking tray, drizzle with olive oil and sprinkle with salt and pepper. Bake for 20-30 minutes or until the beetroot is soft.
Meanwhile add the chickpeas and bicarbonate of soda to a large pot of boiling water. Reduce the heat and simmer for 15 minutes.
Next, drain the chickpeas and add them to a large bowl of cold water. Rub the chickpeas between your hands to remove all the skins then sieve out the skins using a slotted spoon and discard them. Finally, drain the chickpeas and add them to a blender.
Add the garlic cloves to the tray with the beetroot and roast together for a further 2 minutes.
Peel the garlic and add it to a blender along with the roast beetroot, lemon juice, tahini, cumin seeds, extra virgin olive oil and generous pinches of salt and pepper. Pour in 1/4 cup of water and begin to blend. Add more water little by little until the ingredients are able to blend together and create a super smooth hummus.
Transfer the beetroot hummus to a serving dish and top with a drizzle of extra virgin olive oil, cumin seeds and any other of your favourite toppings.
Did You Make This Recipe?
Don't forget to share your SO VEGAN creations on Instagram and tag us at
@SOVEGAN
!