Our twist on the traditional meatloaf. Mashed chickpeas and lentils come together with soy sauce and fennel to create a hearty and rich vegan loaf.
We use whatever nuts we have lying around the kitchen cupboards. Walnuts, cashews, pecans and pistachios will all work well.
You can easily make this gluten-free using tamari and gluten-free breadcrumbs.
If you're making this for Christmas dinner, you can make the entire thing a few hours ahead and keep it in the fridge ready to cook when you're ready.
We use panko breadcrumbs.
Lentil + Chickpea Meatloaf

Lentil + Chickpea Meatloaf 🔥 Get the recipe in our NEW APP 👉 smarturl.it/xwfjqs Get the recipe on our website 👉 sovegan.co/meetloaf

Posted by So Vegan on Tuesday, 7 December 2021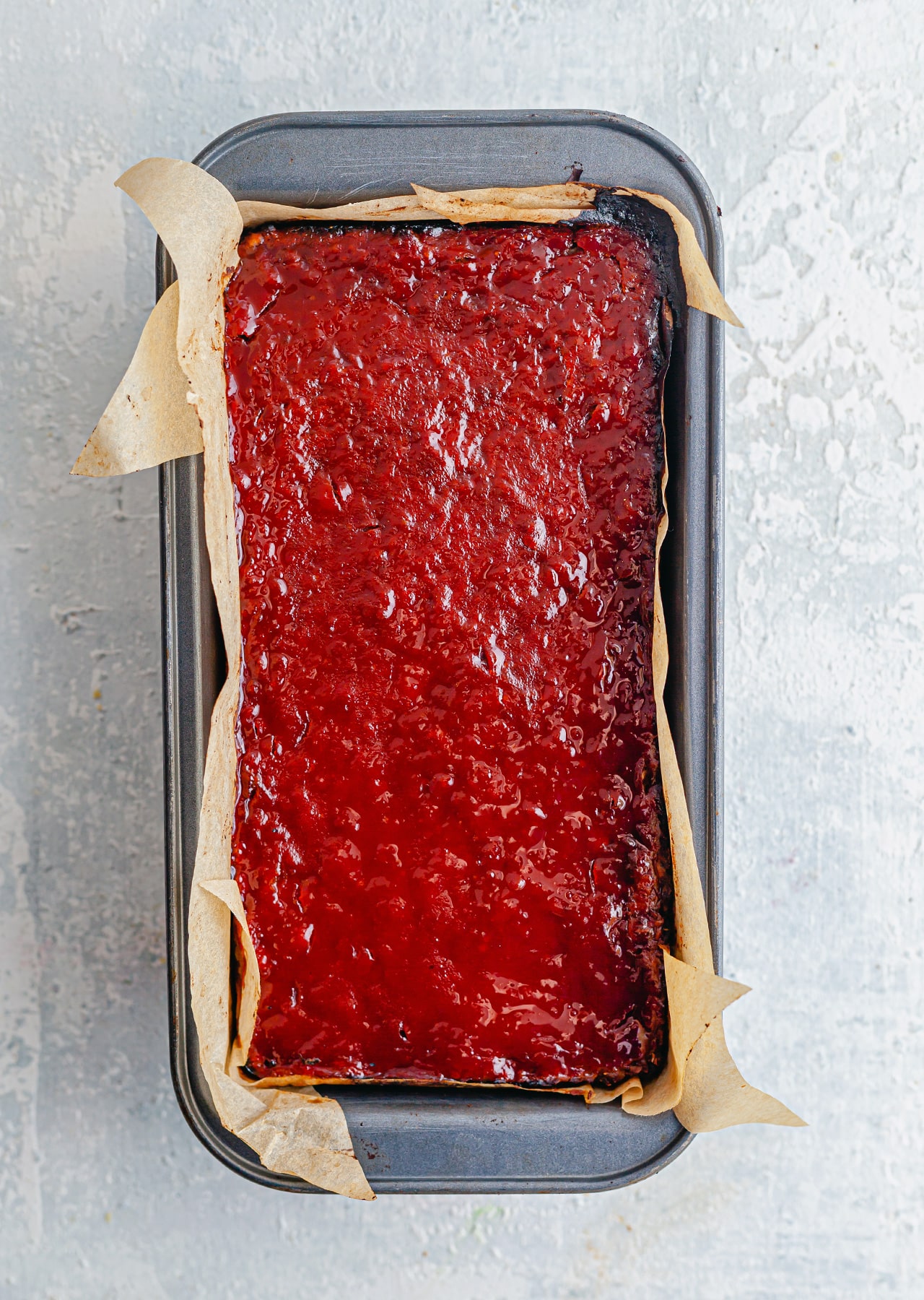 Ingredients
olive oil
1 onion, peeled + grated
2 carrots, grated
4 garlic cloves, peeled + grated
1 x 400g (14.1oz) tin of chickpeas,

drained + rinsed

1 x 400g (14.1oz) tin of green lentils,

drained + rinsed

3/4 cup breadcrumbs
2 tbsp soy sauce
2 tbsp tomato purée
150g (5.3oz) mixed nuts, finely chopped
1.5 tbsp dried oregano
1.5 tsp fennel seeds
salt + pepper
120g (4.2oz) ketchup
1/2 tbsp balsamic vinegar
Method
Preheat the oven to 200°C fan / 425°F and line the base and sides of a 2lb loaf tin with baking paper.
Next, drizzle a little olive oil in a frying pan on a medium heat. Once hot add the onion and carrot and fry for 5 minutes.
Next add the garlic to the frying pan and fry for 3 minutes.
Pat dry the lentils and chickpeas using a clean tea towel to remove as much moisture as possible. Then add them to a large mixing bowl and mash with a potato masher or fork until mostly broken down.
Add the breadcrumbs, soy sauce, tomato puree, mixed nuts, oregano, fennel seeds and generous pinches of salt and pepper to the bowl along with the fried carrot mixture from earlier and stir to combine.
Transfer the meatloaf mixture to the lined loaf tin.
In a separate bowl combine the ketchup with the balsamic vinegar and spread it over the top of the meatloaf. Bake for 25-35 minutes.
Leave the meatloaf to rest in the tin for at least 5 minutes before you remove it so that it holds its shape.
Serve up for Christmas dinner, Thanksgiving, or Sunday roasts.
Did You Make This Recipe?
Don't forget to share your SO VEGAN creations on Instagram and tag us at
@SOVEGAN
!