This dip is traditionally made with Aleppo pepper but we struggle to find it so we use regular chilli flakes instead.
We use extra virgin olive oil because it has a lighter texture and a more zesty flavour profile.
Make sure the red peppers charr in the oven so the muhammara has a nice smoky flavour.
We always use leftover stale bread to make our breadcrumbs. Simply tear off pieces and run them through a food processor until they turn into crumbs.
You should be able to find pomegranate molasses at large supermarkets or specialists Middle-Eastern stores. Alternatively you could use raspberry jam, however the flavour will be less sour and intense.
Muhammara

Muhammara. Possibly the greatest dip ever (even better than hummus!). Yeah we went there 😂

Posted by So Vegan on Friday, 9 July 2021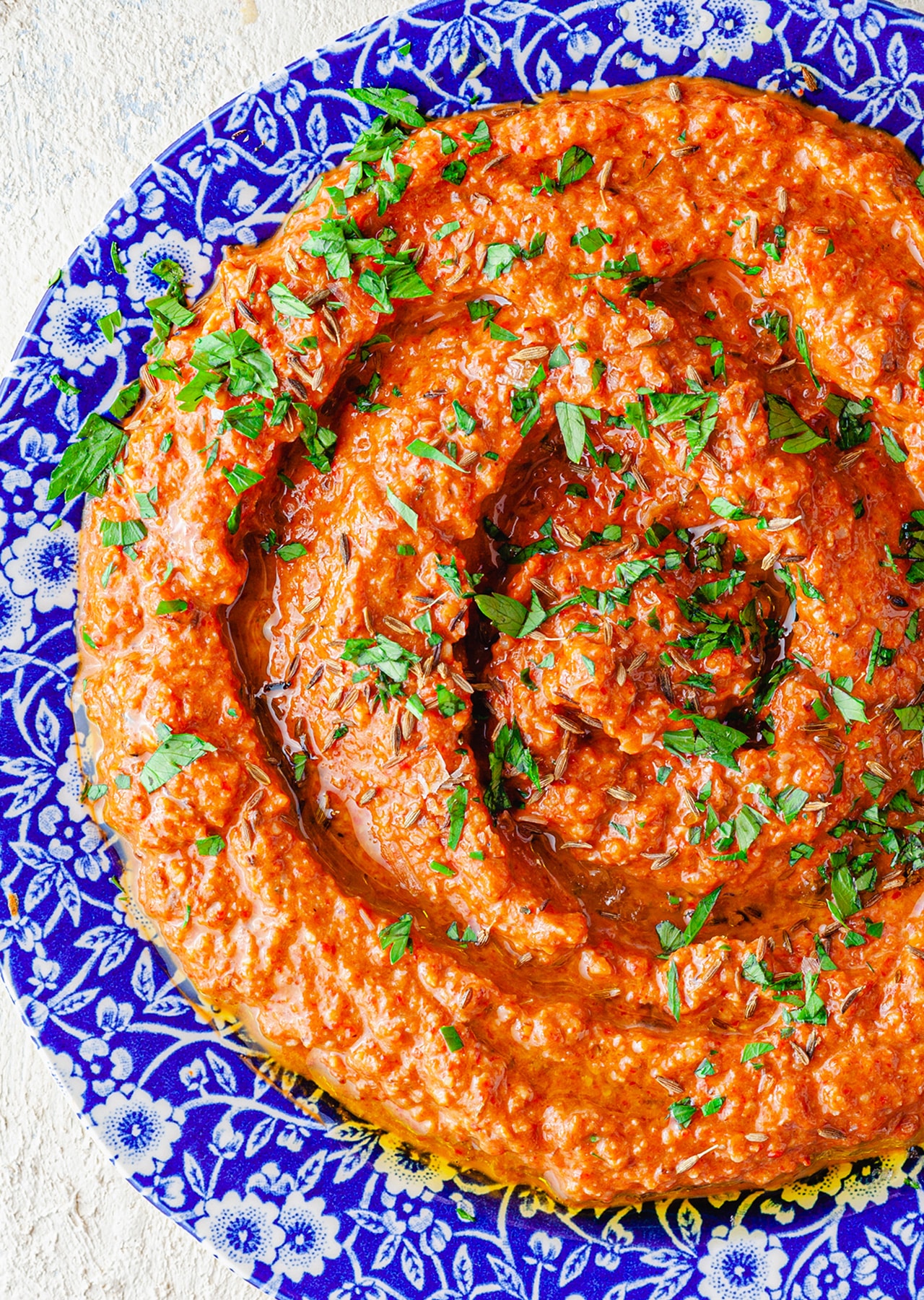 Ingredients
3 red peppers
1/2 cup walnuts
1 tsp cumin seeds, plus extra for decoration
4 tbsp breadcrumbs, see notes (or gluten-free breadcrumbs)
2 tbsp olive oil (we use extra virgin olive oil)
2 tbsp pomegranate molasses
1/4 tsp chilli flakes
1 garlic cloves, peeled
1 tbsp lemon juice
salt
1 small handful parsley leaves, chopped (optional)
Method
Preheat the oven to 200°C fan / 428°F. Then place the red peppers on a baking tray and bake for 35 minutes until charred and black.
Meanwhile add the walnuts and cumin seeds (plus some extra seeds for decoration) to a pan on a medium heat and toast for 5 minutes until fragrant. Reserve some cumin seeds for decoration, then add the remaining walnuts and cumin seeds to a food processor along with the breadcrumbs, olive oil, pomegranate molasses, chilli flakes, garlic, lemon juice and a big pinch of salt.
Remove the red peppers from the oven and leave them to cool until they're ok to touch. Then, using your hands, peel and discard their skins. Next tear the peppers in half and remove the tops and seeds. Add the flesh of the peppers to the food processor and process everything until smooth.
Transfer the muhammara to a serving dish and top with a little extra olive oil, salt, cumin seeds and chopped parsley. This will keep well for a few days in the fridge in an air-tight container.
Did You Make This Recipe?
Don't forget to share your SO VEGAN creations on Instagram and tag us at
@SOVEGAN
!