This is our sustainable twist on the humble roast potato, which uses the potato skins to create salty and crunchy potato skin crisps.
We use Maris Piper potatoes but any Russet (or Idaho) style potato will do, too.
The polenta is optional, but it gives the roast potatoes a lovely crunchy texture.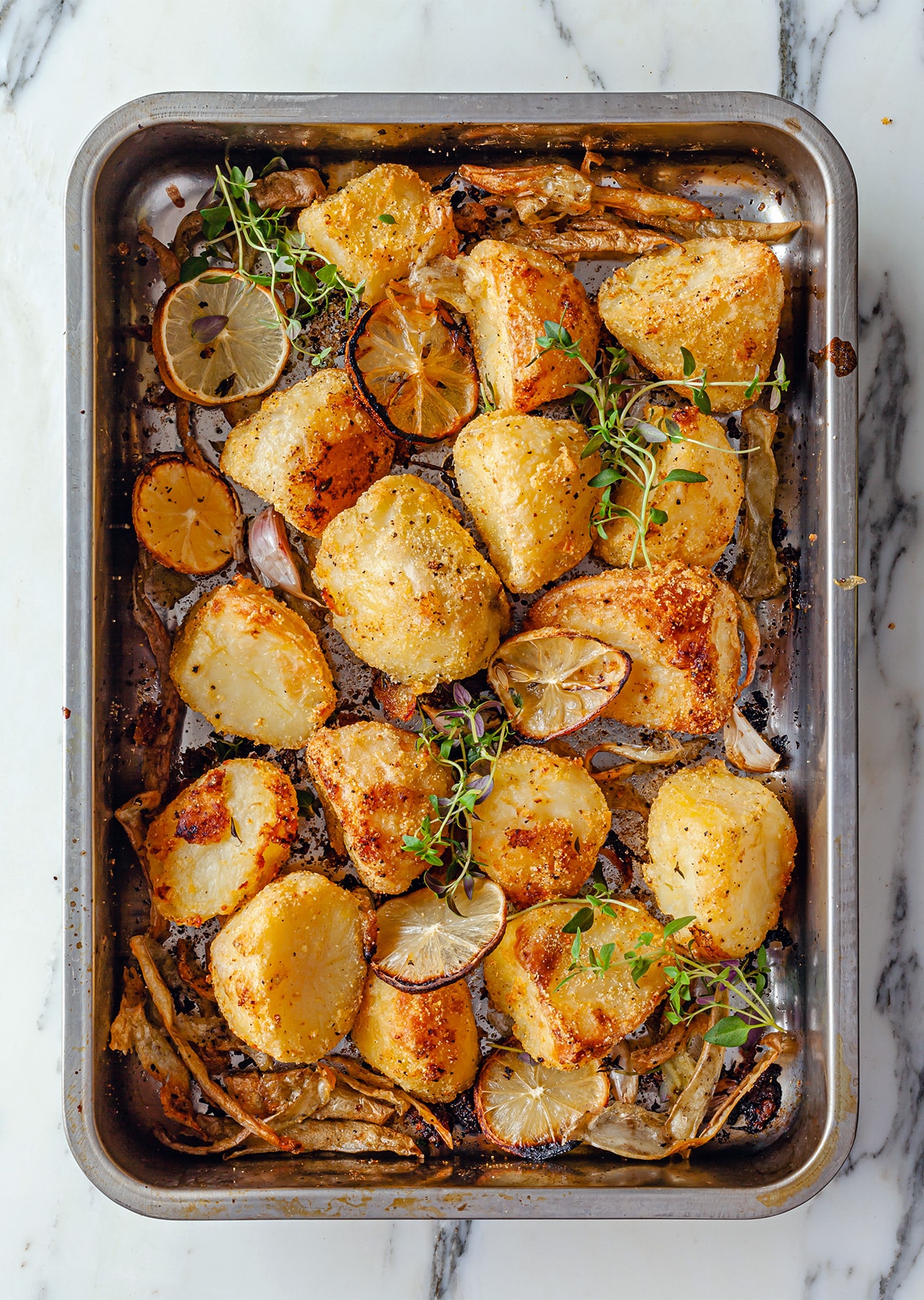 Ingredients
1.2kg / 42.3oz Maris Piper potatoes
salt & pepper
5 tbsp vegetable oil, plus extra for drizzling
1 1/2 tbsp polenta
1 lemon
6 sprigs of fresh thyme
6 garlic cloves
Method
Preheat the oven to 220°C fan / 475°F. Rinse then peel the potatoes and spread the skins across a large baking tray. Sprinkle the skins with salt and pepper and drizzle with vegetable oil. Toss to combine then roast for 20-25 minutes, turning halfway until golden and crispy.
Meanwhile slice any large potatoes in half, then add them to a saucepan of cold water. Bring the water to the boil and boil the potatoes for 10 minutes. Then drain the potatoes and leave them to fully cool in a colander or on a tray.
Once the potatoes are mostly cool, add the vegetable oil to a medium-sized roasting tin and place the tin in the oven so that the oil heats up.
Add the potatoes back to the saucepan, pop the lid on and give the potatoes a good shake. Then zest the lemon until you have 1 tsp of zest and add it to the saucepan along with 1/2 tsp salt, 1/2 tsp pepper and the polenta. Stir until the potatoes are fully coated. Remove the tray with the hot oil from the oven. Carefully add the potatoes to the hot oil then give them a stir in the oil and roast for 40 minutes.
Cut 1/2 of the lemon into thin slices and pick the leaves off the sprigs of thyme.
Remove the potatoes from the oven, then throw in the lemon slices, thyme leaves, garlic cloves and finish with a squeeze of lemon juice from the remaining lemon half. Stir to combine then roast again for 20 minutes.
When you're ready to serve, add the crispy potato skins to the tray and serve (don't forget to eat the gorgeous roasted garlic).
Serve up for Christmas dinner or Thanksgiving for a flavourful twist.
Did You Make This Recipe?
Don't forget to share your SO VEGAN creations on Instagram and tag us at
@SOVEGAN
!