We absolutely love street food. There's just something satisfying about eating with your hands, whether it's a burrito, pizza or an indulgently sweet dessert.
This vegan mushroom shawarma takes us back to our travels around the world, sampling delicious food from stalls and sellers on the roadside.
Shawarma is technically the name given to grilled meat kebabs, commonly found in Middle Eastern countries, so this isn't exactly a traditional recipe.
But portobello mushrooms are a great meat substitute, and we found that frying helps contain as much flavour as possible.
You can serve this in any wrap you like. We sometimes serve this in a pitta bread.
Thanks!
Roxy & Ben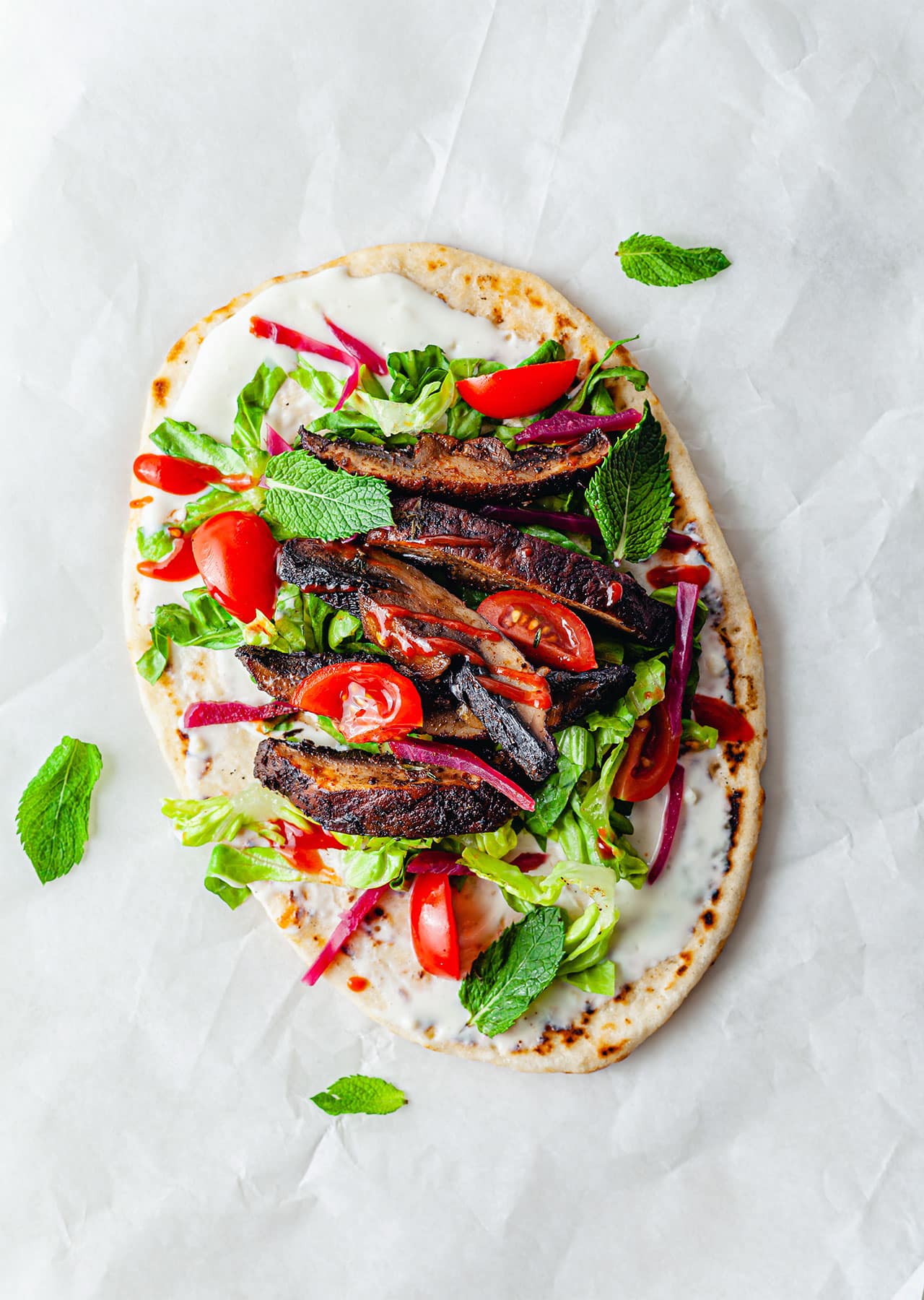 Ingredients
1/2 tbsp ground cumin
1/2 tsp ground cinnamon
1/2 tbsp smoked paprika
1/2 tsp onion powder
salt + pepper
2 sprigs of fresh thyme, leaves picked
olive oil
4 portobello mushrooms
To serve:
4 flatbreads
150 g (5.3 oz) vegan yoghurt
1 garlic clove, peeled + diced
1 gem lettuce, thinly sliced
200 g (7 oz) cherry tomatoes, quartered
100 g (3.5 oz) pickled red cabbage
1 small handful of fresh mint, leaves picked
hot sauce, for serving
Method
Add the cumin, cinnamon, smoked paprika, onion powder, large pinches of salt and pepper, thyme leaves and 3 tbsp of olive oil to a bowl. Stir to combine.
Brush the sauce all over the portobello mushrooms. Heat a splash of olive oil in a pan on a medium heat, then add the mushrooms and fry for 4-6 minutes on each side or until slightly charred. Brush any leftover marinade over the mushrooms while they cook. Tip: push down on the mushrooms using a fish slice while they cook to extract more moisture and improve the texture.
Warm the flatbreads for a minute or two in the oven and slice the mushrooms. Next combine the garlic and yoghurt in a small bowl, then spoon the garlic yoghurt inside the flatbreads and top with the lettuce, fried mushroom, cherry tomatoes, pickled red cabbage and a few fresh mint leaves. Finally, drizzle over some hot sauce and eat!
Did You Make This Recipe?
Don't forget to share your SO VEGAN creations on Instagram and tag us at
@SOVEGAN
!