It's about time we gave you guys an epic peanut butter and jelly sandwich recipe.
And who better to turn to for help than our friend Ian, aka the mastermind behind the PB&J Society.
The first time we tried one of Ian's PB&Js, we were hooked.
Ian's recipe uses homemade crunchy peanut butter, which includes 'deep roasting' the peanuts for that extra flavour.
Be warned: this sandwich is serious!
So here it is, we give you Ian's Proper Peanut Butter & Jelly Sandwich.
Don't forget, if you love this, then you'll totally love our debut 5-ingredient cookbook So Vegan in 5, which is out right now.
Thanks!
Roxy & Ben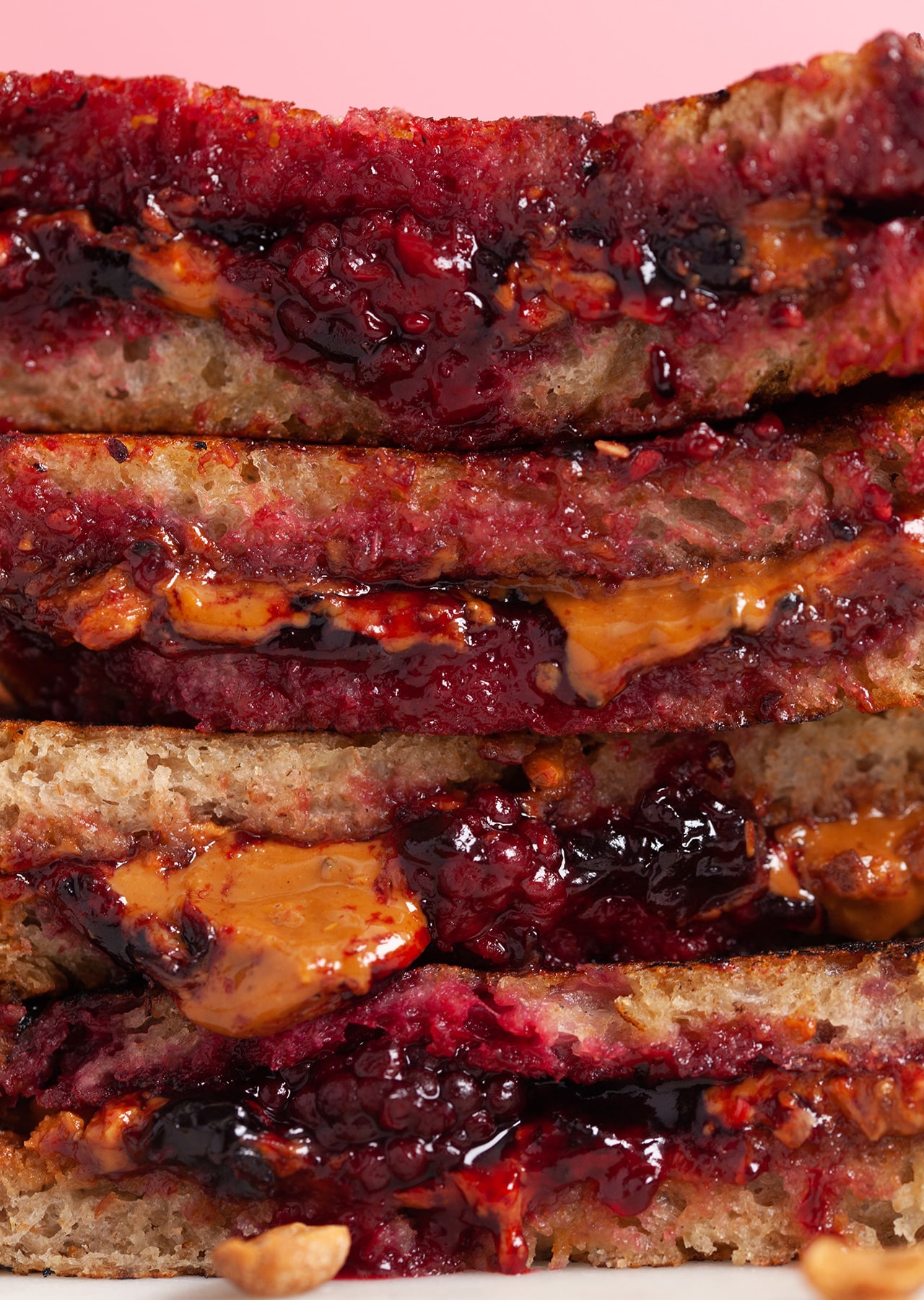 Ingredients
400g (14.1oz) blanched peanuts
2 tbsp blackcurrant jam
handful of frozen berries
4 slices of sourdough bread
1 tbsp dairy-free margarine or butter
The cupboard essentials:
Method
Preheat the oven to 220°C fan / 475°F and leave the frozen berries to thaw in a small bowl.
Transfer the peanuts to a large baking tray, making sure the peanuts are not on top of each other. Roast them in the oven for 5-8 minutes for an added 'deep rich' roast, checking them occasionally so they don't burn. We also remove the peanuts halfway through and give the tray a good shake to make sure they roast evenly.
Remove the peanuts from the oven when they're dark golden brown and place a quarter of them in the food processor. Pulse a few times until they've broken down into chunky pieces, then transfer to a mixing bowl.
Add the remaining roasted peanuts to the food processor and process until completely smooth. This will take around 5 minutes. Combine the smooth peanut butter with the crunchy peanuts and mix with a spoon.
Butter two slices of the bread, then turn them butter-side down and spread a generous tbsp of peanut butter on one side, followed by a tbsp of jam. Place half of the frozen berries on top, then close the sandwich with the other slice of bread (butter-side up). Repeat this step for the second sandwich. Store the leftover peanut butter in an airtight container and use within a month.
Place a frying pan on a medium-high heat. Once hot, add one of the peanut butter sandwiches and fry (without oil) until both sides are golden brown. Use a fish slice to press down on the sandwich while they're frying to ensure it toasts evenly. Repeat for the remaining sandwich, then serve!
Did You Make This Recipe?
Don't forget to share your SO VEGAN creations on Instagram and tag us at
@SOVEGAN
!