The time has arrived for another epic lasagne recipe.
This time we add some of our favourite roasted veggies into the mix to create this seriously hearty meal.
We're talking about perfectly roasted carrots, red peppers, courgettes and red onions.
Then sandwiched between layers of pasta, tomato sauce and a creamy béchamel.
Yum!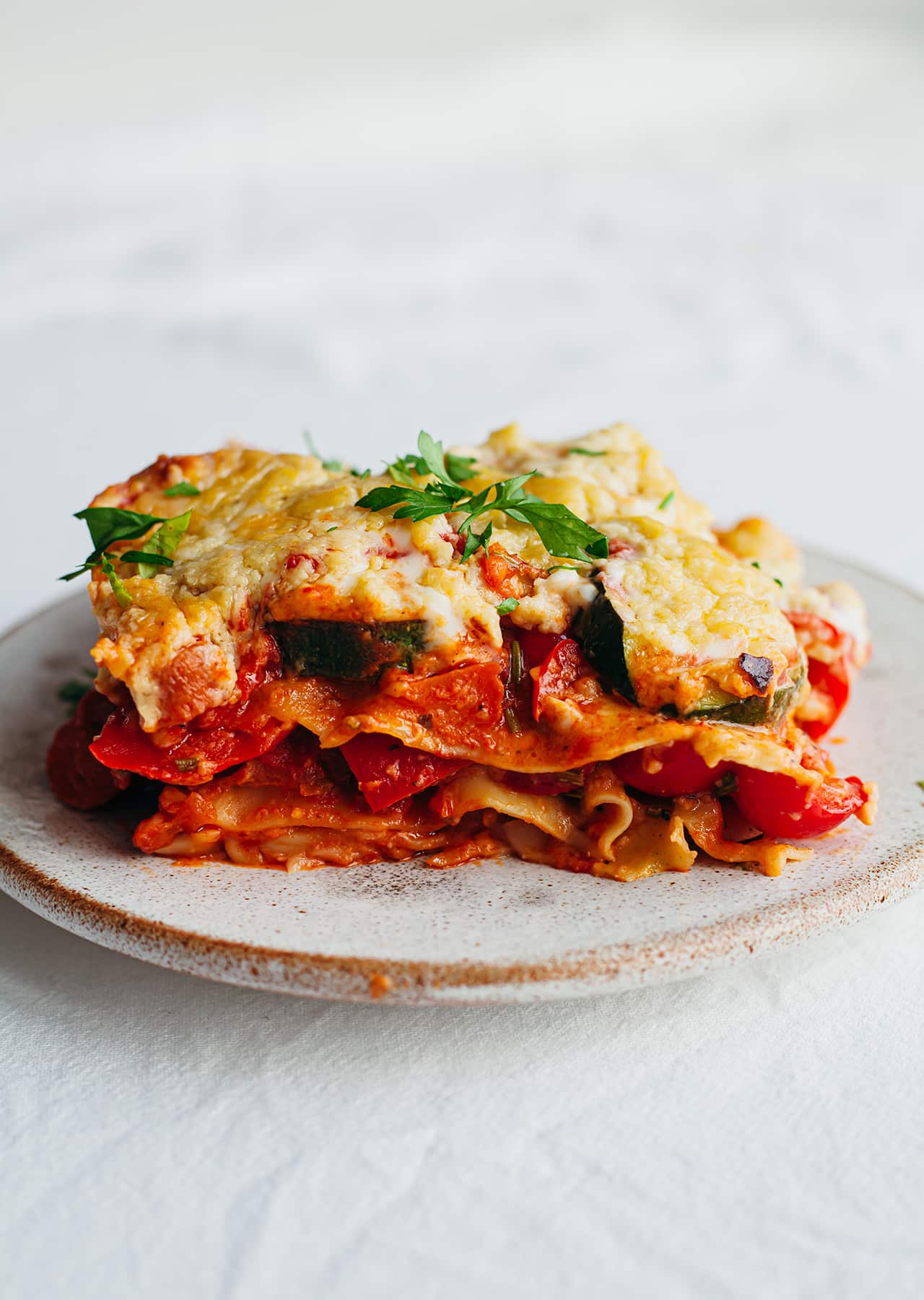 We're also very excited to announce we've joined forces with Elmlea for their #PimpMyPlant campaign to create a series of recipes to make your Veganuary even tastier.
Both Elmlea Plant Double and Single contain the Vegan Society trademark.
And – what's more – the Elmlea Plant Double we use in this recipe is also the only 100% plant-based, dairy-free, gluten-free and lactose-free cream alternative.
We use it to make our bechamel extra creamy – bringing the entire dish together!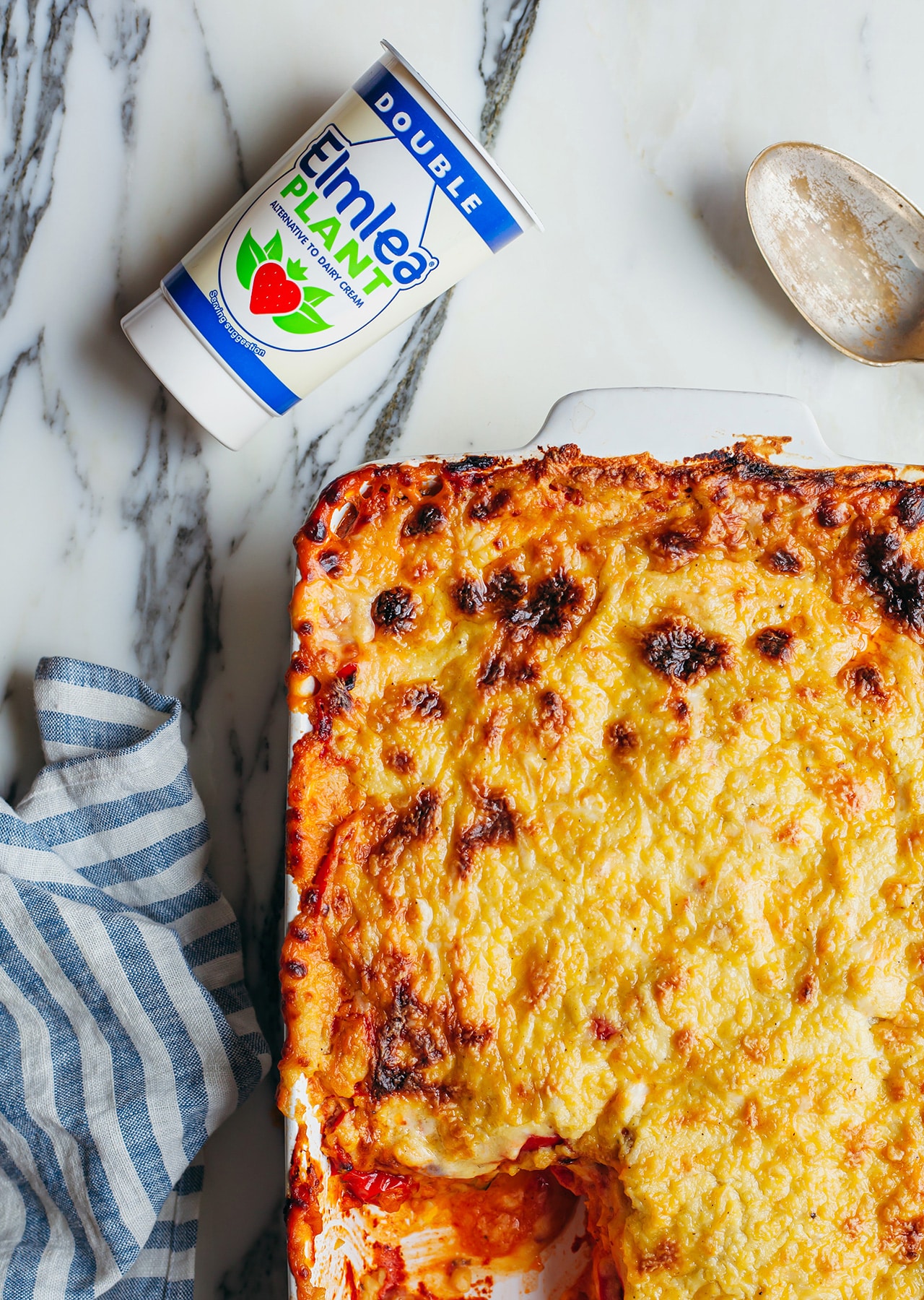 Things you should know:
This recipe is a great excuse to meal prep. We usually divide the lasagne into individual servings and freeze them individually in tupperware. They'll easily last for a few months.
You can also use up leftover veggies: butternut squash and sweet potato would go really well, just make sure you chop them relatively small and add them in at the same time as the carrots.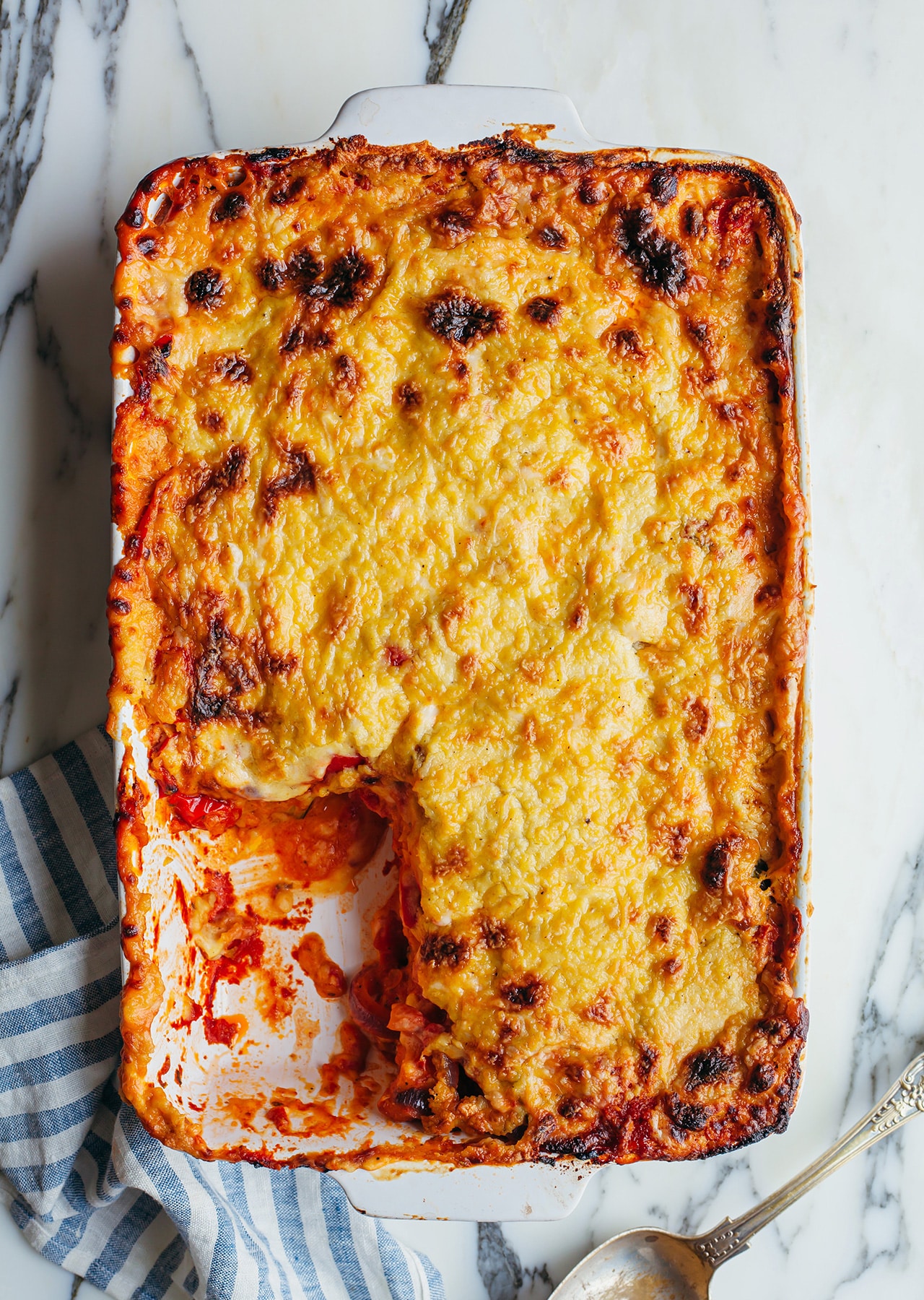 Ingredients
4 carrots
salt + pepper
olive oil
3 red peppers
3 courgettes
2 red onions
4 sprigs of fresh rosemary
4 garlic cloves
3 x 400g / 14.1oz tins of chopped tomatoes
2 tablespoons of vegan-friendly red pesto (optional)
12 lasagne sheets
100g / 3.5oz grated vegan cheese
For the creamy béchamel:
70g / 2.5oz vegan butter (such as Flora Plant B+tter)
70g / 2.5oz plain flour
200ml / 6.8fl.oz Elmlea Plant Double
650ml / 22fl.oz plant-based milk
4 tbsp of nutritional yeast
Method
Preheat the oven to 200°C / 392°F. Top and tail the carrots then slice them into 1/2cm thick rings. Add them to a large baking tray, sprinkle with small pinches of salt and pepper and drizzle with a light splash of olive oil. Toss through with your hands then roast for 15 minutes.
Meanwhile remove the stems from the red peppers and dice them. Then top and tail the courgettes and peel the red onions then slice both into 1/2cm rings. Finely chop the rosemary leaves.
Add the red peppers, courgettes, red onion and rosemary to the baking tray with the carrots along with small pinches of salt and pepper and a light drizzle of olive oil. Toss with a spoon to combine everything together. Roast in the oven for 15 minutes.
Drizzle a little olive oil in a medium saucepan on a medium heat. Peel and dice the garlic cloves then throw them into the saucepan and fry for 2 minutes. Next add the tinned tomatoes and small pinches of salt and pepper. Bring the sauce to the boil then reduce the heat and simmer for 15 minutes.
Meanwhile add the vegan butter to a frying pan over a medium heat. Once melted, add the flour, stir to combine and fry for 2 minutes. Pour in the Elmlea Plant Double and whisk regularly so that the sauce becomes smooth. Gradually pour in the milk, whisking continuously so the sauce remains smooth. Season with pinches of salt and pepper, then add the nutritional yeast. Continue stirring until the sauce begins to thicken then remove it from the heat.
To build the lasagne, first add a few large spoonfuls of the tomato sauce to a large roasting dish and spread evenly. Then layer with 4 sheets of lasagne, followed by a few spoonfuls of béchamel. Next evenly spread 1/3 of the roasted vegetables on top. Repeat one more time starting again with a few spoonfuls of tomato sauce until you have 2 layers of lasagne sheets. Next later with a few spoonfuls of tomato sauce, 4 lasagne sheets, and a few spoonfuls of béchamel. Next evenly spread the pesto over the béchamel and then layer with the remaining roasted vegetables. Finish with the last few spoonfuls of tomato sauce. Next sprinkle over the grated vegan cheese and finally spoon the remaining béchamel over the top. Spread the béchamel out evenly over the top of the lasagne.
Roast in the oven 30-35 minutes at 200°C / 392°F or until golden on top. Leave to sit for at least 10 minutes before serving.
Did You Make This Recipe?
Don't forget to share your SO VEGAN creations on Instagram and tag us at
@SOVEGAN
!