Summer, oh how we've missed you!
BBQ season is now officially upon us and cooking outdoors is literally one of our favourite things to do.
When we think of BBQs, we usually imagine burgers, kebabs, etc.
But the key to a successful BBQ is the sides.
And this creamy potato & dill salad is the ultimate accompaniment to your next BBQ.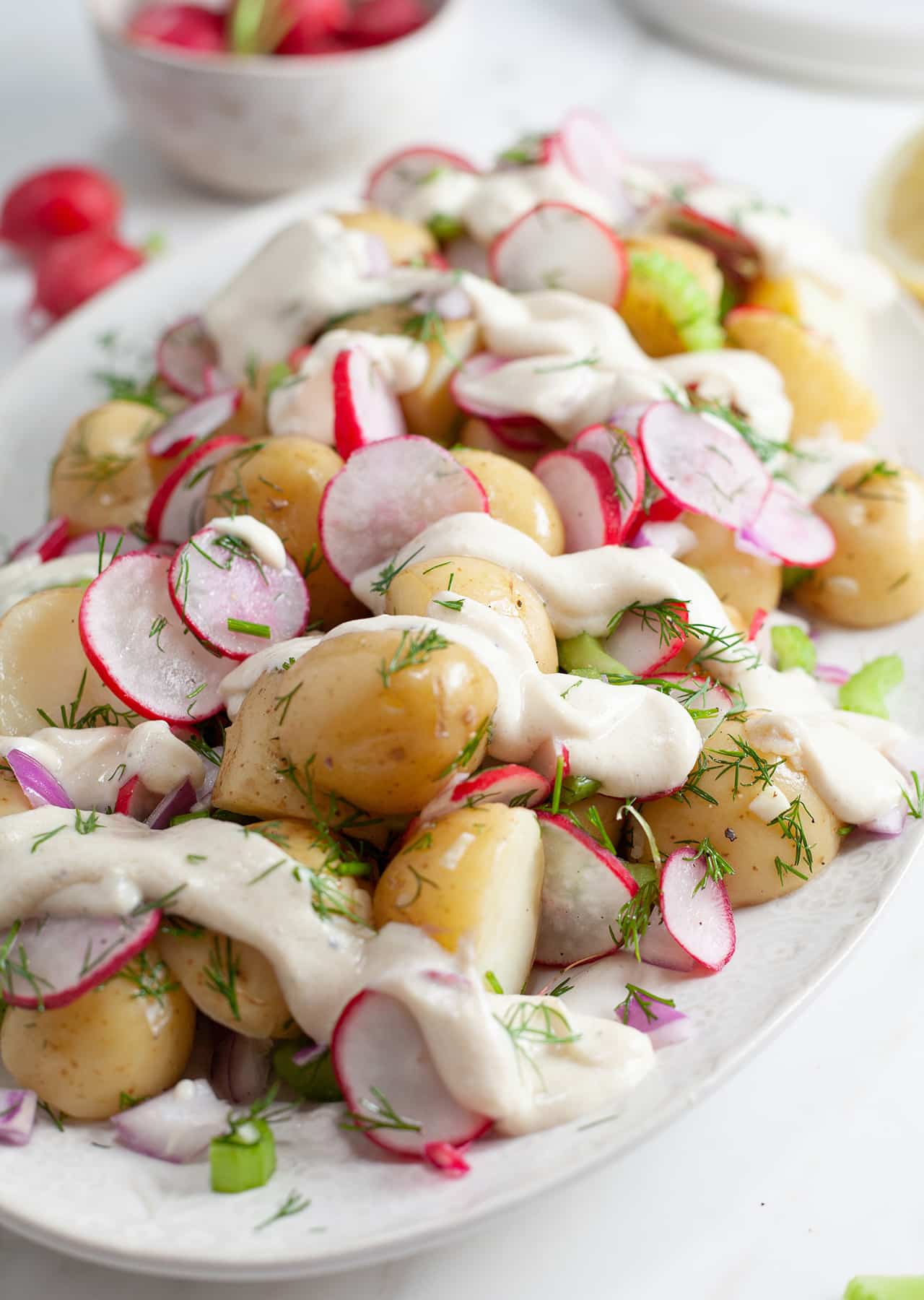 Being vegan doesn't mean missing out. Our homemade mayo is silky and creamy, and it pairs perfectly with this colourful salad.
What's more, you can prep this dish ahead of time and store it in the fridge until you're ready to venture outdoors.
This recipe is the first instalment in our new BBQ series, so keep an eye out for lots more summer BBQ recipes dropping soon! #SoVeganBBQ
And don't forget, if you love this, then you'll totally love our debut 5-ingredient cookbook So Vegan in 5, which is available to buy right now.
Enjoy!
Roxy & Ben
Our new Creamy Potato Salad is the perfect dish for your next BBQ ✌️

Love this? Then you'll also love our debut cookbook #SoVeganIn5 sovegan.co/cookbook

Posted by So Vegan on Tuesday, 18 June 2019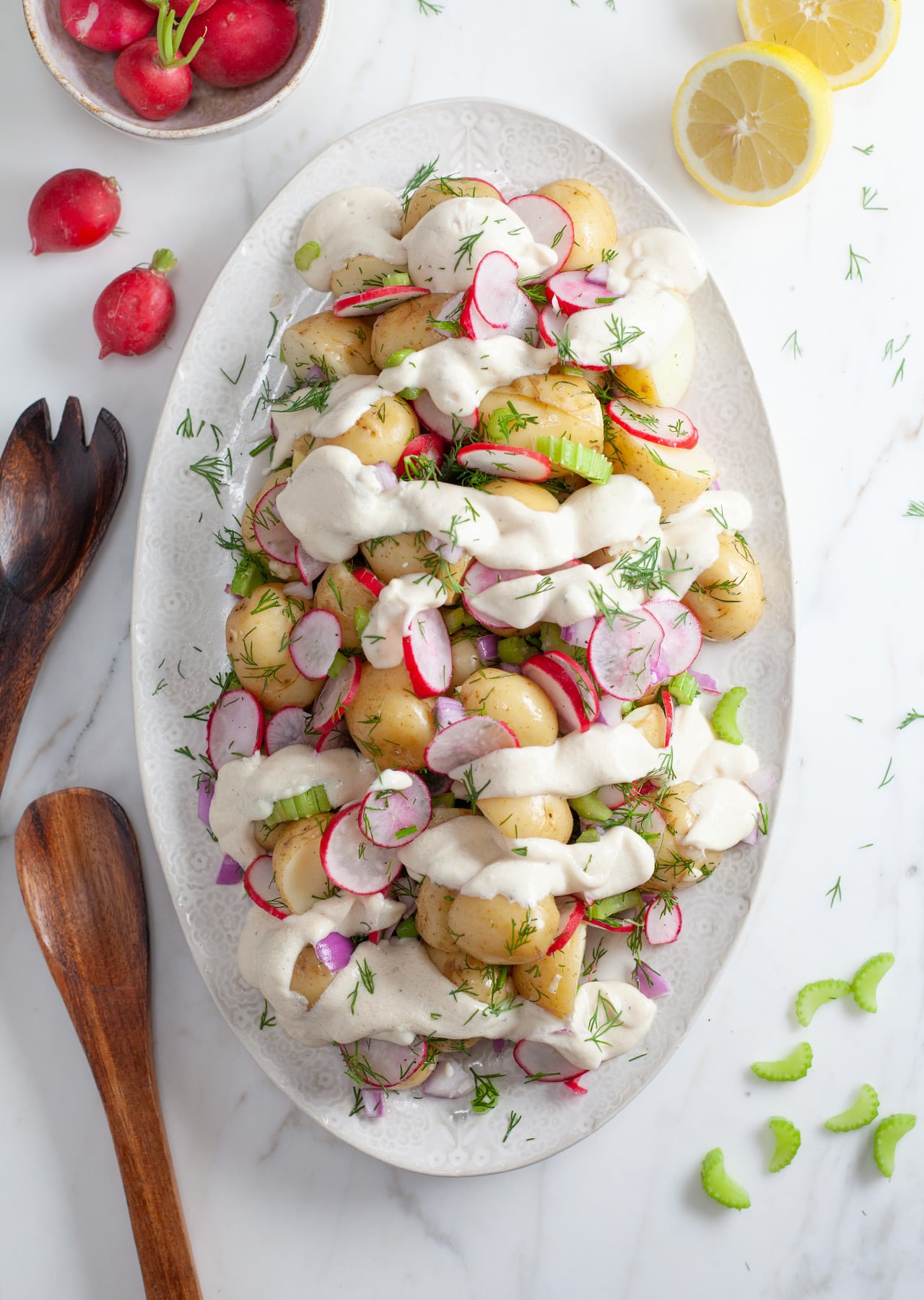 Creamy Potato & Dill Salad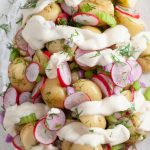 Roxy, So Vegan
Summer, oh how we've missed you! BBQ season is now officially upon us and cooking outdoors is literally one of our favourite…
Print This
Ingredients
1kg / 35.3oz new potatoes

1/2 red onion

1 clove garlic

150g / 5.3oz  radishes

2 celery sticks

Large handful of fresh dill

salt & pepper

drizzle of olive oil
For the homemade mayo
200g / 7oz silken tofu

juice of 1 lemon

1 tbsp dijon mustard

4 tbsp vegetable oil

pinches of salt & pepper
Instructions
Rinse and pat dry the potatoes, and slice any big ones in half. Then transfer them to a large saucepan of cold water on a medium – high heat. Bring the water to the boil, then simmer for 15 minutes or until the potatoes are soft all the way through.

Meanwhile, add all of the mayo ingredients to a food processor and process until smooth. Set to one side for later.  

Drain the potatoes and leave them to one side to cool.

Peel and dice the red onion and garlic, thinly slice the radish and celery sticks, and roughly chop the dill. Then add everything to a large mixing bowl. Throw in the potatoes and add pinches of salt and pepper, and a drizzle of olive oil. Stir to combine.

Transfer the potato salad to a large serving dish and drizzle the mayo all over. Or, if you're prepping in advance, store the salad and the mayo separately in the fridge, and consume within a day.

This salad can be eaten warm or cold! 

Happy BBQing/