You don't have to use strawberry jam but you can use any flavour jam that you fancy.
Opt for soy-free milk to make this recipe soy-free.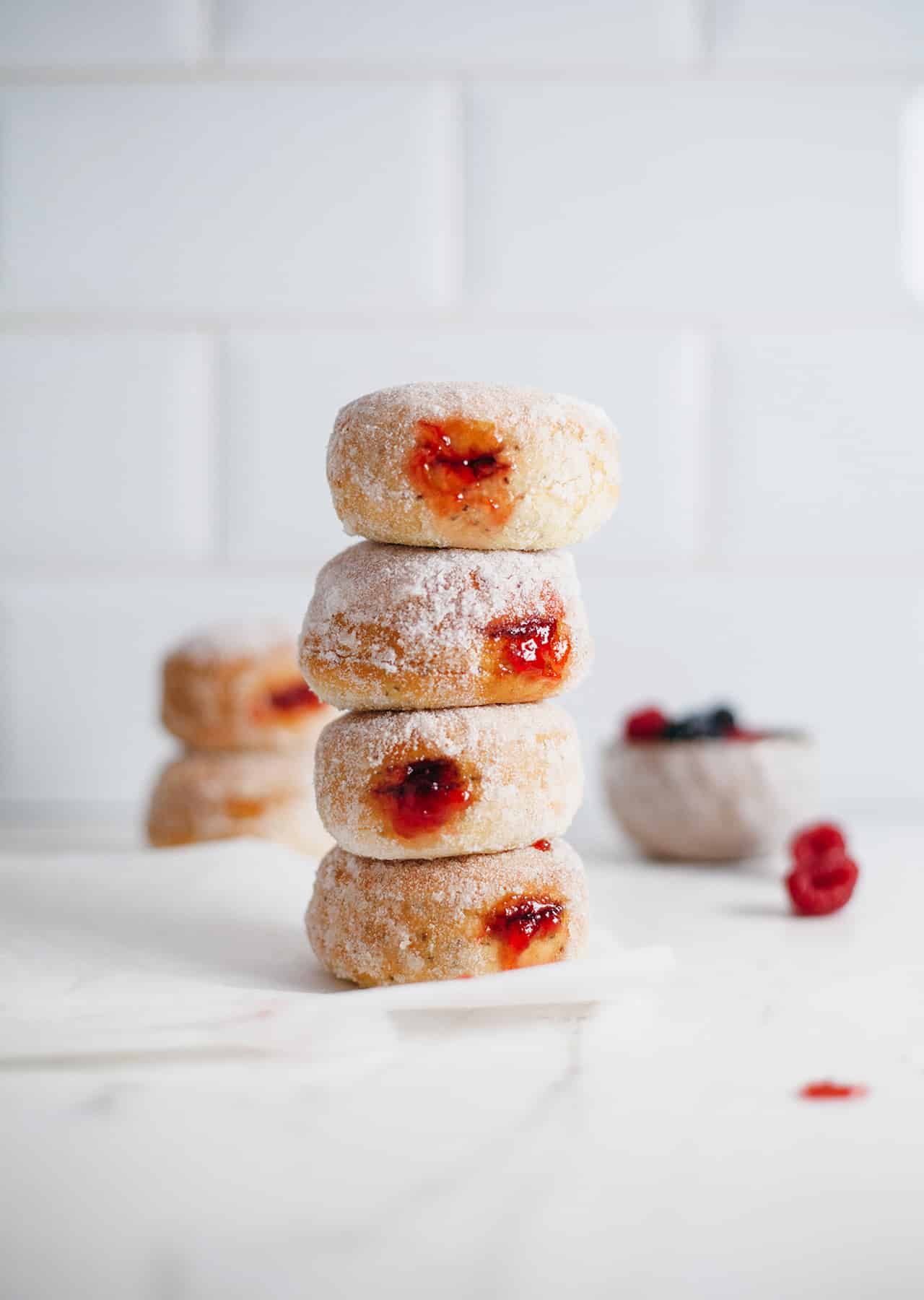 Baked Jammy Doughnuts 😍

Looking for tasty vegan recipes? Check out our cookbook So Vegan In 5: sovegan.co/cookbook

Posted by So Vegan on Wednesday, 7 August 2019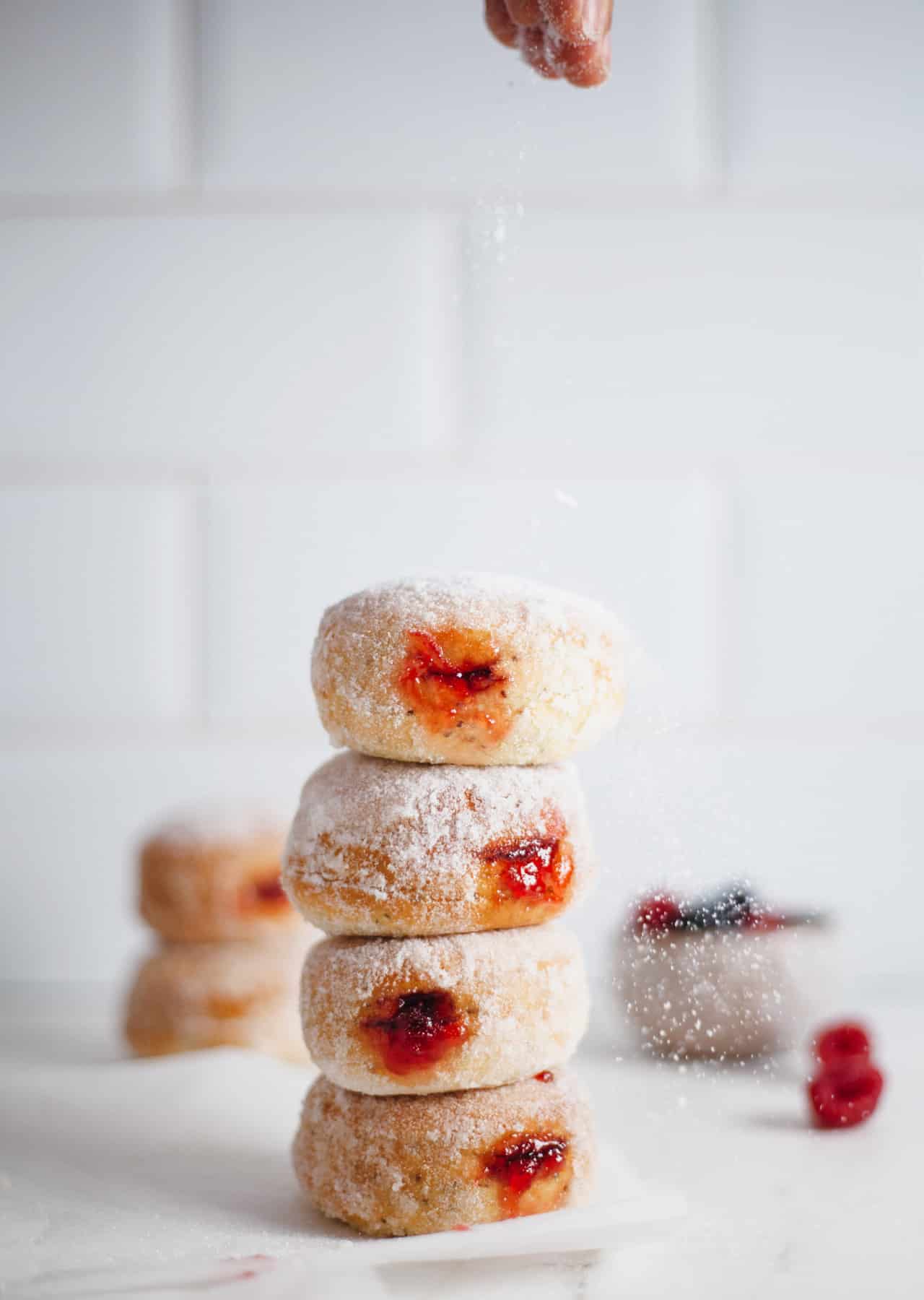 Ingredients
2 tbsp chia seeds

350g / 12.3oz plain flour, plus extra for dusting

2 tsp fast-action dried yeast

1 tsp salt

4 tbsp caster sugar 

150ml / 5 fl.oz plant-based milk

1 tbsp apple cider vinegar

50g / 1.7oz plant-based spread

oil for greasing
To coat:
caster sugar

strawberry jam (or whatever your favourite is)

plant-based spread
Method
To create the chia egg, transfer the chia seeds to a small bowl and add 6 tbsp water. Stir to combine, then set to one side so the chia seeds absorb the water while you carry out the next steps.

Combine the flour, yeast, 4 tbsp caster sugar and salt in a large mixing bowl, and create a well in the middle.

In a small saucepan, gently heat the plant-based milk, apple cider vinegar and plant-based spread until fully melted. Pour the melted mixture into the dry ingredients. Then add the chia egg and stir until a dough is formed. 

Remove the dough from the bowl, dust a work surface with flour and knead for 10 minutes. Add more flour as you go if the dough is too sticky. The dough should be tacky but it shouldn't stick to your hands.

Lightly oil the mixing bowl and add the dough back to the bowl, then cover with a tea towel. Leave to prove for 1-2 hours in a warm place until the dough has doubled in size.

Line 2 large baking trays with baking paper.

Remove the tea towel from the bowl and gently punch the dough to remove the air. Dust a work surface with flour and roll the dough out until it's 2cm thick. Then use a round stencil cutter or a glass to cut the dough into 7cm wide circles, and l

ay the circles of dough onto the baking trays (this should make 12-15 doughnuts). Make sure you leave space between each doughnut as they'll grow in size in the oven. Cover the trays with tea towels and leave to prove for a further 20 minutes.

Preheat oven to 180°C / 356°F.

Bake the doughnuts for 10-12 minutes. After 8 minutes we usually turn the trays around to ensure the doughnuts brown evenly but keep an eye on them and check again after 10 minutes.

Remove the doughnuts from the oven and leave to cool for 10 minutes.

Meanwhile add a few tablespoons of caster sugar to a bowl and melt a large tablespoon of plant-based spread in a small saucepan.

Brush the doughnuts with the melted spread, then dunk them straight into the sugar until fully coated (add more sugar to the bowl as you go). Then, using a knife, make an incision into the side of each doughnut approximately 2/3 of the way in.

Add half a jar of jam to a piping bag with a small nozzle and pipe the jam into the doughnuts via the incision made earlier. And there you have it, homemade baked jammy doughnuts! Best eaten fresh.
Did You Make This Recipe?
Don't forget to share your SO VEGAN creations on Instagram and tag us at
@SOVEGAN
!