Apparently it was 'curry week' recently?
For a second we considered celebrating with a new series delicious curry recipes.
Then we realised…it's practically always curry week in our house.
This recipe is by our friend Rebecca.
They cooked it for us a few weeks ago and we've been obsessed about it ever since.
It's a brilliantly-spiced curry with chunky vegetables, mushrooms and a creamy coconut sauce.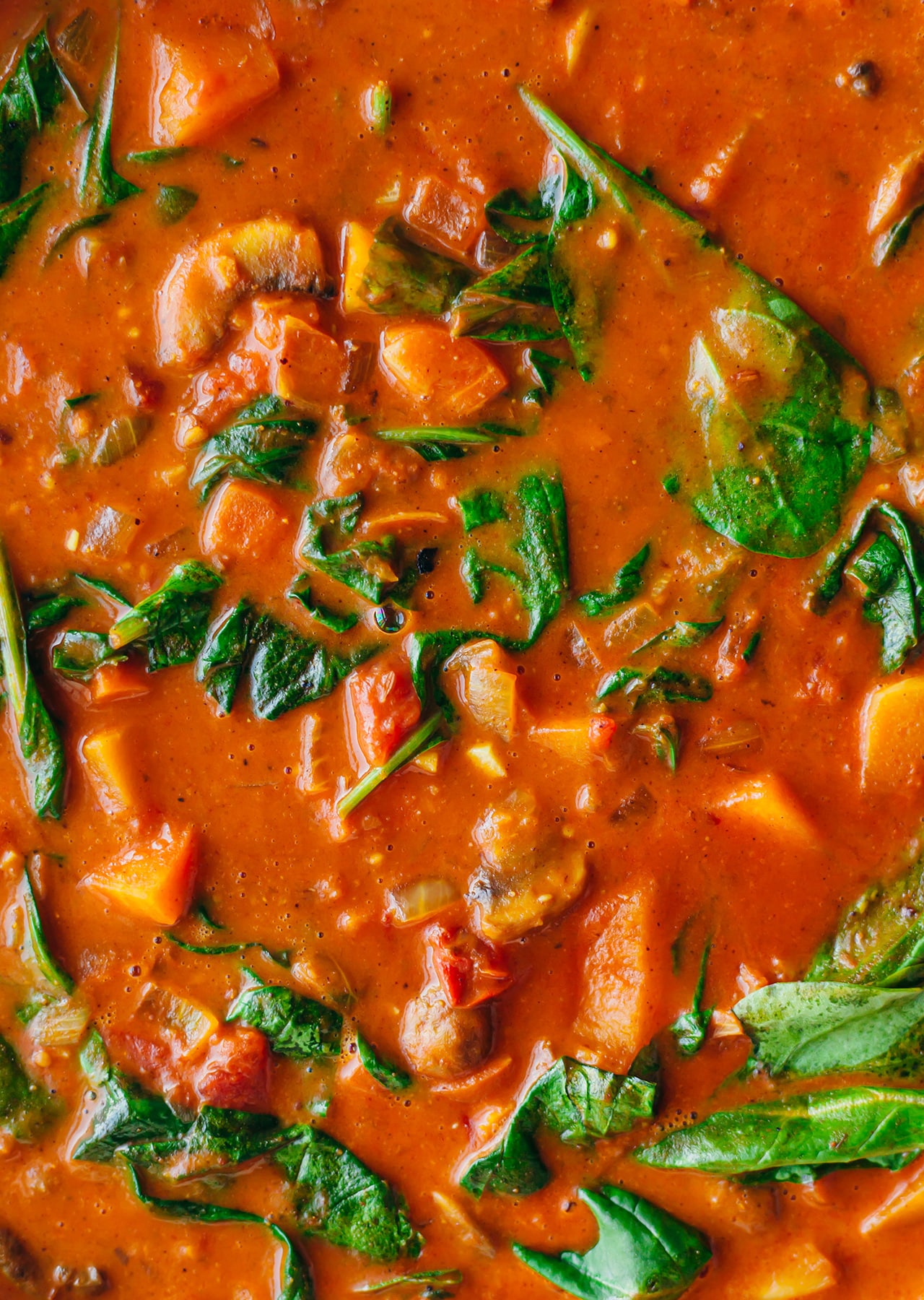 Oh, and it's also gluten-free!
This is the perfect curry for these colder months when you want to be indoors tucking into a comforting bowl of healthy vegan food.
Here's what you need to know:
The whole spices – cumin seeds and mustard seeds – are really what make this curry sing. Unground seeds contain so much more flavour and give them a little longer in the pan to release their delicious aromas.
Don't throw away the butternut squash seeds! For this recipe we lightly roast them and use them as a topping.
You can store the remaining half of butternut squash in the fridge for at least a week.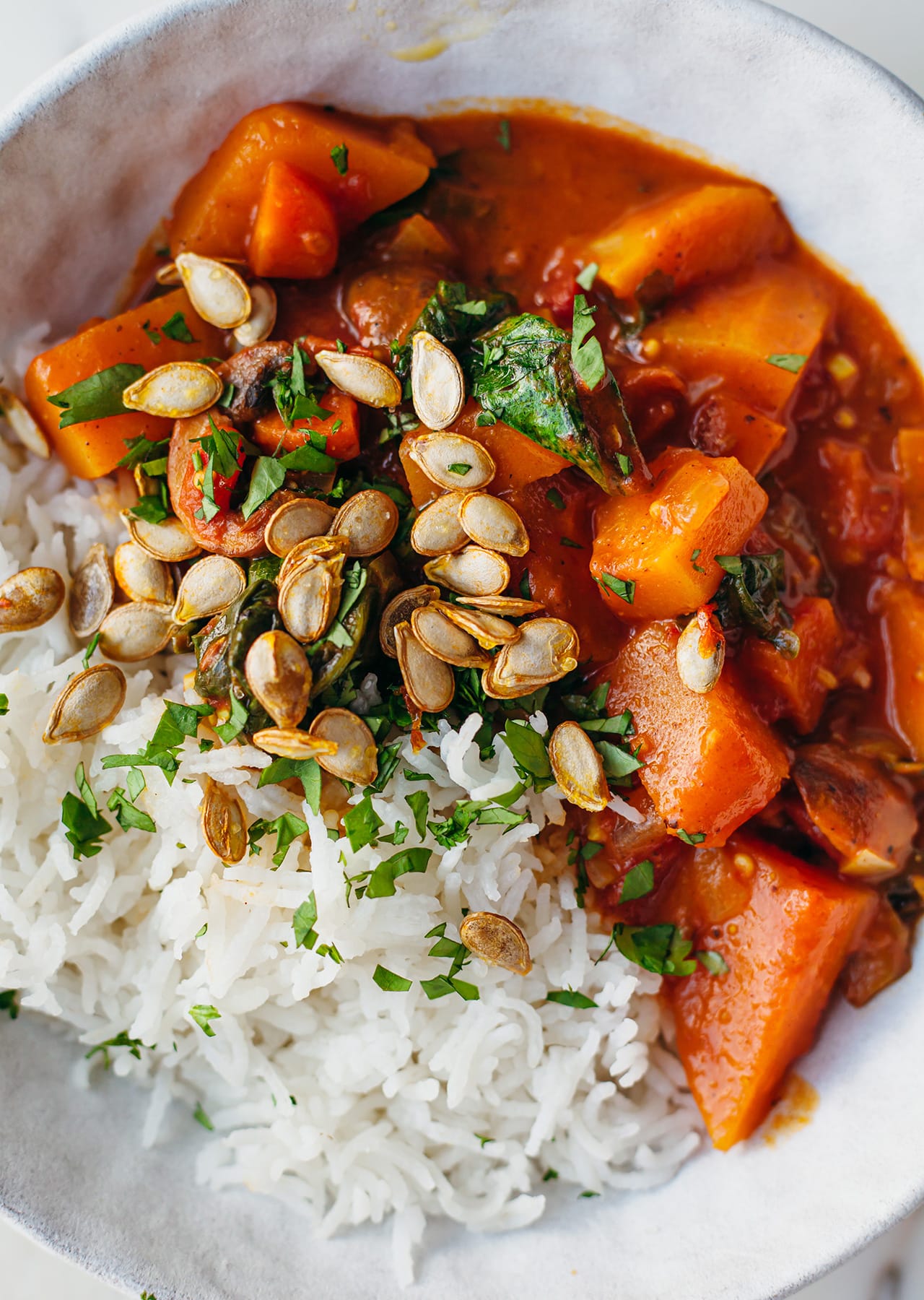 Butternut Squash & Mushroom Curry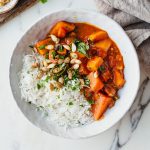 Ben, So Vegan
Apparently it was 'curry week' recently? For a second we considered celebrating with a new series delicious curry recipes. Then we realised…it's…
Print This
Ingredients
1/2 butternut squash
1 onion
1 carrot
vegetable oil
salt and pepper
4 garlic cloves
thumb of fresh ginger
150g / 5.3oz chestnut mushrooms
2 tsp mustard seeds
2 tsp cumin seeds
1/2 tsp chilli flakes
2 tsp turmeric
1 tbsp garam masala
1 x 400g / 14.1oz tin of chopped tomatoes
1/2 vegetable stock cube
basmati rice for 4 people
1 x 400ml / 14.1 fl.oz tin of coconut milk
1/2 lemon
1 tbsp mango chutney
100g / 3.5oz fresh spinach leaves
fresh coriander, for topping
Instructions
Peel the butternut squash, scoop out the seeds and leave the seeds to one side. Then chop the squash into bite-sized chunks. Next peel and dice the onion and roughly chop the carrot (leaving the skin on).
Add a splash of vegetable oil to a deep frying pan over a medium heat. As soon as the oil is hot, add the squash, onion and carrot and fry for 10 minutes.
If you're roasting the butternut squash seeds, preheat the oven to 140°C / 284°F. Remove the fibrous strings from the seeds and add the seeds to a roasting tray. Drizzle with a light splash of vegetable oil and season with salt and pepper. Roast for 15 minutes or until the seeds start to pop, then leave to one side.
Meanwhile, peel and dice the garlic and ginger and roughly chop the mushrooms. Add the garlic and ginger to the pan along with the mustard and cumin seeds and fry for 2 minutes.
Next add the mushrooms, chilli flakes, turmeric and garam masala and fry for 5 minutes.
Stir in the tinned tomatoes and large pinches of salt and pepper.

Dissolve the stock cube in 100ml (3.4 fl.oz) of hot water and add it to the pan

. Stir, bring the curry to a boil, then lower and simmer for 15 minutes or until the veggies are nearly cooked through.
Meanwhile cook the rice as per the packet instructions.
Stir the coconut milk, juice from the 1/2 of lemon and mango chutney into the curry. Bring to the boil, then lower the heat again and simmer for 5 minutes or until the veggies are cooked.
Remove the curry from the heat and stir in the spinach until wilted. Serve with the cooked rice and top with chopped coriander and pumpkin seeds.