Love is in the air! Our heart-shaped biscuits use only 5 easy-to-find ingredients and they make a great homemade Valentine's Day treat.
You will need two heart-shaped biscuits cutters: one large and one smaller.
You can use any kind of jam you like but we prefer raspberry jam because it has a dark and intense red colour.
Go for a soy free margarine to make this recipe soy-free.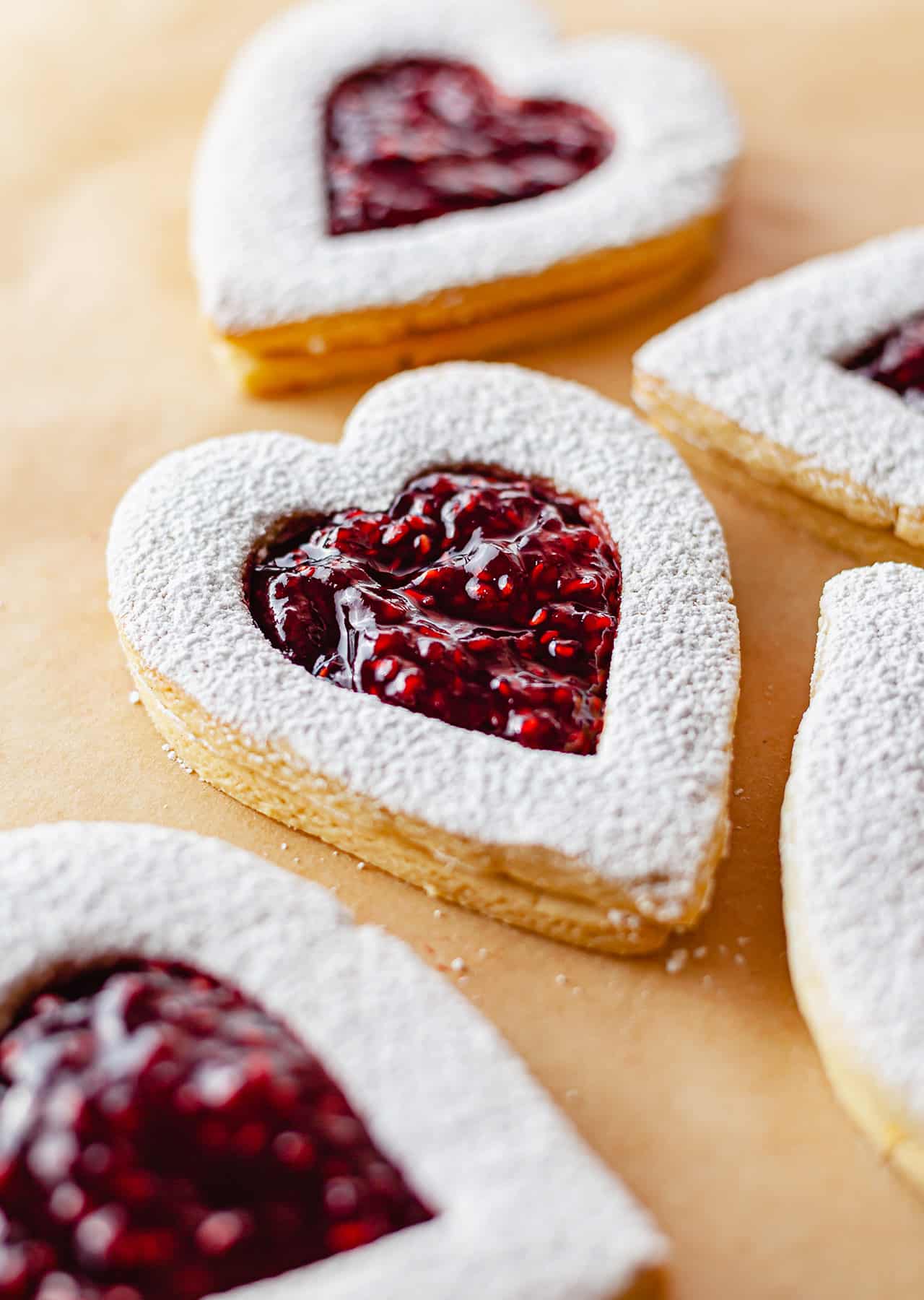 Ingredients
1/2 cup vegan margarine
1/2 cup vegan icing sugar, plus extra for decorating
1 tsp vanilla extract
1.5 cups plain flour
12 tbsp raspberry jam
Method
Preheat the oven to 180°C fan / 400°F. Then combine the margarine, sugar and vanilla extract until light and fluffy.
Next, slowly add the flour and mix together. Then shape the dough into a ball, wrap with cling film or baking paper and place in the fridge for 30 minutes.
Remove the dough from the fridge, discard the cling film / baking paper and place on a well floured surface, then roll it out using a well-floured rolling pin until the dough is around 1/2 cm (1/4") thick.
Using a large heart cutter, cut out as many hearts as possible and gently place each one on a baking tray lined with greaseproof paper.
Using a smaller heart cutter, cut out hearts from the middle of half the large hearts to create the top layer for the biscuits. Reuse the dough from the cut outs, adding it to the leftover dough and roll it out again to cut out more large hearts. Flour the surface each time you roll out the dough.
Continue until you have used up all the dough. You should be left with approximately 6 hearts without holes (for the base) and 6 hearts with heart holes (for the top layer).
Bake all the hearts for 10-12 minutes, until the biscuits are just about to brown.
Remove the biscuits from the oven and leave to cool completely.
Dust the biscuits for the top layer with icing sugar and spoon 1-2 teaspoons of raspberry jam onto the base layers.
Assemble the biscuits by placing one top layer biscuit on top of a base layer biscuit. Repeat until all the biscuits have been used up.
Did You Make This Recipe?
Don't forget to share your SO VEGAN creations on Instagram and tag us at
@SOVEGAN
!