Flapjacks remind me of my childhood. Crispy on the outside and chewy in the middle, they were a really special treat!
Roxy and I have been developing this recipe for homemade protein flapjacks over the past few weeks and we're so chuffed with how it has turned out. We decided to cut down the refined sugar and use other sweeteners instead, such as banana and maple syrup.
This makes the recipe a lot healthier than traditional flapjacks. Better still, each bar has over 8g of protein! How awesome is that?
Wholesome, sweet and healthy, we bet you'll love these as much as we do!
Enjoy,
Roxy & Ben
Homemade Protein Flapjacks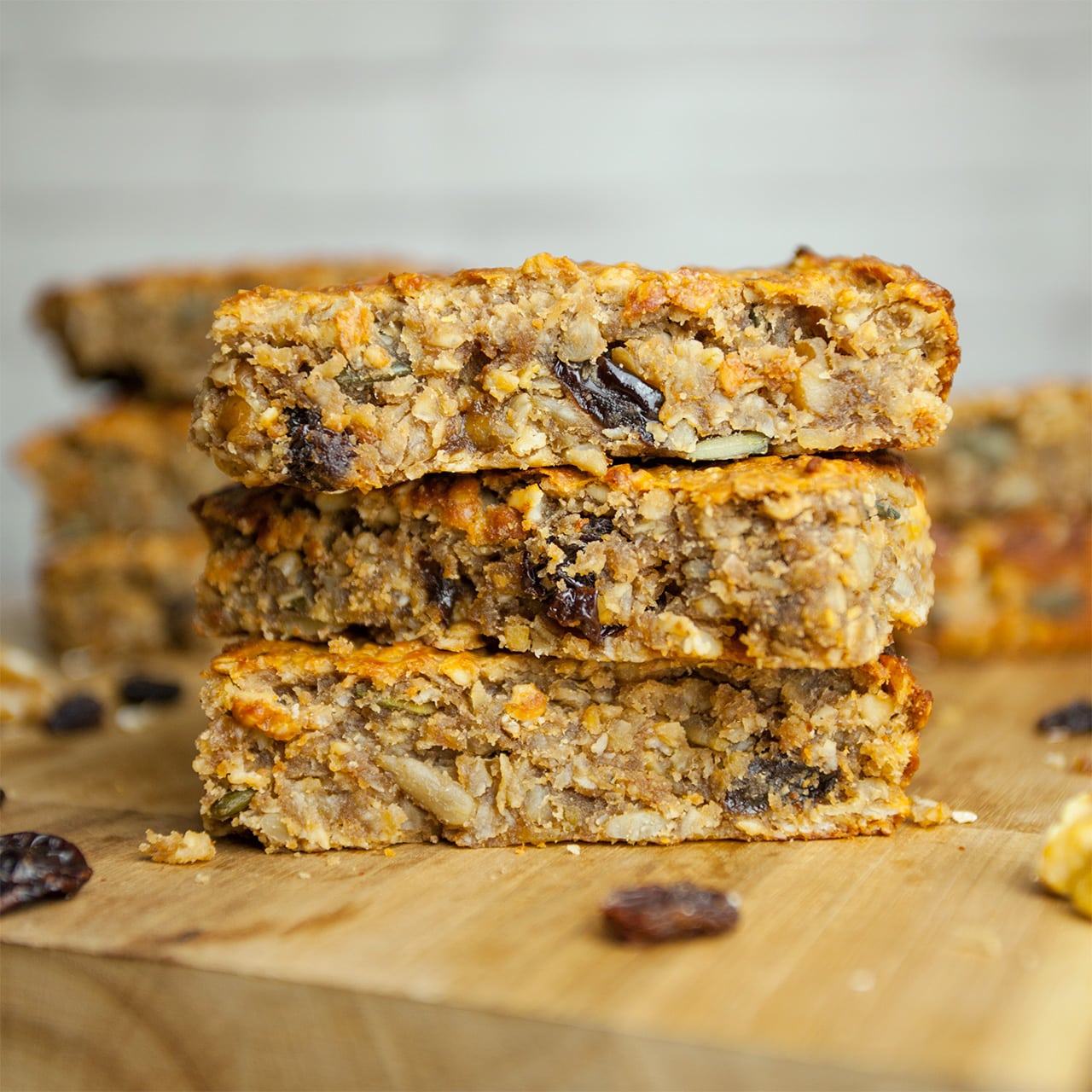 | | |
| --- | --- |
| | |
Preheat the oven to 180°C and line the base and sides of an 8" x 8" baking tin with parchment paper.

Add the banana, oats, sunflower seeds, pumpkin seeds, raisins and walnuts to the mixing bowl.

Then transfer the peanut butter, maple syrup and coconut oil to a small pan on a low heat. Stir to combine and leave on the heat until melted.

Pour the peanut butter liquid and milk into the mixing bowl and stir until the dry ingredients are fully coated with the wet ingredients.

Transfer the flapjack mix to the pre-lined baking tin and use a spatula to level the mixture. Bake for 30 minutes.

Remove the flapjack from the oven and leave to cool in the tin for 5 minutes. This will set the flapjack so it doesn't break when you move it.

Remove the flapjack from the tin and leave to cool for 10 minutes before cutting into 10 bars.
Nutritional information per flapjack:
Calories: 303
Total Fat: 18.1g
Sat Fat: 6.1g
Carbohydrate: 31.2g
Sugars: 12.8g
Sodium: 102.4mg
Fiber: 4.4g
Protein: 8.1g