Make this gluten-free using gluten-free biscuits.
You can substitute the golden syrup with another syrup such as maple or agave syrup.
We buy our vegan-friendly marshmallows from our local vegan shop, but you can also order them online.
Lots of regular biscuits are vegan-friendly, but it's always worth checking the ingredients to be sure.
For a soy free recipe make sure you check the ingredients on the chocolate, marshmallow and margarine packets.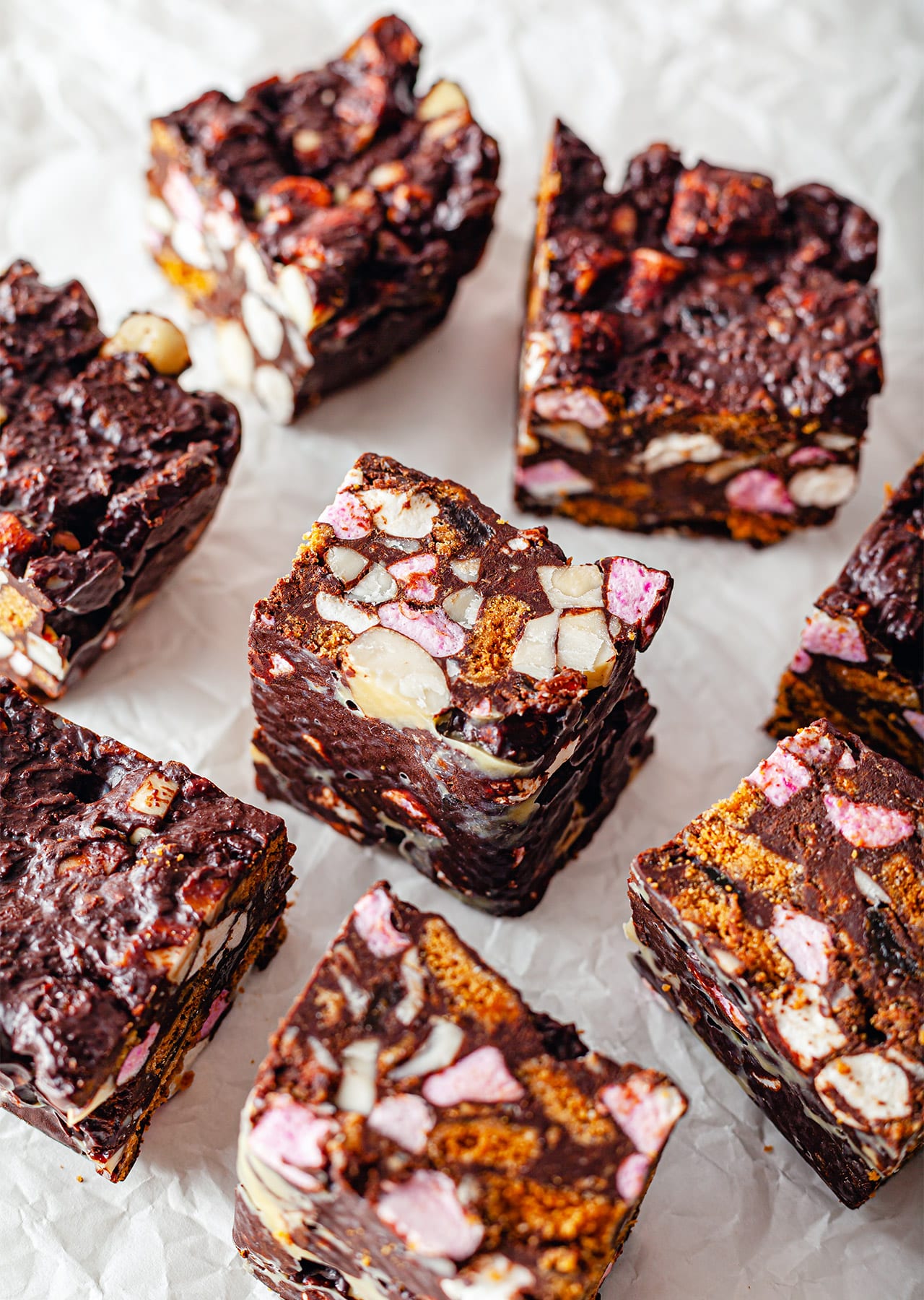 Makes 8 squares.
Ingredients
2 tbsp vegan margarine
2 tbsp golden syrup
200g vegan-friendly dark chocolate, roughly broken up
100g vegan-friendly biscuits, broken into bite-size pieces (or gluten-free biscuits)
1/4 cup raisins
1 cup vegan marshmallow, roughly chopped
1/2 cup brazil nuts, roughly chopped
Method
1. Line a 450g / 15.9oz (approx 20cm x 10m or 8″ x 4″) loaf tin with baking paper.
2. Melt the margarine and golden syrup in a heatproof bowl placed over a pan with a little hot water. Next add the chocolate to the bowl and stir until the mixture has melted.
3. Then remove the bowl from the heat and add the remaining dry ingredients. Mix until fully combined.
4. Pour the mixture into the lined baking tin and place in the fridge for a minimum of 2 hours (until solid) or place in freezer for faster results.
5. Remove from the fridge and cut the rocky road into 8 squares.
#SoVegan