Sticky toffee pudding is a classic British dessert. Ours has a perfectly moist sponge with a delicious toffee sauce, and it's one of our all-time favs.
Medjool dates, if you can find them, arguably have the tastiest caramel flavour. But you can use any dates you like.
We use soya milk, which is slightly creamier and we think adds a more moist texture to our pudding. But again, any plant-based milk will do.
Vegan single cream is becoming easier to find in supermarkets. We use a soy-based cream, but full-fat tinned coconut milk will also work.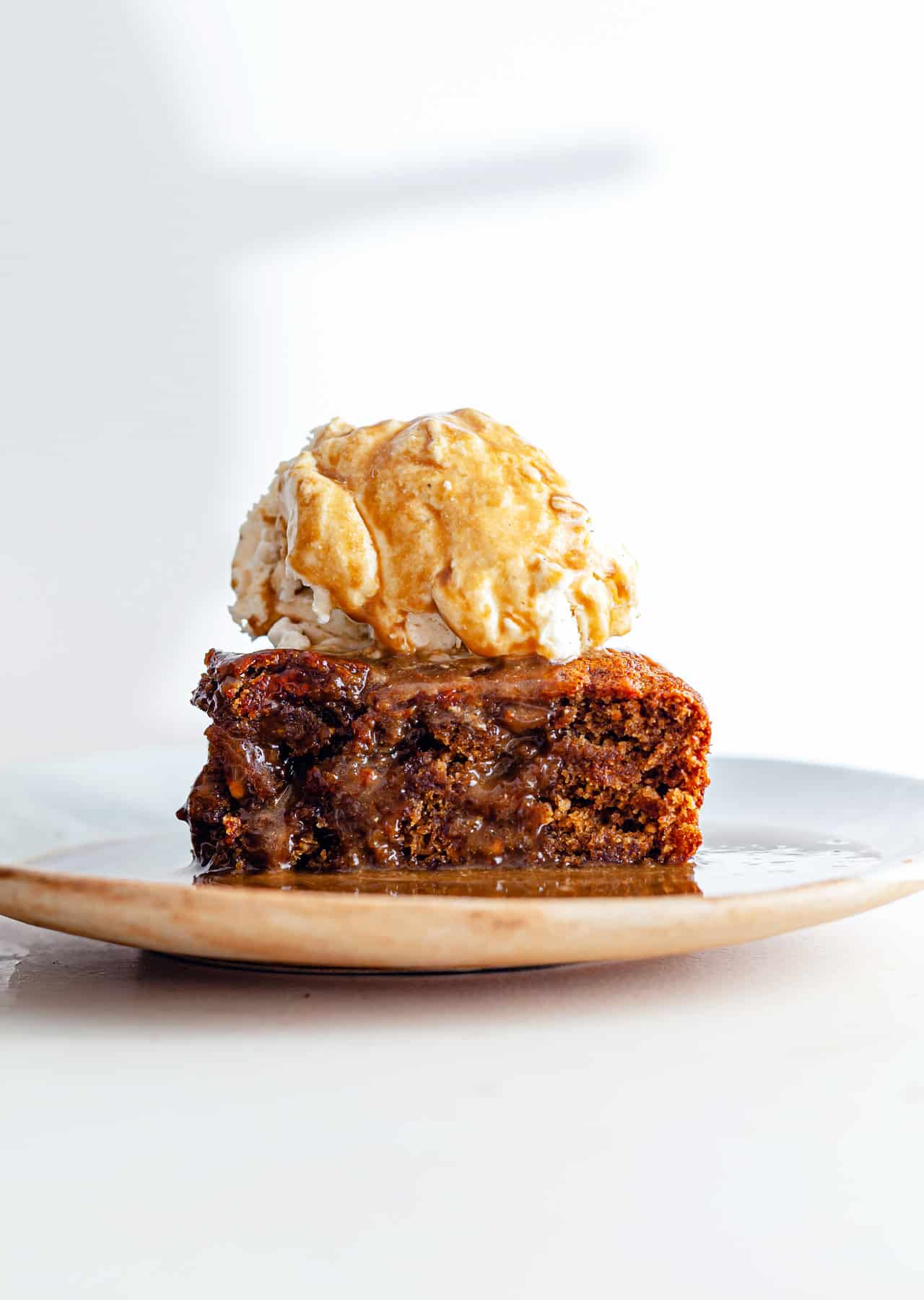 Ingredients
230 g (8.1 oz) pitted dates
80 g (2.8 oz) vegan margarine
120 g (4.2 oz) dark muscovado sugar
1 tsp vanilla extract
1 tsp bicarbonate of soda
1 tbsp apple cider vinegar
200 g (7.1 oz) plain flour
2 tsp baking powder
100 ml (3.4 fl.oz) plant-based milk
For the toffee sauce:
80 g (2.8 oz) dark muscovado sugar
80 g (2.8 oz) vegan margarine
140 ml (4.7 fl.oz) vegan single cream
Method
Preheat the oven to 180°C fan / 400°F and line a square 8" oven-proof dish with baking paper.
Pour 200 ml (6.8 fl.oz) of hot water over the dates and leave to soak while you complete the next steps.
In a mixing bowl, cream the margarine, sugar and vanilla extract together, then add the bicarbonate of soda and vinegar.
Next, gently stir in the flour, baking powder and milk.
Blend the dates with the water until smooth and mix into the pudding mixture.
Pour the mix into the dish, then bake for 30-35 minutes or until a toothpick comes out clean.
Meanwhile, make the toffee sauce by heating all ingredients in a small saucepan until boiling, then turn the heat down and simmer for 3-5 minutes. Then remove from the heat and leave for a few minutes to thicken.
Serve a big slice of pudding with a generous drizzling of toffee sauce. Yummmm.
Did You Make This Recipe?
Don't forget to share your SO VEGAN creations on Instagram and tag us at
@SOVEGAN
!