Behold. The crispiest and fluffiest roasties on the planet.
We use Maris Piper potatoes here in the UK, but if you can't find them you can also use the Yukon Gold variety or any potato which is known to have a fluffy texture.
It's really important to let the potatoes cool before adding them to the hot oil. This helps to remove moisture and makes the outsides extra crispy in the oven.
Another important step is quickly (but carefully!) adding the potatoes to the hot oil. The hotter the oil, the more chance it has to develop and crispy crust around the potato.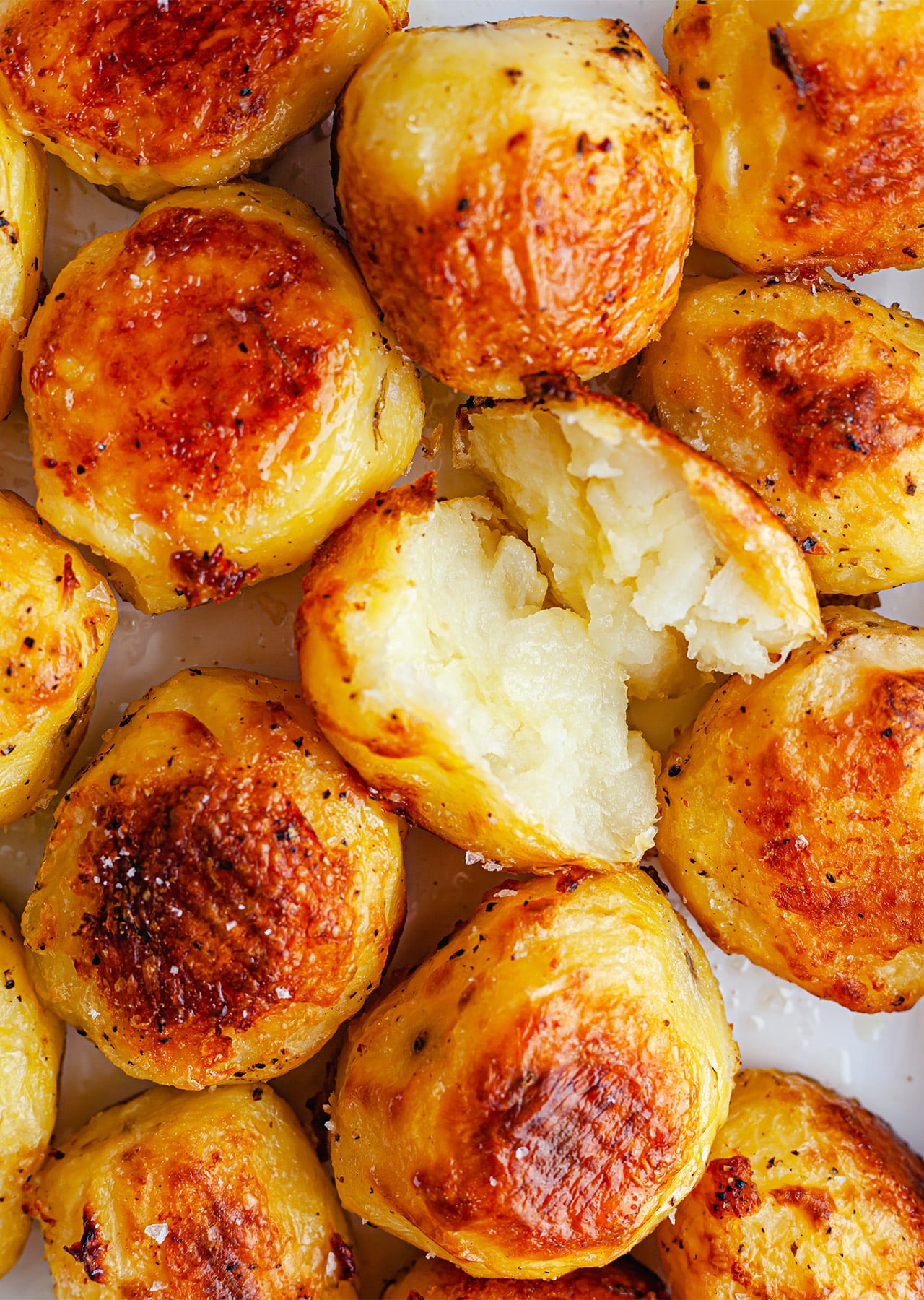 Ingredients
1.5kg / 3.3lb Maris Piper or Yukon Gold potatoes, peeled
olive oil
salt + pepper
Method
Slice any large potatoes in half. Add them to a saucepan and cover with cold water. Bring them quickly to a boil over a high heat, then lower the heat slightly and gently boil for 10 minutes.
Drain the potatoes and leave to cool in the saucepan (we leave them outside in the colder months).
When you're ready to start roasting the potatoes, first preheat the oven to 200°C fan / 425°F.
Add 6 tbsp of olive oil to a roasting tin and leave it in the oven to heat up for 5 minutes.
Meanwhile add 1/2 teaspoon of salt and 1/2 teaspoon of pepper to the potatoes. Add a lid to the saucepan and shake the potatoes until the edges go fluffy.
Remove the tray from the oven. Quickly but carefully add the potatoes to the hot oil and use a pair of tongs to coat them in the oil.
Roast the potatoes for 45-minutes - 1 hour or until their golden brown and super crispy on the outside, turning halfway
Serve with an extra sprinkling of salt (this is optional) for Christmas dinner, Thanksgiving, or Sunday roasts.
Did You Make This Recipe?
Don't forget to share your SO VEGAN creations on Instagram and tag us at
@SOVEGAN
!