The best things come in threes.
Think Destiny's Child and The Original Star Wars Trilogy (yes, everything went downhill from then on).
And here's another one to add to the list.
Our delicious vegan crepes, 3 ways.
Strawberries & Cream, Banoffee and Spiced Apple.
What's not to love?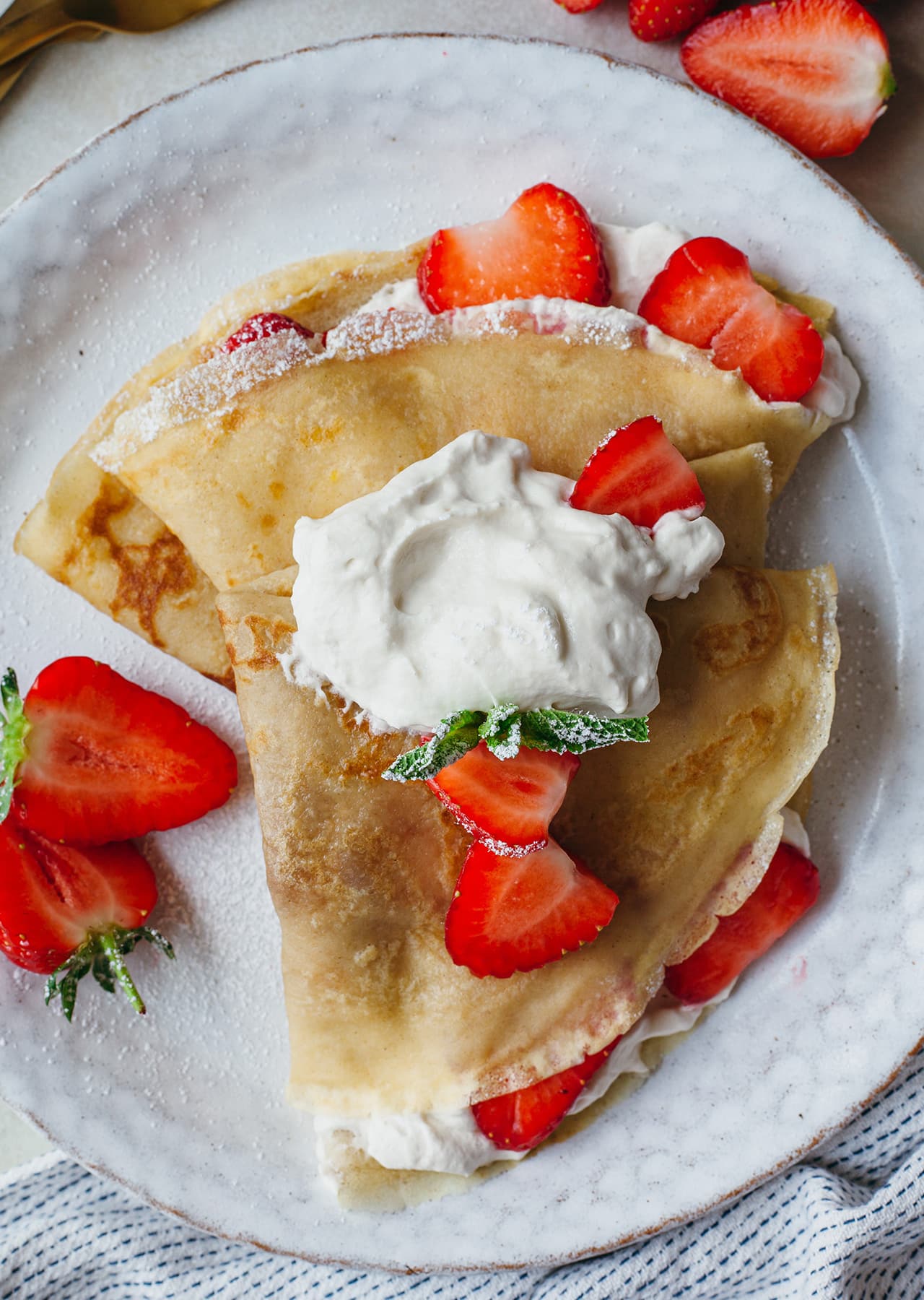 We've said it before and we'll say it again:
Going vegan doesn't mean you have to miss out.
OK, technically you're missing out on meat and dairy, but that's kinda the whole point.
But we're talking about amazing flavours and epic food, like these incredible crepes.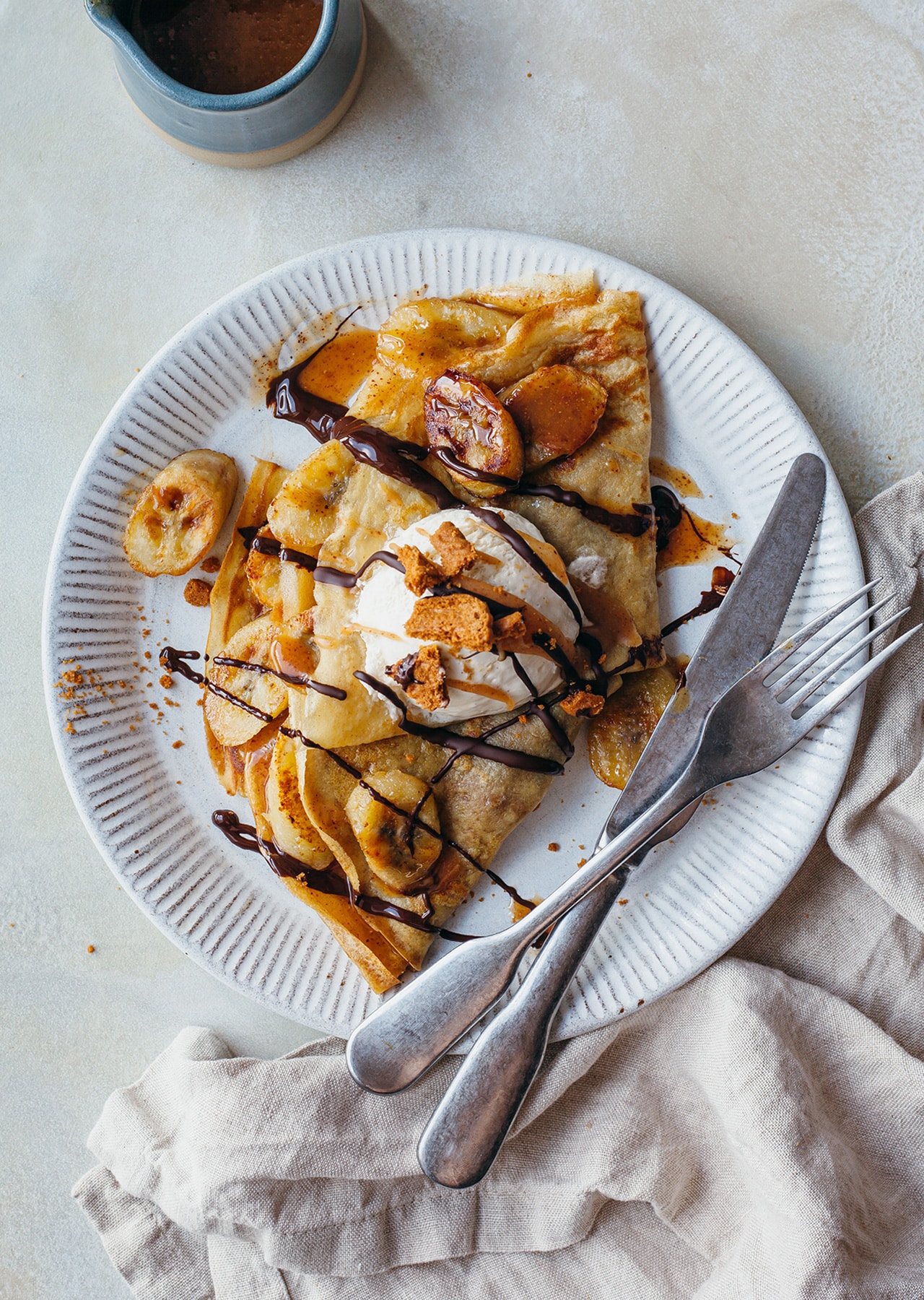 A couple of things you need to know:
We use soy milk because it curdles the best to create the vegan 'buttermilk'. You could try other plant-based milks but there's no guarantee you'll get the same results, and the crepes might be more dense as a result.
If you can't find vegan double cream, you can substitute for coconut cream or simply use a single cream, which will be more runny but it'll still taste delicious.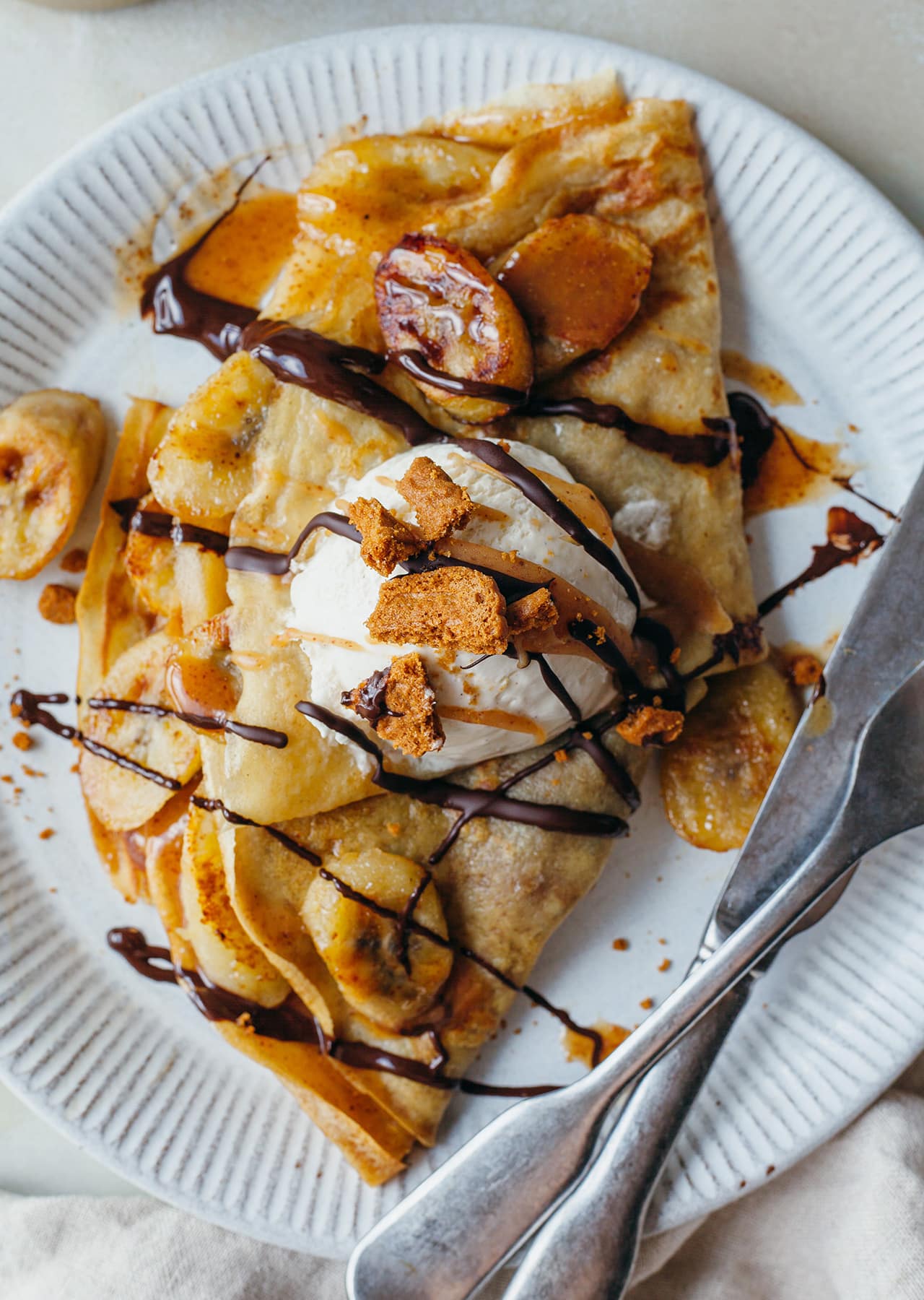 Obviously you can top and fill these crepes with whatever you like!
We often enjoy them with sugar and freshly squeeze lemon juice.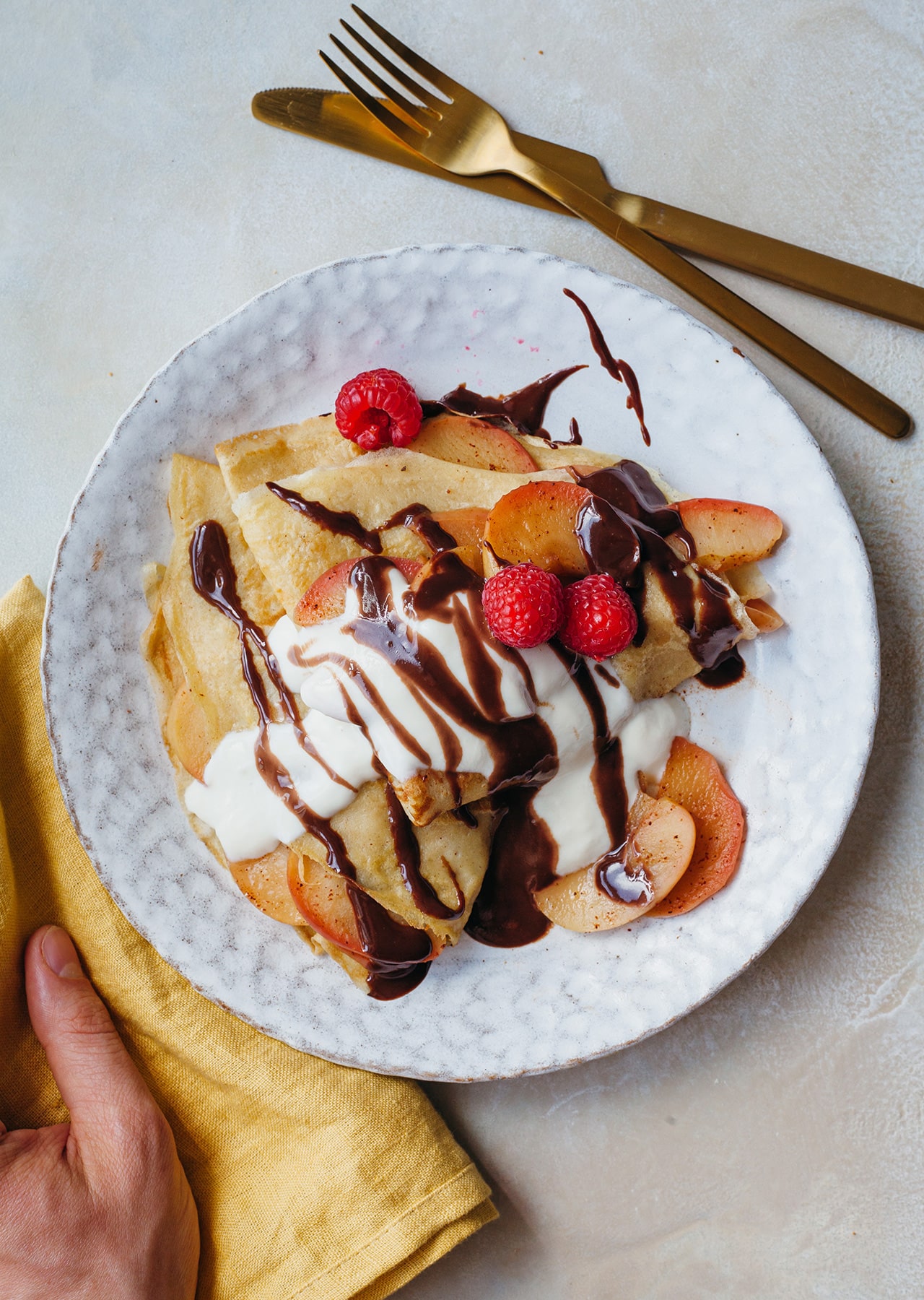 So go wild with your own variations.
We're now approaching the warmer months, which means there's now an abundance of fresh fruit at our finger tips.
Alternatively you can also use frozen fruits, like berries, and simmer them with sugar to create a sweet syrup.
Yum!
Crepes 3 Ways 🍓 We're planting a tree in the Amazon for every pre-order of our new cookbook ONE POT VEGAN! Order yours today 👉 sovegan.co/onepv

Posted by So Vegan on Wednesday, 3 June 2020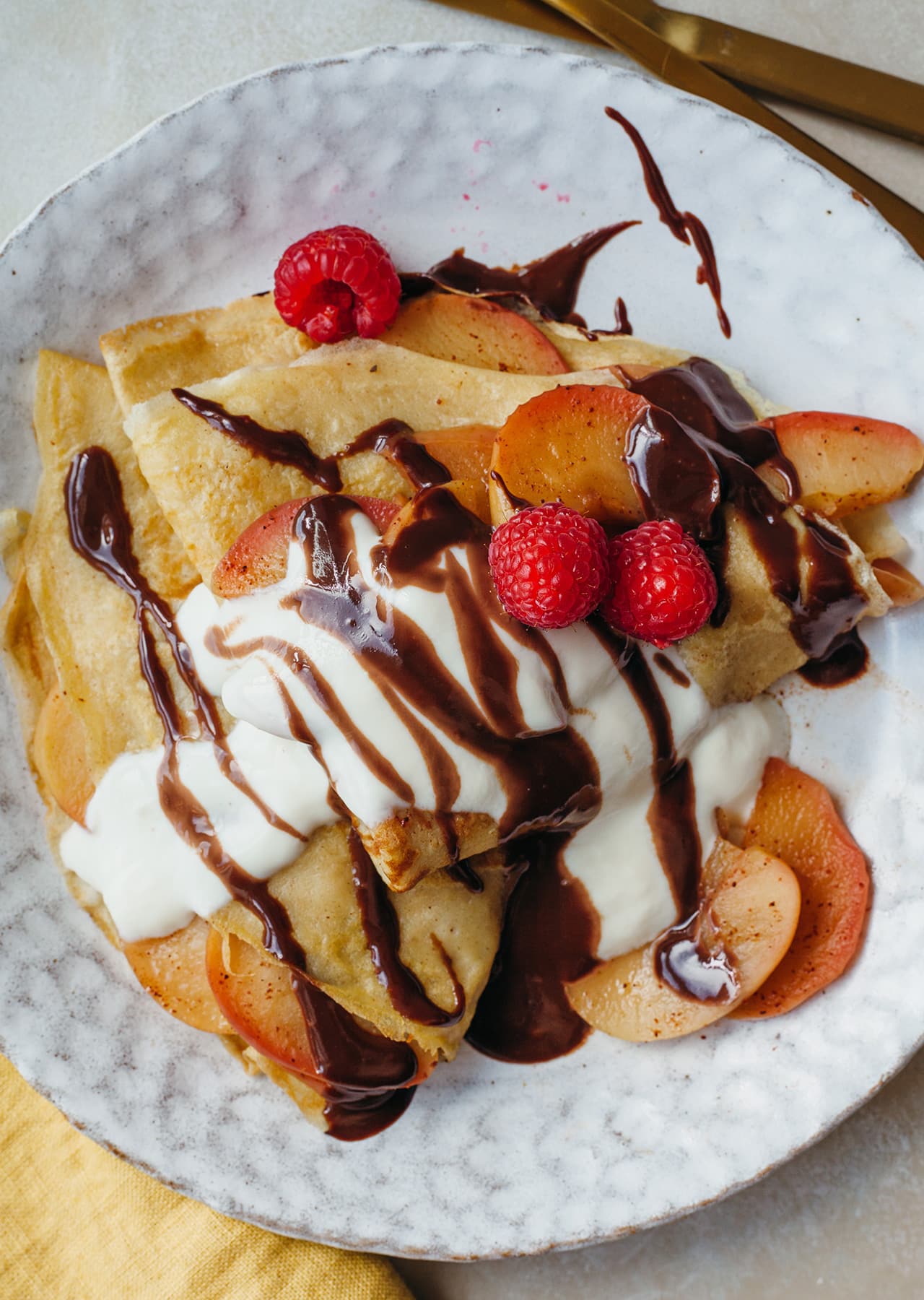 Ingredients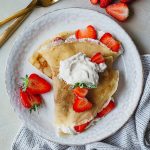 For the crepes:
400ml / 13.5fl.oz soya milk 

1 tbsp apple cider vinegar

150g / 5.3oz plain flour

1 tsp bicarbonate of soda 

pinch of salt

2 tbsp vegan margarine, plus extra for frying

1 tbsp maple syrup
For the strawberries & cream topping:
200ml / 6.8fl.oz vegan double whipping cream

strawberries

mint

icing sugar
For the banoffee topping:
4 bananas

1 tbsp sugar

vegan margarine, for frying

4 tbsp coconut oil

4 tbsp maple syrup

3 tbsp almond butter

pinch of salt

100g / 3.5oz vegan dark chocolate

vegan ice cream

biscuits
For the spiced apple topping:
2 apples 

1 tbsp lemon juice

1 tbsp maple syrup

1/2 tsp cinnamon

vegan plain yoghurt

raspberries
For the tahini sauce
2 tbsp maple syrup

2 tbsp tahini 

4 squares of chocolate

4 tbsp vegan single cream
Method
For the crepes:
In a bowl or measuring jug, combine 150ml / 5fl.oz of the soya milk with the apple cider vinegar. Stir, then leave to one side to curdle and turn into a vegan buttermilk.

Meanwhile combine the flour, bicarbonate of soda and salt in a large bowl. 

Next, melt the margarine in the microwave or in a saucepan on the hob. Then add the melted margarine to the flour along with the maple syrup and remaining soya milk. Finally add the vegan buttermilk. Whisk until smooth then set to one side to rest for 30 minutes.

Add a little margarine to a frying pan over a medium heat. Once hot add 80ml (1/3 cup) of the crepe batter to the pan and swirl it around so it covers the base. Fry for 2 minutes or until the edges are brown and start to peel up. Then run a spatula around the edges of the crepe and use your fingers to peel the crepe away from the pan and flip it. Fry for another minute on the other side then transfer the crepe to a plate. Repeat until all of the crepe batter has been used. See below for the topping options:
For the strawberries and cream:
Add the vegan double cream to a bowl and whip until you have medium- stiff peaks. Next remove the ends of the strawberries and slice. 

Fill the crepe with a spoonful of whipped cream and sliced strawberries. Then fold the crepe into quarters and finish with a few mint leaves and a dusting of icing sugar.
For the banoffee topping:
Peel and slice the bananas, then add them to a small bowl along with the sugar and toss until coated. Add 1/2 tbsp of vegan margarine to a frying pan over a medium heat and add the sliced banana. Fry for 5 mins or until golden brown, flipping halfway.

Next for the caramel, add the coconut oil, maple syrup, almond butter and a pinch of salt to a microwave-safe bowl. Microwave for 30-45 seconds, then stir until fully combined. Leave to one side to cool slightly. 

Meanwhile break up the dark chocolate into a microwave-safe bowl and microwave for 30 seconds, then stir until melted.

To build the crepe, spoon some caramel onto one half of the crepe, then add some banana slices and fold the crepe into quarters. 

Top with ice cream, then pour over more caramel sauce and some melted chocolate. Finally, crush some biscuits and sprinkle on top. 
For the spiced apple topping:
Cut the apples into quarters, remove the cores and slice. Add the apples along with the lemon juice, maple syrup and cinnamon to a saucepan over a medium heat and stew for 10-15 minutes or until the apples are soft.

Meanwhile, for the tahini sauce, add the maple syrup, tahini, chocolate and single cream to a microwave-safe bowl or measuring jug and microwave for 30-60 seconds, then remove and stir until fully melted.

To build the crepe, add some of the stewed apples to a crepe and fold into quarters. Top with a spoonful of vegan yoghurt, followed by the chocolate tahini sauce and a few raspberries.
Did You Make This Recipe?
Don't forget to share your SO VEGAN creations on Instagram and tag us at
@SOVEGAN
!