Super crispy and fluffy potato slices, roasted in fresh herbs, garlic and lemon. Yum! This delicious roast potato swirl is a fun alternative to the classic roastie.
Notes
We recommend using a floury potato (one that contains a higher amount of starch), such as Maris Piper, King Edward or Yukon Gold.
Using a mandolin will save lots of time, but you could simply use a sharp knife. If you use the latter, it's important to keep the potato slices submerged in cold water as you go – otherwise they will oxidise due to the starch and begin to discolour. Just be sure to then pat them dry with a clean kitchen towel before adding them back to the bowl.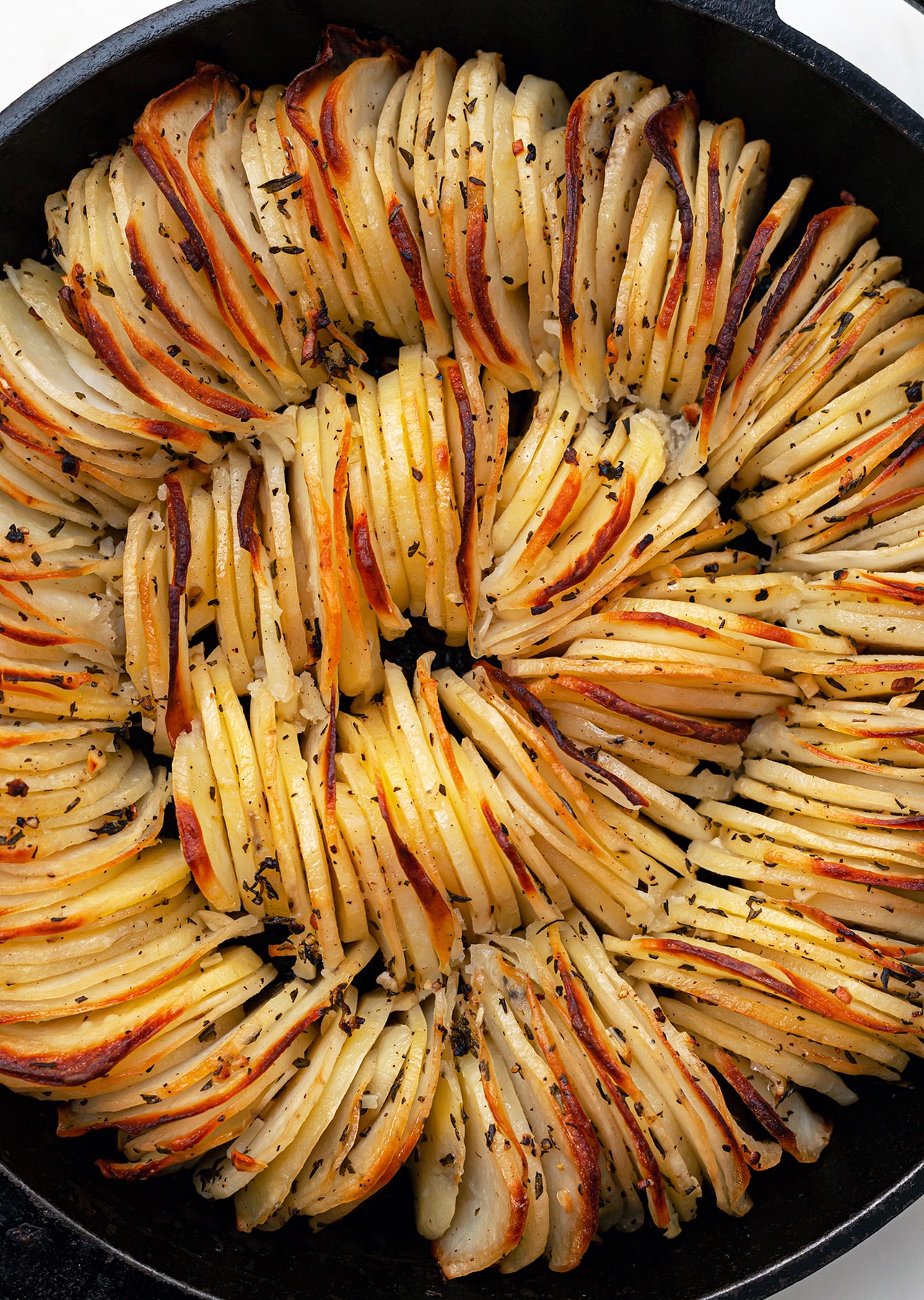 Ingredients
2 sprigs of fresh thyme, leaves chopped
2 sprigs of fresh rosemary, leaves chopped
4 garlic cloves, peeled + chopped
1.8kg potatoes, we use Maris Piper
1 lemon, juice + zest
olive oil
salt + pepper
Method
Preheat the oven to 180°C fan / 400°F. Next prepare the herbs and garlic, then leave to one side.
Peel, then thinly slice the potatoes approx 3mm (0.1") thick and transfer to a large mixing bowl. We use a mandolin to speed up this process. If you don't have a mandolin, simply use a sharp knife and transfer the sliced potato to a large bowl of cold water as you go so they don't discolour, then drain, pat the slices dry and add them back to the bowl.
To the bowl, add the thyme, rosemary, garlic, the juice and zest from the lemon, 4 tablespoons of olive oil and generous pinches of salt and pepper. Then mix until the slices are coated.
Lightly grease a round oven-proof dish or pan approx. 26cm (10") with olive oil. Stack the slices of potato upright in the dish to create a swirl. Then pour any remaining ingredients from the bowl over the slices of potato.
Roast for 70-80 minutes or until crispy and golden, and cooked through. Depending on your oven temperature and how thin you sliced your potatoes, you might need to roast for another 20-30 minutes until the potato is cooked. If the potatoes begin to brown too quickly, simply cover with a sheet of baking paper. Sprinkle over some extra salt to serve.
Did You Make This Recipe?
Don't forget to share your SO VEGAN creations on Instagram and tag us at
@SOVEGAN
!