Just imagine waking up to this epic creation.
You'd be forgiven for thinking you were still dreaming!
But tbf our new French toast recipe is the stuff of dreams.
Sweet fried bread topped with gorgeous pears and drizzled all over with sticky caramel.
Delicious.
Things to know:
Stale bread is your friend in this recipe. It'll help soak up the 'eggy' mixture and keep its form in the pan. So be patient!
We tested this recipe using a high-fat oat milk, which we think really helps with the creaminess, but to be honest any plant-based milk will do.
Not a fan of pears? Don't fret. You can try banana (make sure it's firm, otherwise it'll fall apart in the pan) or apples, too.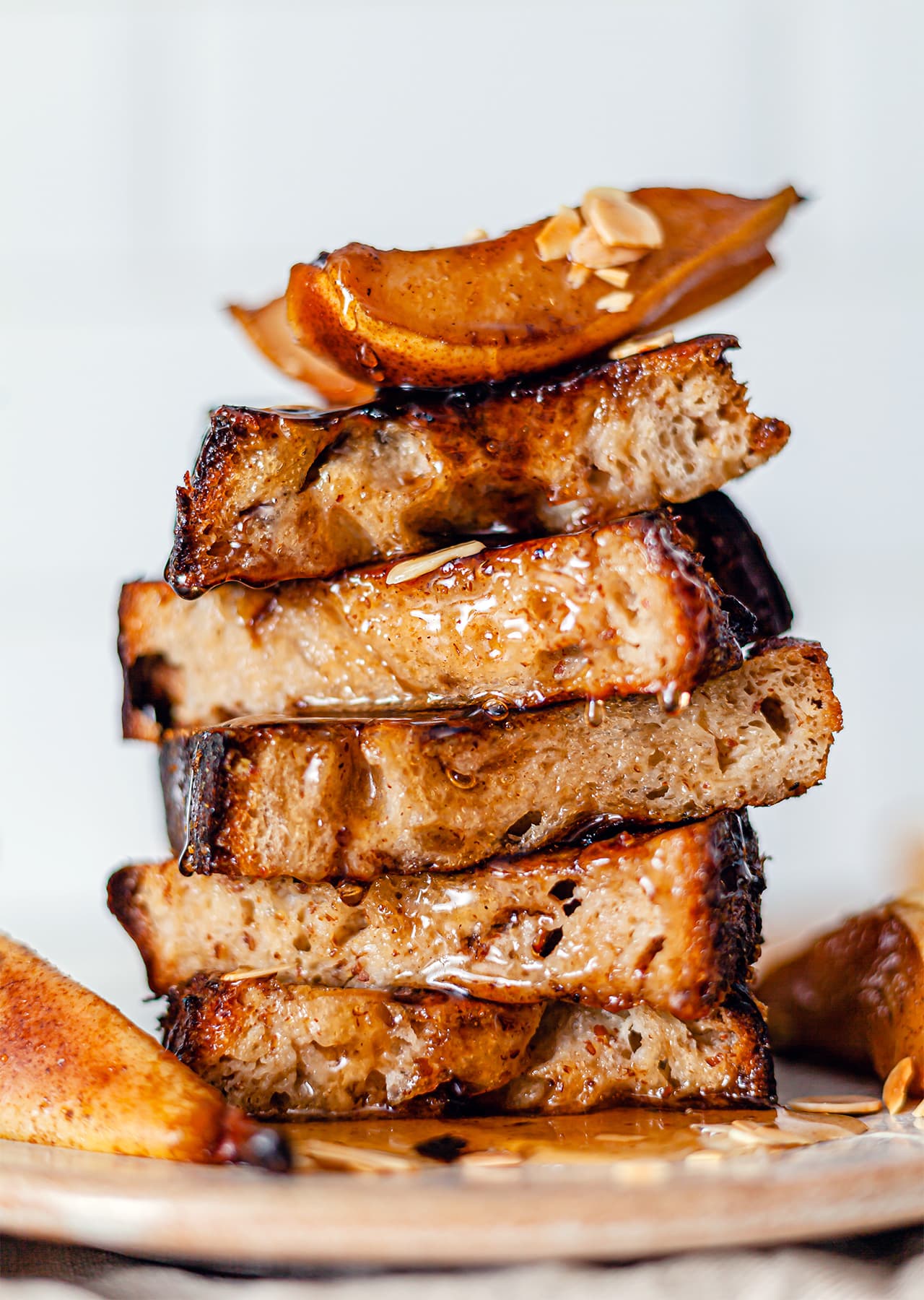 Ingredients
For the French toast:
250ml / 1 cup plant-based milk
2 tbsp ground flaxseed
1 tbsp light brown sugar
1 tsp vanilla extract
4 thick slices of stale bread
coconut oil for frying
For the caramelised pear:
1 pear
2 tbsp light brown sugar
1/2 tsp ground cinnamon
handful of toasted almond flakes
maple syrup for topping, optional
Method
Combine the plant-based milk, flaxseed, sugar and vanilla extract in a shallow bowl. Leave for 2-3 minutes to thicken slightly.
Heat 1 tablespoon of coconut oil in a frying pan on a medium heat. Once hot, dunk the stale bread in the milky mixture until fully submerged (around 10 - 20 seconds on each side) and add the slice to the pan. Repeat for each slice and fry for 3-4 minutes on each side or until golden brown (you may need to do this in batches).
Meanwhile slice the pear into sixths and remove the cores from each slice. Add another teaspoon of coconut oil to a separate frying pan on a medium heat. Once hot add the pear slices and fry for 3 minutes on each side or until they start to brown. Then add the brown sugar and ground cinnamon along with 2 teaspoons of water to the pan and toss through until caramelised.
To serve, divide the french toast between two plates and top with the sliced pears and caramel sauce from the pan. Top with toasted almond flakes to finish. We sometimes drizzle maple syrup over the top if we want an extra treat!
Did You Make This Recipe?
Don't forget to share your SO VEGAN creations on Instagram and tag us at
@SOVEGAN
!