Notes
Tofu is traditionally made using 'nigari', otherwise known as magnesium chloride, which is used to curdle the soy milk. However, we like to use lemon juice, which creates a slightly different texture and flavour – but in our opinion it's just as good!
This recipe will make approximately 500g / 17.7oz of tofu, which is a regular sized block that will create at least 4-5 servings.
You'll need a nut bag, skimmer or fine sieve and a tofu press. Instead of using a fancy tofu press, we simply cut holes into a tupperware box approximately 10cm x 10cm x 10cm in size. Then place another box on top and use a weight to press the tofu.
The leftover pulp is also known as Okara. It can be frozen then defrosted in batches and used as a flour in baking or even as a protein substitute in dinners. However it's technically raw so you'll need to cook the pulp first before eating it.
Soy milk has a tendency to stick to the bottom of the saucepan when it's heated. It's difficult to prevent this entirely (we've tested in different pans and varying heats) so your best bet is stirring regularly with a metal spoon while scraping the bottom to prevent sticking.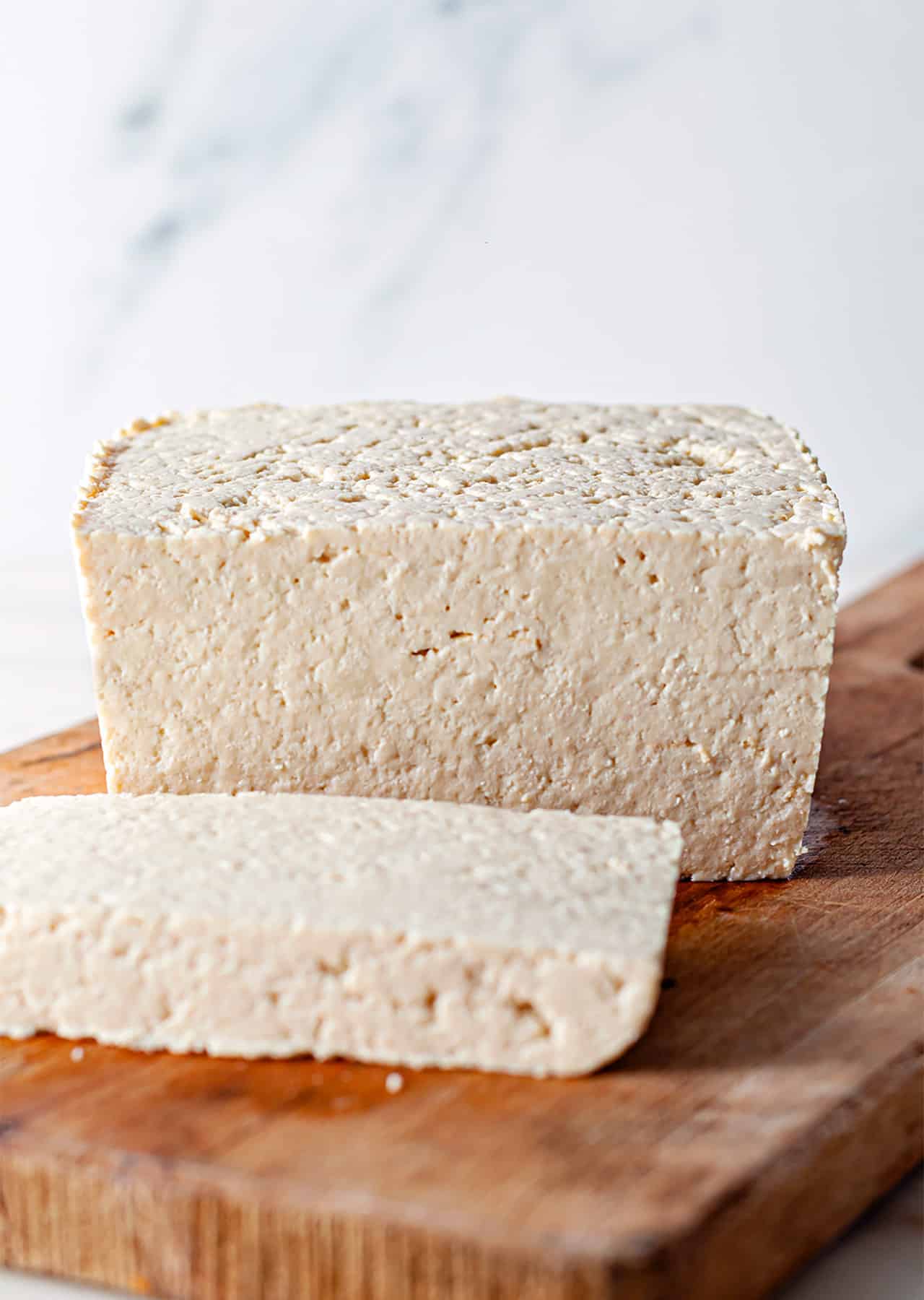 Ingredients
3 cups dried soya beans (550g / 19.5oz)
4 tbsp lemon juice
Method
Add the soya beans to a large mixing bowl and cover with water almost to the top of the bowl (the beans will soak up a lot of water). Leave to soak for 6 hours or overnight.
Drain the soya beans and rinse them under cold water. Next blend the soaked beans in 3 litres / 101 fl.oz of water (we usually do this in three batches) until they've completed broken down. Then transfer the milk to a nut bag over a large mixing bowl. Keep squeezing the bag to extract the milk into the mixing bowl. This can take up to 10 minutes or until the pulp inside the bag is thick and mostly dry.
Transfer the soy milk to a large saucepan over a low-medium heat. Bring the milk to a very gentle simmer and cook for 15 minutes, stirring regularly. Use a skimmer or a fine sieve to remove any foam or skin (this is known as the 'yuba') that collects on the surface.
Meanwhile combine the lemon juice with 200ml / 6.8 fl.oz of water in a bowl. After the soy milk has finished simmering, remove from the heat and leave for a couple of minutes to settle. Then stir in roughly a third of the diluted lemon juice. Stir in the remaining diluted lemon juice in two more batches and keep stirring until the soy milk curdles. If the milk doesn't curdle, add it back to a low heat until the curds form.
Use a skimmer or fine sieve to transfer the curds to your chosen press (see notes for what we use), which we place on a grill over a tray. Then press for a minimum of 15 minutes or longer depending on how firm you like your tofu (we leave ours to press for over an hour so it's extra firm). You might need to drain water from the top of the tofu while it's pressing.
You can eat the tofu immediately. Alternatively add the tofu to an airtight container and submerge it in water where it will last for up to 5 days in the fridge (we recommend changing the water daily).
Did You Make This Recipe?
Don't forget to share your SO VEGAN creations on Instagram and tag us at
@SOVEGAN
!